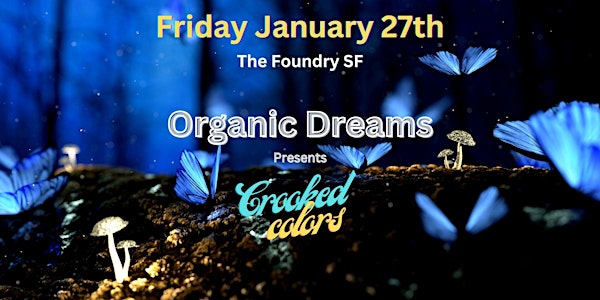 Crooked Colors
It's been a while and we're back with full power and amazing team who is working day and night to bring you the best music experience in SF
When and where
Location
Folsom Street Foundry 1425 Folsom Street San Francisco, CA 94103
About this event
We are super excited to announce our first event from the Organic Dreams Crew. After lots of planning, from picking the venue, the artists, vendors and design, we are excited to bring to SF and the bay area an incredible experience with amazing talented local Djs:
Organic Dreams crew Ali G , Von Davis and I am SHLOMI
Matony
Sara Afshar
We are beyond excited to announce our Headliner Yamagucci, out of Tel Aviv. He is one of the best up and coming producers right now, with multiple hit singles that have been making waves across the world. He is apart of the label Maccabi house which has released many top hits along with fellow producer/DJs Mita Gami and Adam Ten. If you are a fan of sounds like Red Axes, Jenia Tarsol, Chaim and more artists our of Israel, then this show is not to be missed! This will be his first time playing in the US, so you are in for a real treat.
We will share more info on our Instagram page @organicdreamssf STAY TUNED!
The Foundry is a beautiful space in the heart of San Francisco which we are planning to design and transport you all to another place in time and space.
We are looking forward to see you all on the dance floor.