Description
Come get crafty! The 5th Crochet Workshop in Italy is here and we are making pot holders this time to kick off your crochet skills! Whether you want to learn a new skill, make friends, drink coffee, or just try something different, this is for you. No previous experience is necessary. I will teach you from the get-go!
There will be 2 classes held for 3 hours each over 2 weekends. The exact dates are Saturday, Feb 24th, and Saturday March 3rd from 2-5pm.
Here is what you will be learning:
*how to read a pattern
*various crochet stitches so that you can have a foundation of the crochet concept
*how to make a pot holder, and basically anything square that is worked in rows
*crochet history
*what's trending in the crochet world
*resources for crocheting in Italy (where to buy materials, what it's called in Italian, and a plethora of online resources that you will enjoy)
Here is what's included: All materials needed for the project we tackle in class! You will receive a hook, your yarn, and handouts everyday. Don't need to bring anything, just show up. By the end of the course you will have made some useful potholders that you can keep. All extra materials provided to you are items you can keep as well!
See what a student had to say about another workshop earlier this year: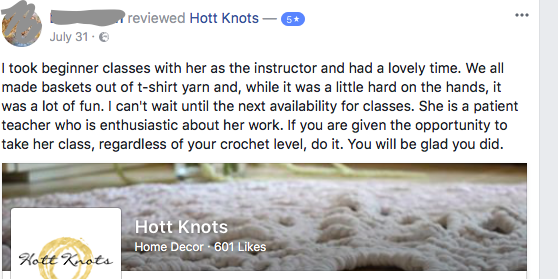 So, what are you waiting for?! Sign up and let's get our crochet on!
FAQs
How and When do I pay?
You pay before the course starts by clicking on the tickets button on this page, it will prompt you to pay via paypal. Paying ahead of time reserves your spot and provides me with mulah to get materials for you!
I don't have a Paypal account, how do I pay ahead of time?
There are several options. Setting up a paypal account is easy peasy, just click here to set that up paypal.com
*You can send a bank transfer to either my American or Italian bank account
*You can pay via my Etsy shop using credit or debit
(for any options other than paypal you must contact me ahead of time so we can work that out)
Where exactly is this?
The workshop will be held at my house in Bracciano right next to the train stop: Vigna di Valle which is about 30 minutes outside of Rome. Exact location will be given out privately to those coming.
Can children participate in the event? YES! Everything taught in the classes will be slow paced, and easy to follow. Children 7 and above are welcome to come.
What are my transportation options to getting to the event?
The easiest way is by train from Rome to train stop Vigna di Valle (right by Bracciano). You can also carpool, people love to help each other out!
Can I get a discount?
Of course! All you have to do is recruit a friend and you'll get 20% off (as well as your friend!) That means 6 hours of personal teaching for just 78 bucks. Win/Win!
How can I keep in touch with you for the following workshops?
Follow my facebook page here where I post all events going on, including online crochet workshop events. Feel free to message me there if you have any questions.
Do you have any other upcoming Workshops?
Yes! Every two months there will be new workshops where we will be making things that go with the season (purses for the summer, hats for the winter..etc.)