Description
About the CRM & Loyalty Marketing Symposium
The CRM & Loyalty Marketing Symposium presents stories, case studies and experiences from marketing and business professionals about their own CRM programs and initiatives. With this Symposium you will not just hear about a single tool, application or system, but instead learn about the holistic strategy and approach to CRM & Loyalty taken by the speakers and panel to generate company-wide adoption, success for the business, and most importantly, stronger, more meaningful relationships with their customers.


Speakers
The CRM & Loyalty Marketing Symposium is featuring two (2) speakers. Each will present their story of CRM & Loyalty Marketing success as well as hold a short Q&A after their talk. Members of the audience will have the opportunity to interact directly with the speakers and ask questions.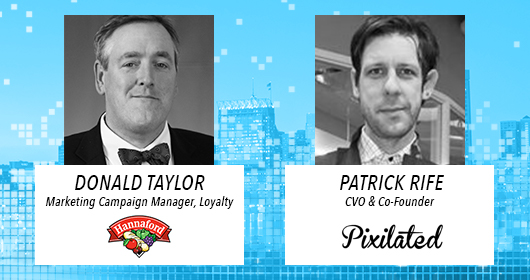 Donald Taylor
Marketing Campaign Manager, Loyalty
Hannaford Supermarkets
Digital Loyalty in Brick & Mortar Retailing
Hannaford Supermarkets, a leading "every-day-low-price" (EDLP) supermarket chain in the northeast, overcame multiple obstacles to enter the customer-centric loyalty marketspace. Creating value for the customer while holding true to a "no card, no gimmicks" brand promise, Hannaford launched My Hannaford Rewards in early 2018 and have not looked back. By not rushing to market, thoughtfully building architecture, and establishing internal and external CRM partnerships, Hannaford was able to launch one of, if not the first, 100% digital supermarket loyalty programs in the nation.
Patrick Rife
CVO & Co-Founder
Pixilated
Experiential Lead Capture for CRMs
As companies and brands continue to embrace a more direct path to consumer engagement via experiences the tools and methods for measuring those experiences become more critical every day. Join Patrick Rife for a discussion on his experiences helping brands harness the power and insights of their consumers to build scalable campaigns that create long-term engagement using Pixilated technologies to feed their data-driven strategies.

Panel
Following the two speakers there will be a panel of CRM & Loyalty Marketing professionals answering pre-submitted questions, as well as live questions from the audience. The panel session will be moderated by Andy Locke, Managing Director of Response Labs.
Panelists will be announced soon!


Symposium Schedule
5:30 PM - Arrival & Networking (beer, wine & light food)
6:00 PM - Introduction & Welcome
6:10 PM - Speaker #1 Presentation and Q&A
6:50 PM - Speaker #2 Presentation and Q&A
7:30 PM - Panel Discussion


Social Media Promotion
When sharing the CRM & Loyalty Marketing Symposium on your social accounts–before, during and after the event–be sure to include: #BmoreCRM #BmoreLoyalty


FAQs
What are my parking options for getting to and from the event?
There is a free parking lot behind the King Cork & Seal Building, home of the Emerging Technology Center (ETC) at 101 North Haven Street.
How do I access the building?
The ETC is on the 3rd floor of the King Cork & Seal Building. You can enter via the side patio entrace. There will be signs directing attendees from the parking lot to the ETC.
How can I contact the organizer with any questions?


Acknowledgements
Thank you to the following for support in putting on the CRM & Loyalty Marketing Symposium:
Emerging Technology Center
American Advertising Federation - Baltimore
American Marketing Association - Baltimore