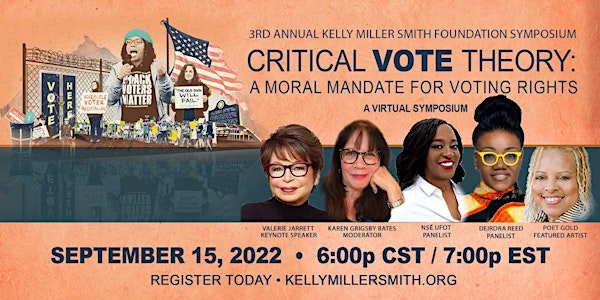 Critical Vote Theory: A Moral Mandate for Voting Rights
The 3rd Annual Kelly Miller Smith Foundation Symposium: Critical Vote Theory: A Moral Mandate for Voting Rights
About this event
The third annual Kelly Miller Smith Foundation virtual symposium.
ABOUT THE SYMPOSIUM:
The symposium brings together leaders and organizations from faith-based, academic, corporate and civic communities, and the community-at-large who recognize this moral imperative for equitable access and full participation in the electoral process. The symposium will provide a plan of action for increasing voter participation and addressing voter suppression in their communities.
TODAY'S LEADERS HAVE THE POWER TO MAKE A DIFFERENCE ONE COMMUNITY,
ONE CONGREGATION, AND ONE VOTE AT A TIME.
We use the term Critical Vote Theory (CVT) to show that voting is more than a civic responsibility. It is a moral imperative. Voting ensures inclusion of the values of all citizens in the governing process. Protecting voting rights is also a moral imperative requiring individuals and organizations to fight the injustices brought by governments, institutions and other structures seeking to deny people their right to vote.
Thursday, September 15, 2022 | 6:00 - 7:30 pm CT
Symposium Schedule
Keynote Conversation
Valerie Jarrett, keynote speaker | Chief Executive Officer, The Obama Foundation
Karen Grigsby Bates, moderator | Senior Correspondent, NPR Code Switch
Panel
Nsé Ufot | Former Chief Executive Officer of the New Georgia Project (NGP) and its affiliate, New Georgia Project Action Fund (NGP AF)
Deirdra Reed | Policy and Advocacy Partner at The New Teacher Project
Opio Dupree, moderator | Vice President, Government and Public Affairs Macy's and Fellow for CEO Action for Racial Equity
Sponsors
Kelly Miller Smith Foundation, Kelly Miller Smith Institute on Black Church Studies, Vanderbilt University Divinity School, First Baptist Church Capitol Hill, CEO Action for Racial Equity and Vanderbilt University Office of Equity, Diversity, and Inclusion, and the Vanderbilt University James Lawson Institute for the Research and Study of Nonviolent Movements