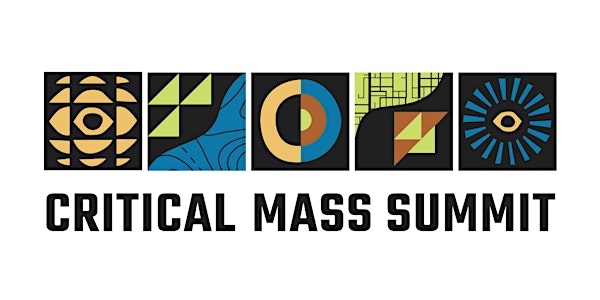 Critical Mass Summit 2022
Critical Mass Summit's purpose is to reduce barriers to participation in the trails, cycling, and active transportation scene.
When and where
Location
Mt Sequoyah 150 N SKYLINE DRIVE Fayetteville, AR 72701
Refund Policy
Contact the organizer to request a refund.
Eventbrite's fee is nonrefundable.
About this event
Critical Mass Summit's goal is to build a more inclusive trail, cycling, and active transportation community. This summit welcomes marginalized community members and existing stakeholders to engage in our region's built environment; we're redefining who is a part of "the bubble" of decision and influence. With national and local voices leading the conversations, Trailblazers' hope is that attendees walk away with the tools to positively impact the development of active transportation infrastructure and support building an inclusive culture. With the expansion of the number and identities of people living, working, and playing in Northwest Arkansas, how do we build systems that support equitable movement for all?
Please visit the Critical Mass Summit website for more information about the schedule, registration, sessions, and activities.
About the Event
Critical Mass Summit is a two-day event:
Friday, November 4 offers an in-person experience or virtual participation, based at Mt Sequoyah in Fayetteville, AR. The summit consists of sessions that engage participants in conversation around infrastructure and connectivity, creating inclusive cycling events and programs, empowering communities, becoming a leader or advocate, and working towards collective change. With tracks focusing on affinity and accountability spaces, the experience is adaptable to where individuals are in their journey.
Saturday, November 5 provides participants with in-person recreational opportunities around Northwest Arkansas to provide an encouraging place to try out a new activity and expand their personal or professional interests. Activities include various styles and levels of guided rides (gravel, mountain bike, greenway), adult learn to ride, hiking, yoga, pottery, rock climbing, bike build volunteer project, and more. Affinity space activities will also be available such as BIPOC and WTF (women, trans, femme). Space is limited in each activity and people are encouraged to register early to increase the likelihood of participation in their top choice.
Activities will be followed by the Critical Mass Ride in the afternoon, welcoming the whole community to join.
Registration and Tickets
Attendees can register and participate in the Critical Mass Summit in person on Friday and Saturday or virtually on Friday only. Early bird pricing begins on September 6. Scholarship tickets, financial support, and reduced-rate tickets are also available through the registration process.
Affinity / Accountability Concurrent Session Registration
Through the lens of trails, cycling, and active transportation, Critical Mass Summit will explore the experiences different identities have and how each can effectively bring about positive change. We ask attendees to register for the concurrent sessions they most identify with: affinity or accountability. Our speakers and facilitators will guide attendees in understanding how their identities both impact and empower their ability to bring about change.
Affinity spaces are a time and place for people who share an identity (generally a marginalized identity) to gather and talk in a safe space about issues related to their identity.
Accountability spaces are intended for people who do not identify as part of a marginalized community (generally White and/or cis-gender) to reflect, process, and ask questions to become more effective allies to marginalized communties.
Accessibility
Parking and Maneuverability
There will be onsite accessible parking at Mt. Sequoyah.
The venue is set up in a manner that allows ADA access to upfront, mid, and distant seating with reliable visibility. This space includes reserved accessible seating. The full event footprint is between two buildings, on a mixture of surfaces including gravel, grass, and pavement with paved pathways between buildings.
American Sign Language Interpretation
Interpreters will be with each session onsite and around throughout the event for support.
The interpreter will also be visible on the recording for those watching remotely in addition to closed captioning.
Visuals
Some slides will be available as a pdf before the event by request.
Additional Considerations
We strive to host inclusive, accessible events that enable all individuals to fully engage and enjoy the experience. Please reach out to Lauren Hildreth at Lauren@wearetrailblazers.org to request accommodations or for other inquiries about accessibility.
Please see the Critical Mass Summit website for detailed session descriptions.
For more information about the schedule, registration, sessions, and activities, please visit the Critical Mass Summit websiteor reach out to Lauren Hildreth at lauren@wearetrailblazers.org.