About this Event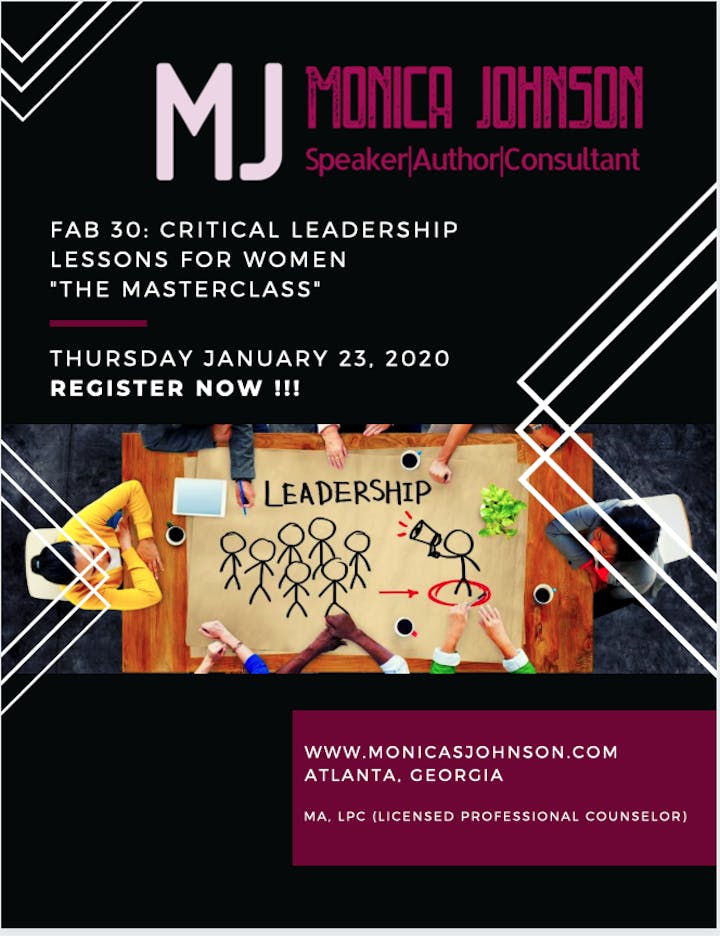 Overview: This Masterclass is a top-notch professional leadership development seminar designed especially for women in or aspiring to be successful in their leadership roles.
LEARN MORE INFORMATION: --> CLICK HERE
Whether the environment is corporate, non-profit, community, civic, social, government, political or a place of worship, it is applicable to all environments of leadership! The Masterclass is dynamic, relatable, authentic, energetic and developed to provide critical essential leadership skills for women that will lead to successful outcomes. Women in high paced roles, constantly managing change or leading a team, benefit greatly from this workshop. The information shared will be lessons learned by Monica Johnson over her vast amount of years of experience at all levels of leadership, including a long career in executive leadership roles. Included are strategies that can be utilized in any environment and applied to your daily life (work and home). Become the leader you want to obtain the job/position or achieve the goals you have set for yourself today!
Target Audience: Any woman that is a leader (or aspiring to be) in a corporate, non-profit, government, community, political, civic, social, or place of worship setting.
Topics include but are not limited to:
●Effective Communication
●The Assertiveness Conundrum
●The power of Authenticity
●Finding the Lesson in Failure
●Courage & Resilience
●Grace & Integrity
●Self-Care & Mental Health Wellness for Women Leaders
Objectives: 1. Discover what internal habits keep you from achieving your goals. 2. Learn how to set the right goals and accomplish them. 3. Learn how to lead effectively (this is a level up from managing and supervising). 4. Find the inspiration to be empowered to prevail through adversity and challenges.
When:  Thursday January 23, 2020 10:00 am – 1:00 pm
Location: Story On The Square 19 Griffin Street, McDonough, GA 30253 
There are only 50 seats available!
Masterclass Fee
Registration Fee: $75 Registration Closes January 2, 2020 Fee includes:
●Masterclass Seminar Fee  
●Breakfast 
 ●Fab 30 Master Class Swag Bag, including the book - Fab 30: Critical Leadership Lessons for Women by Monica Johnson For questions or additional info about the Masterclass please contact us at: fab30masterclass@outlook.com or 770-731-8287 
Monica Johnson, MA, LPC (Licensed Professional Counselor), is a dynamic professional speaker, published author, lecturer and expert in mental health and leadership. Ms. Johnson is the Founder and CEO of MARJ Consulting which is based in Atlanta, GA. Ms. Johnson has worked in the behavioral health field for over 24 years including working in a variety of executive leadership roles within state government and a variety of settings in private, for profit and non-profit organizations. In addition, Ms. Johnson is a seasoned executive leader with a proven track record of success. Over the last couple of decades Ms. Johnson as led the formation of several high-profile change initiatives, project management, chaired several collaborations, and served as board members for a variety of governing boards. She is most passionate about developing and empowering women leaders and educating the community on mental health wellness; ultimately reducing the stigma associated with mental illness for healthier lives.
Ms. Johnson earned an undergraduate degree in Psychology (minor in Communications) from Kennesaw State University and a graduate degree in Professional Counseling / Psychology at Argosy University. Ms. Johnson is a proud Alumnus of the Georgetown University Leadership Academy and a recipient of the Intensive Cognitive Behavior Therapy for Schizophrenia Certification at the Aaron T. Beck Institute for Cognitive Behavior Therapy in Philadelphia. Ms. Johnson is a trained facilitator for the Strengths Development Inventory (SDI). For more information visit www.monicasjohnson.com What people have said about Fab 30 Workshops
●"I have been to many conferences and this by far was the best workshop I have attended." 
 ●"I loved her energy and how relatable she was. She had me fired up and ready to tackle anything!" 
●"She is funny and engaging. I loved her" ●"Monica is a dynamic speaker with content that I can apply to my professional journey as well as my personal life. I felt empowered after the session and led to change in some of my negative and pessimistic thinking when it comes to pursing my dreams." 
 ●"Monica is smart and gave me a lot of ah-ha moments." ●"Ms. Johnson was hysterical, and helped me think about some of the things I do as a leader a little bit differently." ●"This workshop is a must! I have been a Senior Level Manager for years, and this gave me a boost in the arm and motivation I needed." ● "I would highly recommend this workshop to anyone at any level that is in some type of management role."
1. All fees/payments for the Masterclass are non-refundable. The only exception is if Monica Johnson is incapacitated and unable to facilitate the Master Class due to an unforeseen event. In this instance all paid fees will be refunded to the registered individuals within 7-10 business days.
2. If you register and are unable to attend, you can transfer your registration to another individual for no additional charge. To transfer your registration, please email us at fab30masterclass@outlook.com and we will make the registration adjustments.
3. In the event of inclement weather and the Masterclass is canceled, the event will be rescheduled for a new date and notification of the new date will be provided within 7 business days of the cancellation notice. Paid registration fees will be applied to the rescheduled date.
Parking: The location is on the City of McDonough Square. There are several parking lot options and street parking within walking distance to Story on the Square. We encourage you to build in adequate time to park as you see fit based on the options. The best parking lot option is on Hampton street behind the event location. However, there are other options adjacent to and around the building. Parking is not covered in the registration fee if a paid parking option is utilized.