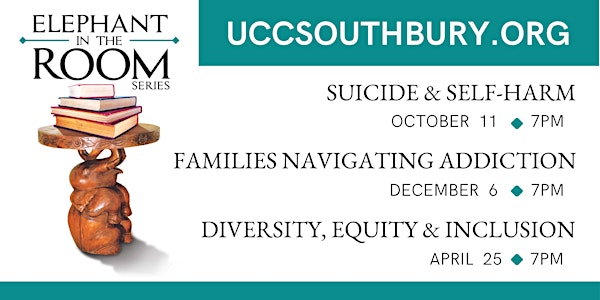 Critical Conversations about Suicide & Self Harm
First in a series of three presentations & guided discussions about stigmatizing topics
When and where
Location
The United Church of Christ Southbury 283 Main Street North Southbury, CT 06488
About this event
Critical conversations about:
Suicide & Self-Harm (10.11.22)
Families Navigating Addiction (12.6.22)
Diversity, Equity & Inclusion (4.25.23)
The Elephant-in-the-Room Series® presents play readings and community conversations about topics that we often feel uncomfortable discussing in public. In the current climate of alienation and miscommunication, these guided conversations will bring challenging issues out of the shadows and into the open. The hope for this series is to create a safe and nurturing environment that encourages transformational discussions between individuals.
The first theatre event in this trilogy focuses on the complex topics of Suicide and Self Harm. Following the filmed play reading of "Final Thoughts" by Tim Barretto, a facilitated audience discussion will give community members the opportunity to explore these topics, and will encourage honest conversations about our hidden "elephants" — building empathy by looking at multiple points of view.
Gently guiding the discussion will be a panel of individuals including the play's screenwriter, Tim, who will be joined by Genevieve Aichele, Director of the New Hampshire Theatre Project; Marissa Primiano and Jules Holt, Cochairs of the local non-profit & Local Prevention Council for Southbury & Middlebury (S.M.A.R.T., Inc.}; and lolanda Marucci, LCSW, a local Licensed Clinical Social Worker and S.M.A.R.T. Local Prevention Council member.Bringing isolating issues out in the open through healthy dialogue.
Zoom Link: bit.ly/3M8Xog1
Code: 928566