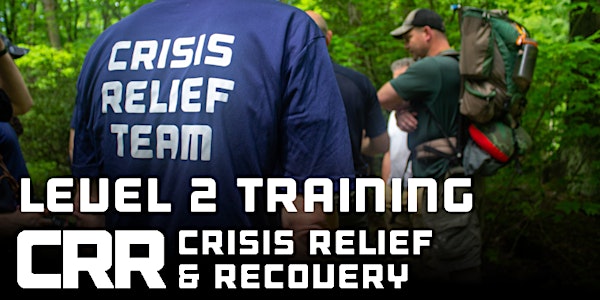 Crisis Relief and Recovery Level 2 Training and Selection Weekend
Level 2 training provides you with skills to keep your team safe; the selection phase tests your ability to endure stressful situations.
By Crisis Relief & Recovery
When and where
Date and time
April 20 · 10am - April 23 · 3pm EDT
Location
Tyrone Gathering Place 857 Washington Ave Tyrone, PA 16686
Refund Policy
Contact the organizer to request a refund.
About this event
3 days 5 hours

Mobile eTicket
WHO SHOULD ATTEND THE TRAINING?
This training is for anyone who feels the call to serve their communities in the wake of disaster or crisis and who has already successfully completed Level 1 training.
Level 1 training must be completed online on our training portal prior to arrival
The information gained in this training provides skills that can be used as part of a Crisis Relief & Recovery (CRR) Immediate Relief Team that will deploy following a disaster, or to lead a long-term recovery trip to communities impacted by disasters in the past.
WHAT IS THE PURPOSE OF THE TRAINING?
1. To ensure you can sustain yourself during disaster relief operations and contribute to the mission of the CRR Team while working in high-pressure environments.
2. To assess your ability to work independently and as a team member in uncertain and stressful situations away from civilization.
3. To gain an understanding of the FEMA ICS system and practical skills to deploy in austere and dangerous conditions.
4. To provide a prerequisite to Level 3 Advance Team Leader training.
This weekend consists of two phases:
Phase 1 is our training phase, which provides basic skills & understanding of deployment conditions. This instruction will take place in both classroom and outdoor settings.
Phase 2 is our 'selection' phase, which will take place outdoors and will allow us to assess your ability to follow instructions, lead when necessary, and overall contribute to a team.
WHAT HAPPENS WHEN I COMPLETE THE TRAINING & SELECTION?
1. If you successfully pass the selection portion of the weekend, you will be eligible for short-notice deployment to respond to disasters in and around the continental United States as part of an Immediate Relief Team.*
2. You are eligible to lead post-disaster relief Long Term Recovery or Short Term Mission trips led by Crisis Relief and Recovery.
3. You are eligible to be invited to Level 3, Advance Team Leader training.
*If you are not selected as an Immediate Relief Team member, you may still volunteer as part of Long-Term Recovery teams or help CRR in other ways. We have many ways you can support disaster relief; we understand short-notice deployments and stressful situations are not for everyone.
NOTICE: This is a mentally and physically challenging weekend and it is possible that some will not complete the training. You must ensure that you understand the risks before you register.
COURSE SCHEDULE (subject to change)
If arriving via air transportation, we recommend that you arrive on Wednesday night (19 April) to allow for flight delays. (The nearest airport is University Park Airport in State College, PA. Airport code: SCE) Your lodging on Wednesday night may incur additional costs, please let us know if you arriving early.
-------Thursday
0930-1000 Arrival & Registration
1000 Introduction to CRR
1030 Intel Briefing
1100 Team Structure & Dynamics
1200 Field & Navigation Basics
1500 Trauma First Aid
1800 Break
1900 Dinner
2000 Psychological First Aid
---------Friday - Operation COLD START
0700 Breakfast
0800 Deployment Tabletop Exercise (must be passed (pass/fail) to progress)
1100 Field Exercise
---------Saturday
ALL DAY Field Exercise (includes training on: Chainsaw Use, Light Construction, Vehicle Maintenance)
---------Sunday
Morning Field Exercise
1300 Selection Ceremony
1400 Depart
HOW SHOULD I PREPARE?
1. You MUST complete the full application form here.
This allows us to gauge your readiness prior to the training and selection weekend, and to determine your fit on our team. Please take the time to complete this application fully and honestly. This also allows us to begin your background check.
2. You should practice hiking with & without a full backpack.
While we will provide you with training on Day 1, you should already be mentally and physically prepared for a demanding weekend. You will be hiking long distances with a backpack, undergoing mental challenges, and living outdoors.
3. You should build up your personal equipment
You will be provided with a rudimentary kit list; however we expect you to have the experience & sense to know what to bring for:
- Overnight camping
- Overland hiking
- Seasonal weather in the Northeastern U.S.
- Emergency support to yourself & your teammates
4. You must complete Level 1 training. See links above.
5. OPTIONAL, BUT RECOMMENDED: You should take the following FEMA courses.
- IS 100, Introduction to the Incident Command System
- IS-700, Introduction to the National Incident Management System
TRAINING FEE: $190
Includes:
Professional training by Mountain Leaders, First Responders, EMTs, Certified Counselors, and other experienced leaders.
Lodging Saturday - Monday nights (some nights camping)
All meals from Thursday lunch to Sunday lunch
CRR T shirt & goody bag ($55 value)
Background check
Excludes:
REFUND POLICY:
1. If participant cancels less than 30 days prior to the event, there will be no refunds, except for circumstances of extreme hardship. A percentage of your ticket price may be transferred to a future event on a case-by-case basis.
2. If participant cancels more than 30 days prior to the event, you may request a refund minus a $25 administration fee. Alternatively, participant can transfer the full price of their ticket to a future event.
3. In the event that minimum numbers are not reached, the event may be cancelled. In the event of cancellation by CRR, full ticket price will be refunded. Participant may choose to transfer their ticket price as credit for a future event.
For more information on Crisis Relief & Recovery, visit our website: