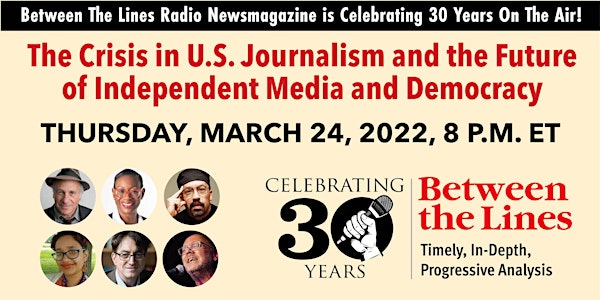 Crisis in US Journalism & the Future of Independent Media & Democracy
Panel discussion on the Crisis in US Journalism and the Future of Independent Media and Democracy, featuring journalists and activists
Refund Policy
Contact the organizer to request a refund.
Eventbrite's fee is nonrefundable.
About this event
If you have trouble accessing due to login issues, go to this page: https://btlonline.org/30th-video
--------------------------
How can progressive activists and journalists reach more Americans with analysis and views on political, economic and social issues marginalized in corporate media?
Join us as our panel of scholars, activists and journalists try to answer this question and more.
Panelists and moderator:
• Greg Palast, investigative journalist and author
• Nina Turner, political activist, Bernie Sanders presidential campaign organizer, and former Ohio state senator
• Bill Fletcher Jr., labor and racial justice activist
• Adrian Huq, youth climate activist and organizer
• Moderated by Victor Pickard, professor of Media Policy and Political Economy, University of Pennsylvania
• David Rovics, musical performance
Greetings and commentary:
• John Nichols, national correspondent, The Nation
• Ursula Ruedenberg, affiliate network administrator, Pacifica Radio Network
• Phyllis Bennis, program director of new internationalism , Institute for Policy Studies
• Richard D. Wolff, economist, host of Economic Update, visiting professor of international affairs, New School
• Steve DiCostanzo, general manager, WPKN Radio
• Matt Murphy, general manager, WERU Radio
• Norman Solomon, co-founder, RootsAction.org
• Medea Benjamin, co-founder, Code Pink Women for Peace
Mainstream media and conventional news outlets fail to explore the contradictions in American society. The power of corporations to defeat deeply popular economic and social policies is predictably and consistently ignored by the nation's major newspapers and electronic media. On issue after issue, these media organizations have inherent conflicts of interest on the stories they report on depriving readers, viewers and listeners of critical views and "outside the box" visions on how we can build a more just world.
Independent, progressive radio programs like Between The Lines, and a handful of other media outlets play a vital role filling a vacuum in our democracy, where the free flow of information and alternative viewpoints are the lifeblood of an informed electorate and a functioning democracy.
"The Crisis in U.S. Journalism and the Future of Independent Media and Democracy," features an impressive list of progressive activists, journalists and scholars. Please consider making a contribution of any amount to help ensure that Between The Lines continues to produce their show with its timely, in-depth progressive news and analysis in the critical years ahead where nothing less than the very future of our democracy is at stake.
----------------
If you've received a email with link to access our event, but lost your password for EventBrite.com, on EventBrite.com's login page, you can request a one-time log-in link sent to the email you registered with. (The log-in link expires after 2 hours)
Or you can reset your password at this page: https://www.eventbrite.com/support/articles/en_US/How_To/how-to-reset-your-password?lg=en_US
Alternatively, if you have trouble accessing due to login issues, go to this page: https://btlonline.org/30th-video
We can be reached at contact@btlonline.org