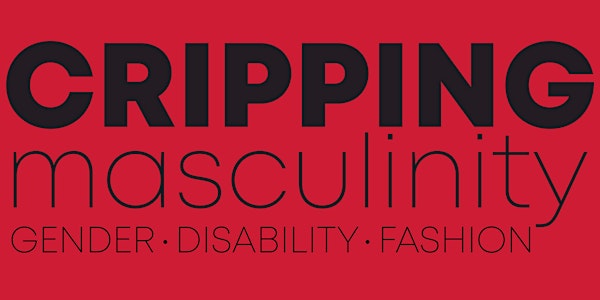 Cripping Masculinity - Deafness, Madness, and Disability in Fashion
Cripping Masculinity explores how Deafness, Madness, and Disability impacts the creation and experience of identities through clothing.
By lululemon Queen Street
Date and time
Wed, Apr 7, 2021 3:00 PM - 4:00 PM PDT
About this event
Event Overview:
Cripping Masculinity explores how Disability, Deaf, and Mad Identified Men (Cis or Trans) and Masculine Identified Non-Binary People create and experience their identities through clothing in their everyday lives.
On April 7, join members from the Cripping Masculinity team for a conversation with members from their community. They will engage with the relationship between Deafness, Madness, Disability and fashion, uncovering clothing as a tool for identity formation, resistance and community building.
This event will centre the often hidden and forgotten conversations in the fashion industry, highlighting space for development and social change.
For more information on Cripping Masculinity, please visit their website: https://www.crippingmasculinity.com/
IG: https://www.instagram.com/crippingmasculinity/
Access Features
This event is free to attend. There will be Live Captioning and ASL Interpretation. This Zoom event is in webinar format, meaning all event attendees will be off camera.
Featured Panelists
Kristina McMullin (She/Her) is an arts administrator and emerging academic with an activist's heart. She is currently a Grad student with various academic and freelance jobs. Her work investigates how principles of disability justice influence our relationship to labour.
Ben Barry (He/Him) is a queer, disability-identified fashion educator, researcher and activist who is passionate about exploring how disability introduces new design and aesthetic possibilities into the fashion system and society. He serves as Chair and Associate Professor of Equity, Diversity and Inclusion in the School of Fashion at Ryerson University.
Sean Lee (He/They) is an artist and curator who is currently the Director of Programming at Tangled Art + Disability. His work explores the notion of Disability arts as the last avant garde; his practice gestures towards the transformative possibilities of crip community building and accessible practices that desire the ways disability can disrupt.
MG (They/Them) is a settler in Tkaronto, and is a support worker with the YWCA. They are currently working on agency-wide Gender Policy implementation within the YWCA. MG is a huge advocate for grassroots initiatives, and continues to do frontline volunteering in areas of food sovereignty and encampment support.
Connor Yuzwenko Martin (He/Him) identifies as Deaf and is descended from settlers. He recognizes and strives every day to honour and act upon the fact that his work and accomplishments take place on Treaty 6 territory in amiskwacîwâskahikan. He has nurtured a lifelong passion for theatre and accessibility, and he is currently working with Deaf Spectrum, Intrepid Theatre, and Edmonton Fringe Theatre.
Date: April 7, 2021
Time: 6pm EST
*The zoom link will be sent out to attendees approx. 2 hours before the panel begins.