Movie night! We will be broadcasting the Academy Award winning documentary, Crip Camp, and hosting a short discussion afterwards. Join us!
About this event
Having Problems with Zoom?
Email us at hello@Knowbility.org
It's Movie Night!
We are excited to be presenting the Academy Award winning documentary, Crip Camp. Join us for a relaxing night of fun as we kick back with some popcorn and enjoy watching this amazing film together. Stick around afterwards for a short discussion where you'll have the chance to give your thoughts and opinions on the movie.
Viewing Options
We will have two options for the screening available via Zoom: English language captioning, and audio description with no captioning. We also have additional resources available for viewers who want to turn the captions on or off, or read an audio described transcript with a Braille display. If you have any questions about these options, please contact us at Hello@knowbility.org
Run of Show:
6:00 PM - 6:10 PM: Welcome and Zoom Breakdown
Breakout Room Link for Audio Description
Breakout Room Link for English CC
6:10 PM - 8 PM: Movie Screening
8:00 PM - 8:20 PM: Movie Reflections
8:20 PM - 8:30 PM: Feedback and Closing
About Crip Camp: Crip Camp Official Website
In the early 1970s, teenagers with disabilities faced a future shaped by isolation, discrimination and institutionalization. Camp Jened, a ramshackle camp "for the handicapped" (a term no longer used) in the Catskills, exploded those confines. Jened was their freewheeling Utopia, a place with summertime sports, smoking and make-out sessions awaiting everyone, and campers experienced liberation and full inclusion as human beings. Their bonds endured as many migrated West to Berkeley, California — a hotbed of activism where friends from Camp Jened realized that disruption, civil disobedience, and political participation could change the future for millions.
Crip Camp is the story of one group of people and captures one moment in time. There are hundreds, if not thousands, of other equally important stories from the Disability Rights Movement that have not yet received adequate attention. We are committed to using the film's platform to amplify additional narratives in the disability rights and disability justice communities – with a particular emphasis on stories surrounding people of color and other intersectionally marginalized communities. We stand by the creed of nothing about us, without us. For too long, too many were excluded, and it is time to broaden the number of voices and share the mic.
If you would like to read about the filmmaker's decision for making the title what it is, please follow this link: Why We Use #CripTheVote
Messages to share on social media:
Message 1: Interested in watching a movie to celebrate the history of disability activism for #NDEAM? Join @Knowbility for virtual screening of the critically acclaimed documentary, Crip Camp, on Tuesday, October 26 at 6PM CDT. Register today: www.bit.ly/KnowbilityCripCamp.
Message 2: @Knowbility is hosting a movie + discussion featuring the Oscar-nominated documentary Crip Camp on Tuesday, October 26 at 6PM CDT. Join me and get your ticket for the screening at www.bit.ly/KnowbilityCripCamp.
Message 3: Virtual Movie Days! Join us online for a screening of the documentary film, Crip Camp. The documentary explores the universal experience of summer camp awakenings that would transform lives and shape the future of the disability rights movement. Get your ticket for Tuesday, October 26 at 6PM CDT at www.bit.ly/KnowbilityCripCamp.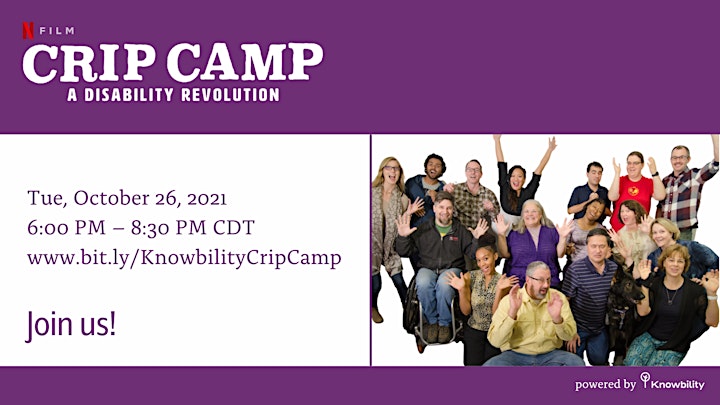 (Download promotional image 2:1. Alt text: Thumbnail for shareable graphic. "Crip Camp: A Disability Revolution". Tue, Oct 26, 2021, 6:00 PM - 8:30 PM CDT. www.bit.ly/KnowbilityCripCamp. Join us! Image of Knowbility staff and volunteer members smiling at the camera. Some have their hands up in the air.)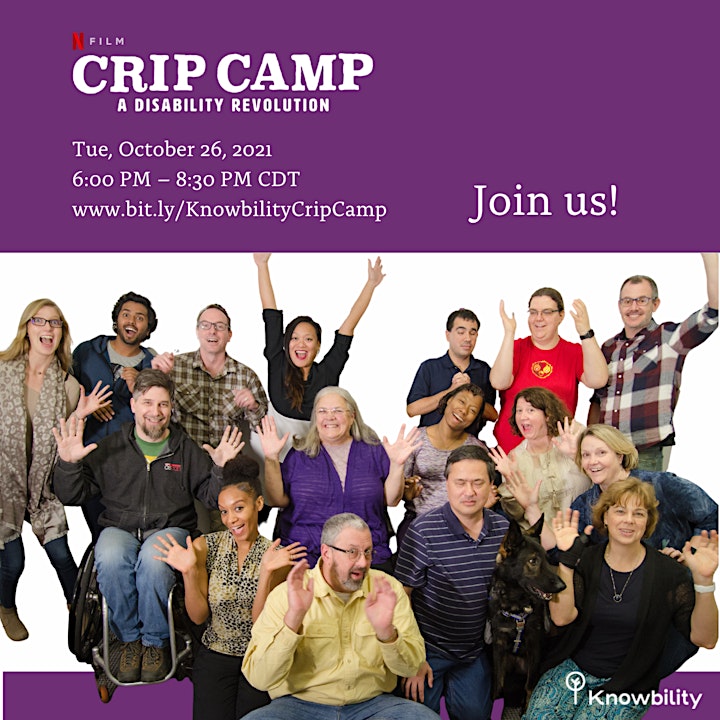 (Download promotional image 1:1. Alt text: Thumbnail for shareable graphic. "Crip Camp: A Disability Revolution". Tue, Oct 26, 2021, 6:00 PM - 8:30 PM CDT. www.bit.ly/KnowbilityCripCamp. Join us! Image of Knowbility staff and volunteer members smiling at the camera. Some have their hands up in the air.)