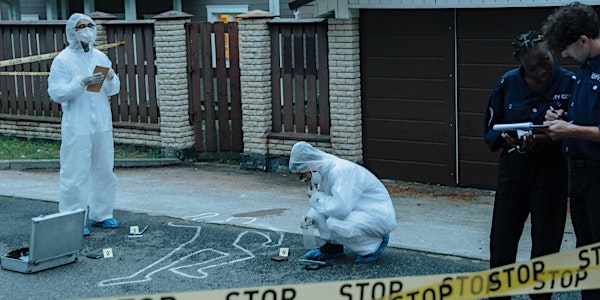 Crime Scene Documentation
Extremely Useful information on documenting a crime scene, evidence, and persons
Refund Policy
Contact the organizer to request a refund.
About this event
TOPIC: The purpose of this course is to provide participants with an understanding of documenting a crime scene through photography and sketching. This class delivers useful information on documenting a crime scene, evidence, and persons.
Proper equipment and use of evidence markers and scales when documenting evidence will be covered. Concepts such as photographing systematically with an overall, mid-range and close-up, property lighting, and composition will also be covered.
After taking this training, participants will be able to:
• Understand the steps to photograph a crime scene
• Understand the steps to photograph different types of evidence
• Understand the steps to photographing persons
• Understand the importance of utilizing a scale when documenting evidence for analysis
• Understand the steps to sketch a crime scene
• Understand the steps to measuring a crime scene
TARGET AUDIENCE: All members of the criminal justice community. Training is especially valuable for personnel who are involved in crime scene investigations.
INSTRUCTOR: Sheila Lustigman has a Bachelor's Degree in Criminology from Florida State University. She has been a civilian in law enforcement for 27 years as a Crime Scene Investigator and Evidence Specialist. She has been with the Coral Springs Police Department for 22 of those years. In 2004, she became the Manager of the Crime Scene Investigations Unit and the Evidence Unit and is a certified Evidence Specialist by the International Association for Property & Evidence and the Property & Evidence Association of Florida. Sheila has been an instructor with the Broward Institute for Public Safety since 2003 and is currently the President of the Property and Evidence Association of Florida. Sheila Lustigman has lectured for the Florida Police Accreditation Association on Property and Evidence Accreditation Success, FDIAI on a case study, Florida Clerks of the Courts on Evidence Handling Management, Property and Evidence Association of Florida on From the Crime Scene to the Property Room, an on-line presentation for the Trinidad and Tobago government, Symposium on the Forensic DNA Analysis.
DATES & TIMES:
Friday, October 14, 2022
Class starts at 9:00 AM Sharp – and ends at 1:00 PM (EASTERN TIME)
COST: $199.00 per person
LOCATION: Online Zoom Meeting
(Zoom Link and class materials will be provided one week prior to the class)
PAYMENT OPTIONS:
• Check made payable to:
TRAINING FORCE USA
3681 Loma Farm Road, Tallahassee, FL 32309
• Purchase Order
• Credit Card payment made online
Cancellations and Substitutions:
• Upon submission of this registration, participants are responsible for payment of this course. At the discretion of Training Force USA, credit for the amount paid may be issued toward a future course. Please note that if you do not attend, you are still responsible for payment.
• Substitutions may be made at any time by phone, e-mail or online at the registration site.
QUESTIONS: Phone: 850-251-1223 E-mail: cpichard@trainingforceusa.com