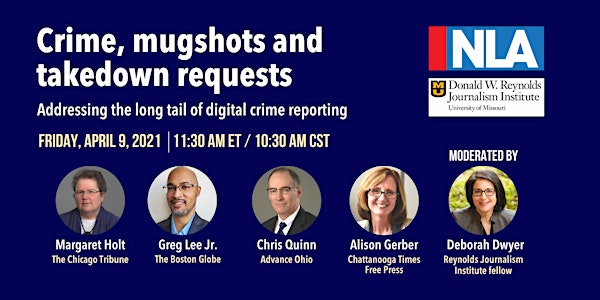 Crime, Mugshots and Takedown Requests
Crime, Mugshots and Takedown Requests: Addressing the long tail of digital crime reporting
About this event
People identified in crime news often face long-term effects that can last a lifetime. As newsrooms grapple with cultural shifts to address racism, social inequity and the damage a long-tail of publishing can cause, they're fielding an increase in requests to unpublish crime reports online. Even traditional crime reporting practices such as using mug shots are increasingly under scrutiny in newsrooms across the country.
News leaders Greg Lee Jr. (The Boston Globe), Margaret Holt (The Chicago Tribune), Alison Gerber (Chattanooga Times Free Press) and Chris Quinn (Cleveland.com) will share their newsrooms' editorial policies and the philosophies driving them — including managing requests to remove, de-index or alter "the first draft of history."
Deborah Dwyer, a fellow with the Reynolds Journalism Institute working on tools to help newsrooms address unpublishing, will moderate the discussion and facilitate an audience Q&A.
From News Leaders Association and the Reynolds Journalism Institute.
The program is free to attend; donations will support NLA's programs. Reach out to contact@newsleaders.org with any questions.