Location
The Columbus Room
3310 Florida Avenue
Kenner, LA 70065
Coin Show Friday July 22, 11:00AM-6:00PM & Saturday July 23, 9:00AM – 5:00PM, at the The Columbus Room 3310 Florida Ave, Kenner, LA 70065
About this event
Crescent City Coin Club Coin Show July 22 and July 23
Coin Show Friday July 22nd, 11:00AM - 6:00PM and Saturday July 23rd, 9:00AM – 5:00PM, at The Columbus Room, 3310 Florida Ave, Kenner, LA 70065. The Crescent City Coin Club, Coin Show is free and open to the public to attend. The Show will feature buying, selling and appraisals of U.S. Coins, Foreign Coins, Ancient Coins, Paper Money, Mardi Gras Doubloons, Gold and Silver Bullion, and Coin Supplies. Gold and Silver Raffle, Door Prizes Drawings. More information at www.crescentcitycoinclub.org.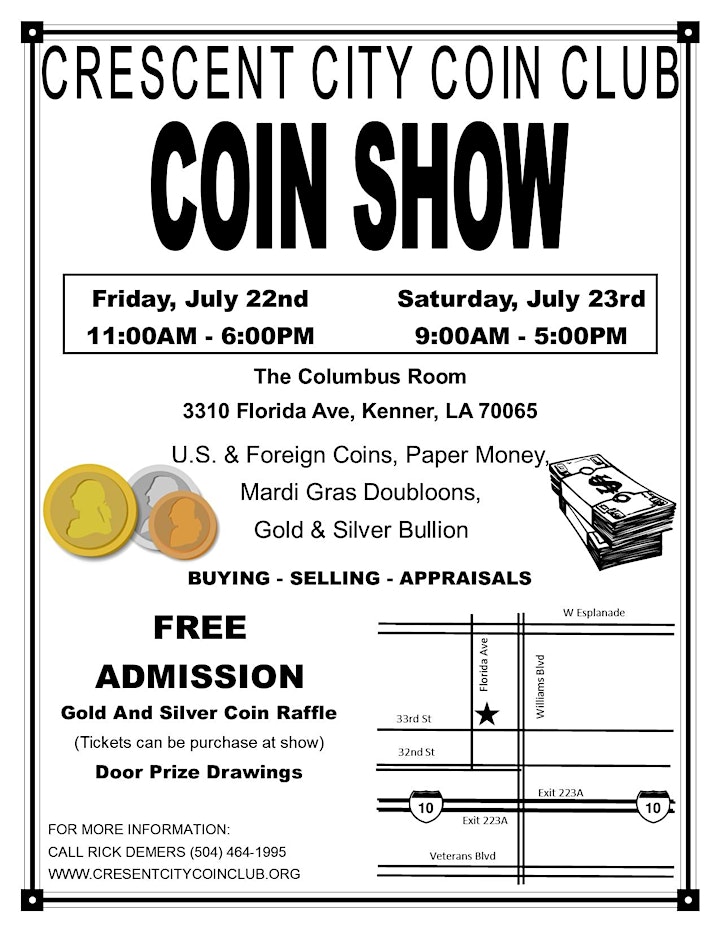 Dates and Times
Friday July 22nd 2022 11:00AM - 6:00PM
Saturday July 23rd. 2022 9:00AM – 5:00PM
Location
The Columbus Room,
3310 Florida Ave.
Kenner, LA 70065
U.S. Coins
Foreign Coins
Ancient Coins
Paper Money
Mardi Gras Doubloons
Gold and Silver Bullion
Coin Supplies