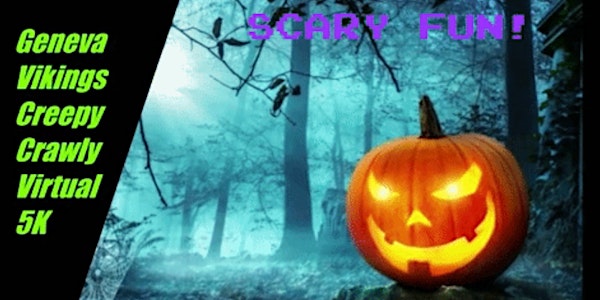 Creepy Crawly Virtual 5K
Do you love Halloween, raising money for a good cause, and having a good time? Sign up for GHS Student Council's Creepy Crawly Virtual 5K!
About this event
Any and all Vikings are encouraged to sign up! Proceeds will benefit Chicago Community Covid-19 Response Fund. Although the date for this event is Thursday, October 29th, feel free to run your 5K ahead of time if you like. Any time after you pick up your shirt, you can participate! How? Run this 5K outdoors, jog it on a treadmill, gather a small group of friends and go together on a socially distant walk, complete it really ANY way you want to complete it.
You can sign up as an Individual or as a Group Member. Shirt pick-up will be on Friday, October 23rd, at Geneva High School from 3:30 p.m. until 6:30 p.m. If you cannot make it at this time, have a friend pick it up for you. This will be the only time to pick up shirts.
We encourage you to dress up in a Halloween costume for your 5K and send pictures our way on Instagram and Twitter using #GHSCreepyCrawly5K. Keep track of your time and compete with fellow Vikings. There will be prizes for fastest times (1st, 2nd and 3rd place overall), Best Group Average, Best Costume (individual), and Best Group Costume! Download the running app called Strava if you want to compete for fastest. Check your provided email for more details on how to send in your times and photos for prizes as we get closer.
Shirts and registration will cost $25. Shirts will be long- sleeved. See below! Please note that shirt color will be a lighter gray than pictured. Sales end on Friday, October 16th, at midnight.