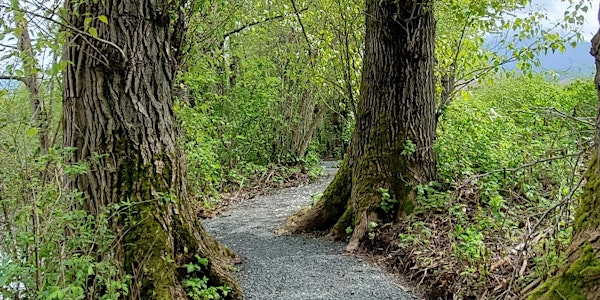 Creekside Nature Walk
Guided Nature Sessions are outings for residents hosted by a City of Chilliwack naturalist.
When and where
Location
Luckakuck Place Luckakuck Place Chilliwack, BC V2R Canada
About this event
Description:
Beat the heat in the shade! Walk ~2 km (round trip) along the flat and graveled Luckakuck Creek Trail which runs along the interface between urban areas, agricultural land, and intact wildlife habitat. Along the way, learn to identify common trees and plants, discuss invasive species, hear about the fish and wildlife that live in and around the creek, and see what an oasis streamside areas can be on hot days.
Hosts:
1) Debora Soutar has been exploring Chilliwack woodlands and wetlands for a very long time and loves sharing nature with anyone who wants to come along. She is a retired professional Forester and volunteers for the Great Blue Heron Nature Reserve, Fraser Valley Watersheds Coalition, Friends of Camp/Hope Sloughs, and Gwynne Vaughan Park. She also loves birds and is learning to identify their songs and calls.
2) Steve Clegg is old enough to come from a generation of kids who stayed outside until it got dark but is young enough to not complain about sore knees, yet. He drags his family up mountains, down rivers, through caves, and around urban spaces, too. He has dabbled in business, arboriculture, environmental consulting, nonprofits, and now works for the City of Chilliwack's Environmental Services Department on invasive species, species at risk, stewardship, community education, and habitat restoration projects. Steve enjoys poking things with sticks, heights, that weird feeling you get in your stomach when you quickly go over a hill in a car, and sharing ways for people to experience and appreciate the outdoors.
Cost:
This session is free to attend.
Ages:
All ages are welcome. This is a family friendly session.
When to meet:
All programs run rain or shine. Try to arrive 10 minutes early so the outing can depart on time.
Where:
At the end of Luckakuck Place. There is parking for vehicles and metal posts to lock up bicycles if you are able to ride to the session.
What to bring:
Some water or snacks if needed.
How to dress:
Please wear sturdy footwear and dress for the weather.
Pets:
We like pets, too. However, their presence can be disruptive to other participants and the wildlife we hope to see. If you plan to attend one of our programs, please leave your animal friends at home.