Description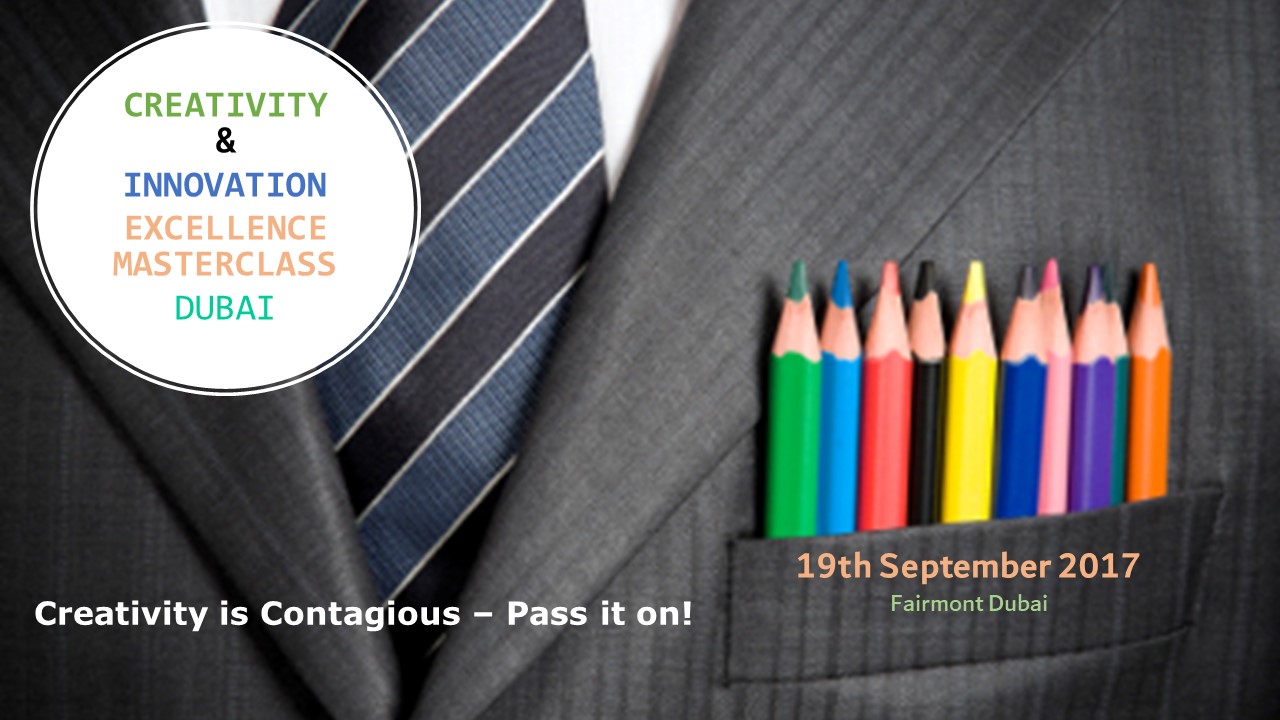 CREATIVITY & INNOVATION EXCELLENCE MASTERCLASS
19th September 2017 | Fairmont Dubai | AED 300 per participant : 9:00am - 5:00pm
Inclusive of Certificate, Course Material, Refreshments and Lunch
---
Why predict the future when you can invent it?
Today, innovation is everyone's business: but how do you make it happen?
This 1-day training will bring your team a structured process and the necessary idea generation tools.
---
Learn. Create. Innovate.
We help organizations develop creativity, innovation and leadership capabilities. Services include consulting, training, coaching and design thinking for innovation. Creativity is not the mystical attribute reserved for the lucky few; everyone has creative potential. Creativity is a skill you can develop with practice and a process you can manage.
Equip your team with the mindset, skillsets, and toolsets of highly successful innovators.
---
About the training:
New research shows that teams of disparate people working together with a variety of points of views accelerate the creative process and make innovation more possible but of greater importance, more relevant to the whole company.
Our goal is to give people a very clear road-map so that they can think and work creatively as a matter of course.
Our creativity training and innovation programme works by asking people to deliberately break the normal rules of planning, behaviour, decision-making, just to mess up current patterns. By overturning the predictable, new possibilities will emerge, including the absurd, the inappropriate, even the dangerous.
However, out of a bit of irreverence and rule-breaking comes original and innovative thinking, even for those who absolutely are convinced they aren't creative.
Your company may need to have various individuals or teams sharpen their creative capabilities to keep pace with your aspirations. Like so many organisations right now, you may be undergoing big changes and your people have to rise to the creative challenge to stay on top.
It may be that you simply need to have some additional innovative tools to spark creative thinking and get people outside those proscribed 'boxes' even if those boxes have proved excellent in the past.
By focusing on creativity and innovation for individuals or teams (a great way to get people to bond and work better together), productivity increases, solutions to problems are found more easily, people's energy and enthusiasm are multiplied and people feel they have a greater stake in the company's success.
A Creativity and Innovation Training Programme tailored to your needs may be just the ticket to stretch your people's imaginations and inspire them to make a greater contribution to the business of your business.
Staying competitive in an evolving world requires an understanding of the art and science of innovation at multiple levels. Our training programs focus on the full range of skills, techniques, systems and leadership behaviors that unleash the creative potential of your organization's people.
The critical element for sustaining innovation in organizations is the "people" side of the equation. No system will net you steady new revenue growth if your people are running on average and starting their day on a cup of business as usual. It's empowered, creative people that make a culture of innovation. In order to utilize the tools, techniques, and methods, you need your people's creative brains functioning at their full innovation capacity. To help develop the innovation energizing attitudes and behaviors of your people, we've developed innovation training and coaching programmes that start with the basics (innovation methods and creativity techniques) and extend into high-level leadership skills to radically transform the way innovation leaders think and act.
---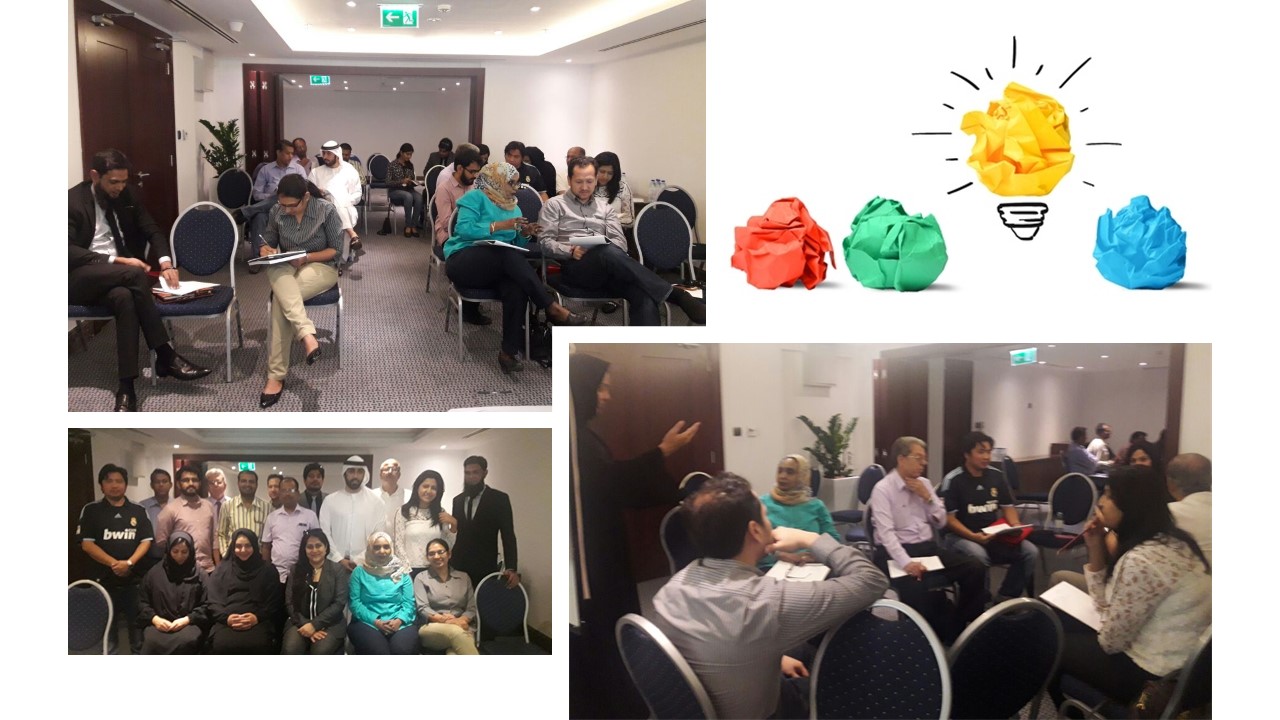 ---
In this highly practical course delegates will learn:
What is creativity?

What is innovation?

What is the relationship between creativity and intelligence?

What are the tenets of creativity?

What is Mind Mapping Technique?

What is Alternative Opposites Techniques?

What are the 4 stages of creativity and how can you take advantage of knowing about them?

What are the fundamental principles of creativity?

What is Confirmation Bias?

What is Patterned Thinking?

How to avoid negative thinking?

What is Expanding Problems Technique?

How to manage risk?

What kind of attitudes can kill creativity?

How to ask questions?

What is Morphological Mind Mapping?

What is Lateral Thinking?

What is 5 Whys Technique?

What is Six Thinking Hats?
Introduction to Creativity
How can you be innovative?

What is the relationship between creativity and intelligence?

What are the tenets of creativity?

How to put yourself in a position where you can benefit most from the unexpected

How to be aware of issues on predicting the future based on the past and how does this relate to creativity and innovation
Principles of Creativity
Why do you need to separate idea generation from evaluation and what does it mean in practice?

How to create as many ideas as possible in the shortest amount of time

What is Confirmation Bias and how does it relate to creativity?

How to identify and avoid bad habits to increase the likelihood of coming up with novel ideas

How to expand the search space of possibilities systematically without getting drowned

How to avoid patterned thinking

How to avoid negative thinking
Process of Creativity
What are the 4 stages of creativity and how can they help you to come up with novel ideas quicker?

What is Expanding Problems Technique?

How to manage risk

What kind of attitudes can kill creativity and how to avoid them?
Creativity Techniques
How to think in groups to use everyone's inputs efficiently

How to take advantage of random

How to use opposites to create a large number of associations and produce new concepts

How to take advantage of the immense visualisation power of the brain and create many associations systematically and with ease

How to combine the power of matrices, opposites, tree diagrams, related keywords, etc. to systematically search the space of possibilities and generate new thought

How to ask questions from yourself or from others to increase the chances of coming up with better solutions

How to encourage others to look beyond the status quo using a systematic tool

How to use provocation and challenge to generate new ideas

---

Topics Covered
Demystifying creativity: What is it? What is the difference between creativity and innovation? What are the characteristics of creative people? And how can you learn to be more creative?

A whole-brain thinking approach to creativity and innovation

Creativity principles and practices derived from business, art, and science

How to formulate ideas, evaluate ideas, create prototypes, test, and turn ideas into action.

8 step framework for creativity and innovation, based on classic creative problem-solving and design-thinking

Design thinking applied to innovation strategy

Develop the five discovery skills of the Innovators DNA and optimize your ability to find creative solutions

Create a culture that fosters creativity and innovation
---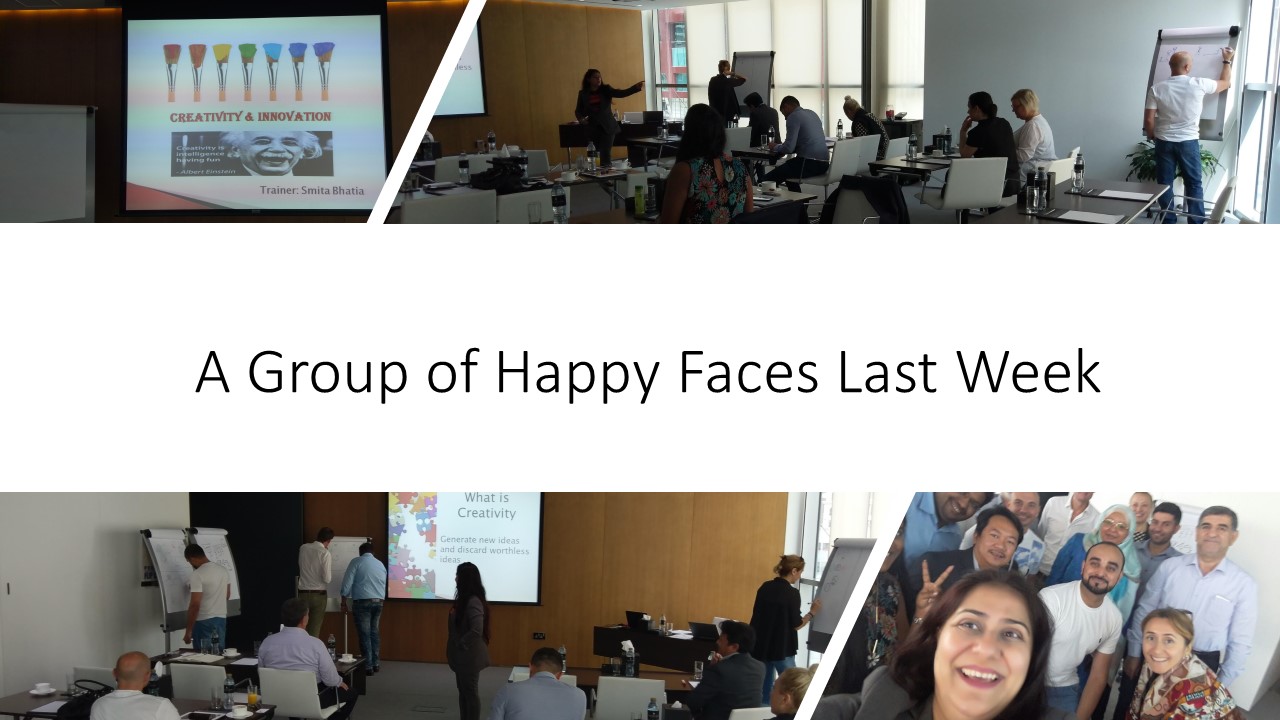 ---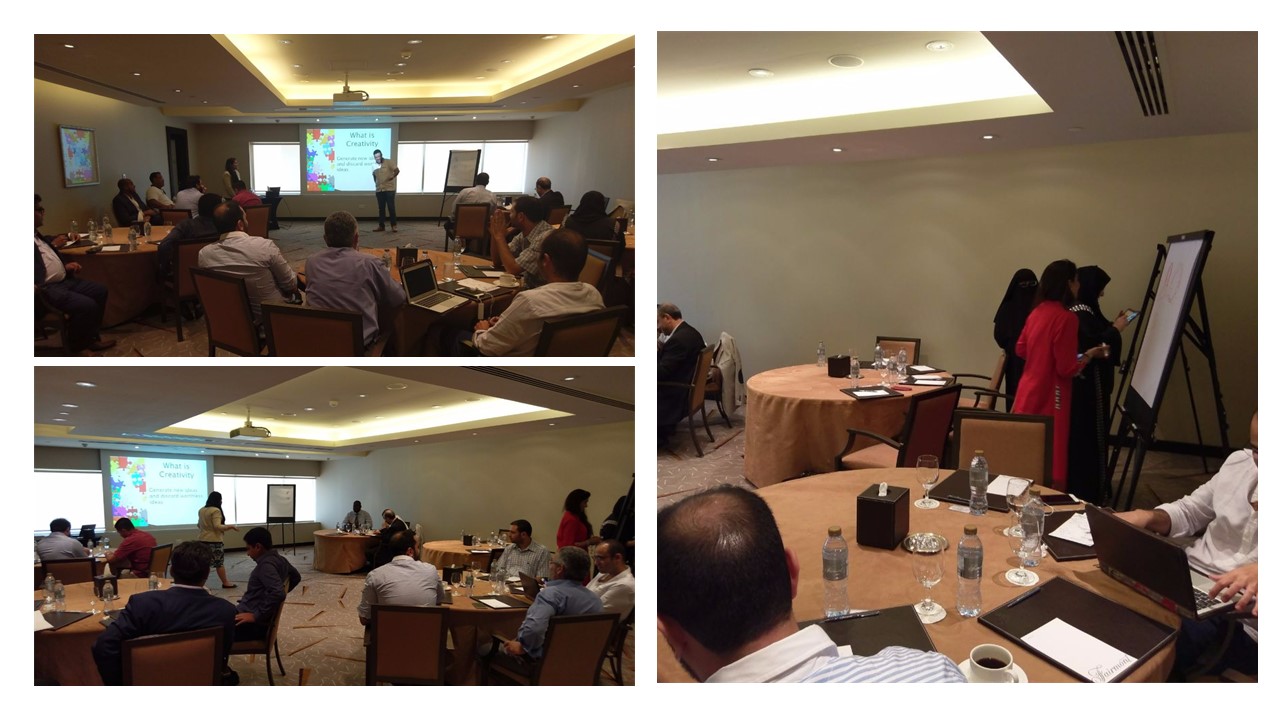 Takeaways
Leverage your creative style(s) and increase your confidence in your creative abilities

How to generate, analyse, evaluate ideas, and manage the process from ideation to implementation

Develop a set of seed ideas creative solutions to your specific business challenges and strategies to implement these

Critical thinking skills: Using a whole-brain approach to thinking through problems, questioning prevailing wisdom, and discovering creative solutions

How to inspire and engage your team in collaborative creativity

How to get people on board to help you turn ideas into action

Improve your leadership, communication and thinking skills

Create a language and a structure for managing creativity and innovation
---
Audience: Anyone
Prerequisites: None
Course Duration: 1 Day
Course Level: Beginners & Intermediate
---
By the end of this course the delegates will be able to:
Identify principles of creativity, innovation and serendipity to increase your productivity and imagination

Mind Map to increase your creativity, memory and knowledge capturing productivity

Approach creativity in a step-by step process and use proven practices to increase your inventiveness

Use several techniques to quickly create a large number of options and alternative solutions to your problem using a systematic approach

Use lateral thinking techniques and indirect approaches to increase your creativity

Find the root cause of problems efficiently using a systematic approach

Use the Six Thinking Hats technique to increase the efficiency of brainstorming sessions of any kind
---
This course contains a variety of techniques to accommodate all tastes and addresses many angles. If used correctly (and passionately), even a single technique is enough to achieve creativity.
---
An innovative culture and the right set of creativity techniques are crucial in every business. Challenge your thinking process and learn techniques to improve idea generation by following this 1-day innovation and creativity training! These workshops will enhance your team's customer-focused mindset and skills in developing new product, service, and business concepts as well as finding new markets for your innovative technology.
Training innovation champions outside their comfort zone
The front end of innovation has to follow a structured process to produce the right outputs while at the same time it has to inspire employees. Teams will have to get rid of assumptions and adopt a design thinking mindset. In this workshop participants will have to challenge their thinking process and will discover new inspiration to generate new ideas.
LEARN IDEATION TOOLS & BRAINSTORMING TECHNIQUES
Participants will walk away with mindsets that will boost creative performance. They will deeply understand their user's world and acquire a variety of innovation tools to generate new solutions and business ideas. The goal of the training is to think about the way you think through a continuous, interactive and reflective Q&A session and to focus on users and their problems.
---
Creativity is Contagious – Pass it on!
Think it's doable? To get everyone on the planet involved celebrating their creativity, using it AND doing good at the same time? Would you like be a part of something fun?
REGISTRATION
How To Register
1. Call us at +971 58 250 8484
2. Send an email to training@katerpillar.me

3. Register offline here
---