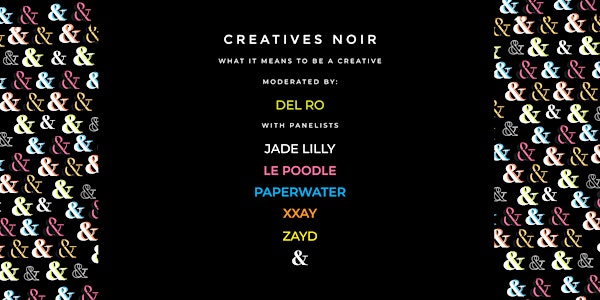 Creatives Noir Panel
Join our panelists in discussing the ongoing gaps in creative resources, growth opportunities, and networking for Black creatives.
When and where
Location
AMPERSAND STUDIOS 31 Northeast 17th Street Miami, FL 33132
About this event
This event is the first of many focused on what it means to be a Black Creative, Entrepreneur and Talent in a city that has seen some of the highest growth in the Nation. Guests and panelists will connect in real-time to discuss the challenges and progress in the creative realm, while sharing what it means to live life as their true authentic selves.
Our Host
Del Ro (@delrodaily) - Del Ro has forged his own path in the entertainment industry, as the President and Founder of Double A Management and Project Manager for Recapturing the Vision. Del Ro is a host, public speaker, media correspondent, serial entrepreneur, and brand ambassador. He truly embodies his mantra: "Living Dreams Daily" and strives to be an inspiration to the community and those around him.
Our Panelists
Jade Lilly (@shootmejade) - Considering herself a rainbow in human form, Jade's ultimate goal is to spread light in what can be a dark world and bring beauty through colors. Realizing that images are a universal language, she is passionate about capturing and creating images that evoke emotions that can result in conversations; she only hopes to change perspectives that no longer serve the greater collective.
Le Poodle (@le_poodle) - Le Poodle, born as Natalie Foucauld, was raised in South Florida from the age of three. Her parents are from Puerto Rico and Haiti and thus grew up in a very diverse household involving the sciences, arts, and music. She is more well known for finding the indie rock group, Cloud Solo. She uses traveling and life experiences as inspiration, and finds writing as a meditative and healing experience. Together, with her artistic background, she plans to release several visuals along with her concepts over time.
Paperwater (@paperwater) - Paperwater is the byproduct of two talented aspiring artists with a shared passion. Together, their combined skills of production and performance have made the duo a force to be reckoned with in the musical community. They've released work through Dim Mak and Warner Bros. Records. But the journey doesn't end there – Paperwater aspires to leave its mark on the world through what they consider to be their primary motivation and responsibility to others: creating and sharing music that pushes the envelope and challenges people's notions of how certain genres should or shouldn't sound.
Xxay (@xxaytheprince) - Xxay works as Creative Director for Recapturing The Vision International, bolstering and building his marketing team as the Head of Content for Double-A Management. He has produced projects and creative assets using nearly all Adobe Applications and has been exposed to all creative settings in person.
Zayd (@creatrgod) - Creator-Entrepreneur and co-founder of Light Energy Labs a music game-fi company with Timbaland. Zayd, who directed the Congo video, recalls how much effort went into creating the visuals. Congo is a rapping ape that was introduced on social media in late July as the brainchild of Timbaland and Zayd, and Light Energy Labs. He speaks to the power of finding new ways to express creativity.
Agenda
8:30 PM - 9:00 PM
Closing & Networking