Creative Lives and Heritage Crafts co-host a free, open monthly hour-long #CreativeNetwork - Crafts Zoom Conversation. All welcome!
About this event
Creative Lives teamed up with Heritage Crafts in May 2020 to set up an online network to connect people working or volunteering in participatory crafts in all its forms across the UK & Ireland, with a particular emphasis on amateur and heritage crafts.
We co-host regular #CreativeNetwork Crafts conversations (on Zoom), that each focus on a different theme and include a guest speaker. We discuss issues and challenges, and find solutions. This inclusive craft community shares ideas, inspires and supports each other through the COVID 19 pandemic and beyond.
The next #CreativeNetwork - Crafts Zoom Conversation will take place on Monday 13 June 2022 from 12noon to 1pm.
The theme is 'How crafting can bring a community together' and our special guests are Naz Syed, who is a socially engaged visual artist, creative consultant and community coordinator and Marilyn Priday, who is one of the founders of Coffee n' Laughs, a charity and friendship group for women of all ages, faiths and cultures. The group run regular arts and crafts workshops and community trips, and they won the Creative Lives Celebrating Diversity Award in 2021.
Photo below shows: Artist Naz Syed in her studio.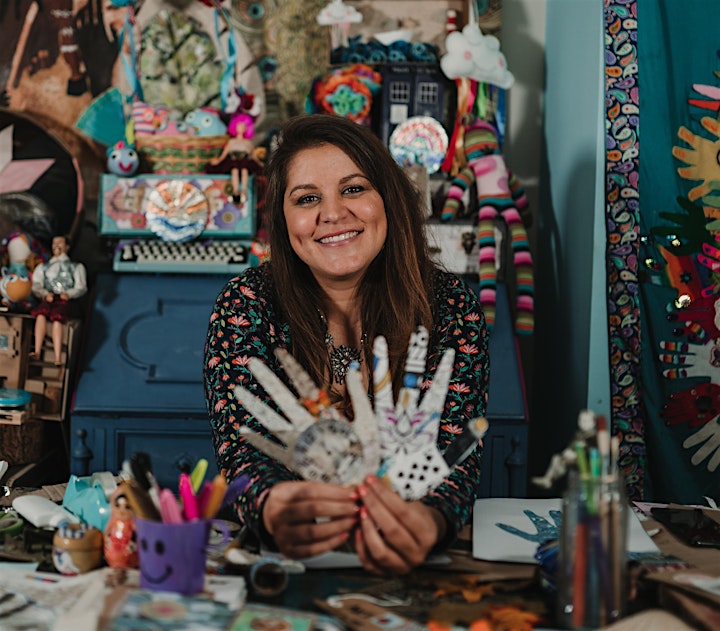 Working with others is a driving force of Naz Syed's practice, connecting people and their stories, supporting wellbeing and building confidence through creativity. She uses different art forms including; craft, textiles, sculpture, fashion, mixed media and collage. Naz is passionate about supporting arts at the heart of the community, with over 20 years of experience. She has recently created a visual community time capsule with 'Lost Connections' and Art Clwb workshops and packs to support creativity in the community.
Naz will tell us about her experience of working with Coffee 'n Laughs on the Lost Connections project to capture stories through lockdown by creating a community quilt. The quilt fuses together art, textiles and poetry with a hand of friendship motif to reflect participants experiences, emotions and connections.
Each piece of 'hand' textile art was created by members at home, with doorstep deliveries and workshops by Naz.  These were brought together and hand stitched by Marilyn Priday to create the final quilt.
Marilyn will be joining the conversation to give her perspective as a participant in this project, and to discuss how crafting has bought her community together.
Photo below shows: Coffee n' Laughs' members Sue Lewis (left) and Marilyn Priday (right) holding the he Lost Connections: Community Quilt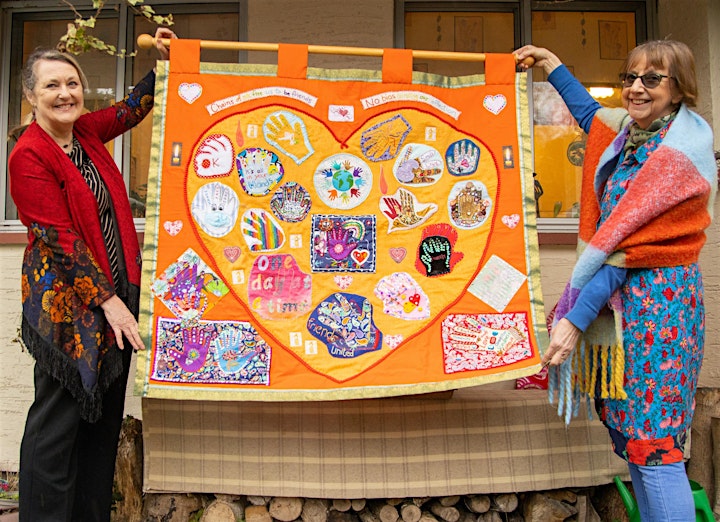 Coffee n' Laughs is a charity and friendship group for women of all ages, faiths and cultures. The group run regular workshops and trips with the community. A weekly friendship group in a multicultural and diverse area of Newport, Coffee n' Laughs supports participants experiencing isolation and depression with positive creative activities including textiles, embroidery, and hand-bound books.
The age range is wide ranging, from 16 to 76 and is run by volunteers. The cultural heritage of participants are Bangladeshi, Pakistani, White Welsh, African, Somalian, Iranian, Eastern European and Chinese. Coffee n' Laughs is a lifeline for members who have suffered difficult lives, and it tackles isolation problems and depression by participating weekly and engaging in creative activities.
You can find out more about the Lost Connections project here www.lostconnectionsart.co.uk
You can also follow Naz on her socials via @ZibaCreativeUK and @lostconnectionsart on instagram and @ZibaCreativeUK on Facebook and Twitter.
You can find out more and follow Coffee n' Laughs on Facebook.
You are also invited to join our #CreativeNetwork Crafts Facebook Group, where you can continue the conversation, share ideas, ask questions, post videos, inspire and be inspired!
For more information contact sally@creative-lives.org