Description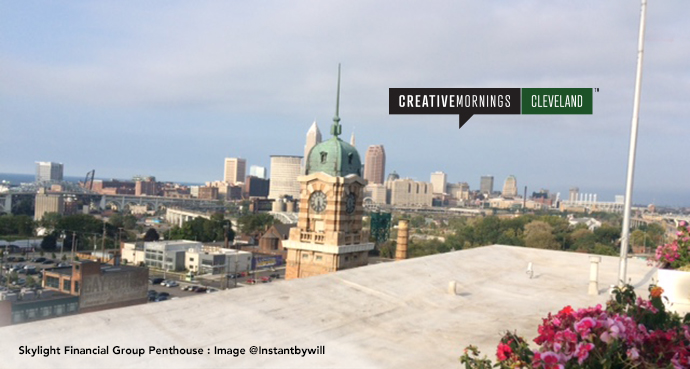 You're invited!
Please join us for the 3rd annual CreativeMornings Cleveland NOMINATION NIGHT - Thursday, October 26th from 6-9pm at The Skylight Financial Group Penthouse. A private gathering of community leaders from every sector of Northeast Ohio's diverse arts landscape, held to collectively find the best, brightest, weirdest, most beloved creative people in our city to speak during the 2018 season of CreativeMornings Cleveland. This year's Nomination Night will include some big changes including 50+ potential speaker features and a silent auction to raise funds to produce our regular monthly program.
Monthly CreativeMornings Cleveland events are made possible thanks to the many Cleveland businesses and organizations that participate and contribute as partners. All of our past and present partners and speakers are invited to attend Nomination Night. Registration is $25 includes a drink and hors d'oeuvres.
THANK YOU to Skylight Financial Group, Jakprints, Phoenix Coffee, and Crop Bistro for helping make NOMINATION NIGHT Possible:

Silent Auction Participants: Coming Soon
Previous Partners of CreativeMornings Cleveland Include:
Phoenix Coffee, Jakprints, Digital FX Media, Southern Sweets, Pickled Pinup Photography, Skylight Financial Group, Cleveland Public Library, The Cleveland Clinic, Slavic Village Development, Transformer Station, Cleveland Public Square, The Waterloo Sculpture Garden, SPACES, Wyse Advertising, Rock & Roll Hall of Fame & Museum, The Cleveland Collection Gallery, The Dunham Tavern & Museum, Greater Cleveland RTA, LAND Studio, Arras Keathley Advertising, Near West Theatre, KP Photo Group, Cleveland Institute of Art, Thundertech, HUB 55, Cleveland Metroparks, Rosetta, Fairmont Creamery, Twist Creative, City Club of Cleveland, The Adcom Group, Moca Cleveland, Edible Cleveland, Brokaw, University Circel Inc, Ohio City Inc, Consolidated Solutions, Parse & Parcel, HeyNow Media, Christine Wisnieski, The Creative Group, Akhia, Alpha Graphics, Web Machine, Zygote Press, 4walls, Townhall, Cleveland Field Kitchen, Constantinos Market, Ohio City Moto, Baked Cleveland, Anna in the Raw, Cleveland Bagel Company, Bloom Bakery, Bearded Buch, Bon Bon Cafe, Clark Pope, The Root Cafe,
Previous CreativeMornings Cleveland SPEAKERS:
Watch previous CreativeMornings Cleveland events at CreativeMornings.com/cities/cle and browse the global conversations at CreativeMornings.com
Aimee Crane - Graphic Designer
Patrick Walker - Entrepreneur, Executive Coach
Manu Singham - Theoretical Nuclear Physicist
Alana Jochum - Lawyer, Non-Profit Leader
Stephanie Sheldon - Entrepreneur, Multi-Disciplinary Designer
David Jurca - Architect, Public Space Designer

Robin Vanlear - Artist, Arts Festival Director
Dan Moulthrop - Host, Community Forum Builder
Robert Banks - Film Artist
Annie Zaleski - Music Critic
Kauser Razvi - Public Arts Program Creator

Michael Ryan - Judge, Author
James Renner - Mystery Novelist
Danielle Drake - Refugee Resettlement Manager
Kumar Aurora - Entrepreneur, Investor
Anila Rubiku - Fine Artist, Painter

Dave Rigo & Greg Lehman - Entrepreneurs, Distillery Founders
Kay Shames - Arts Administrator
Jeremy Bendik-Keymer - Philosopher
Philip Metres - Poet, Translator
Al Wasco - Graphic Designer

Zachariah Durr - Mixed Media Artist

Ariel Clayton Karas - Violinist

Scott Ashley - Workplace Strategist

Dennis & Kathy Barrie - Museum Creators
Kate Snow - Mixed Media Artist

Bob Ruggeri - Film Producer
Chris Ryniak & Amanda Lousie Spayd - Artists, Toy Designers
Joseph Makkos - Print Maker, Print Historian
RA Washington - Poet, Community Organizer
Steve Tamasi - Robotics Engineer
Mike Belsito - Tech Startup Entrepreneur
Jeremy Umansky - Chef, Forager
Nikki Vilagomez - Graphic Designer, Typography Expert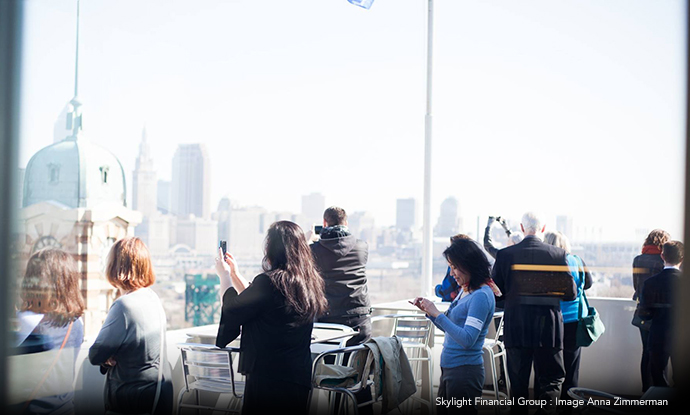 CreativeMornings Cleveland Volunteer Team:
A creative life requires bravery and action, honesty and hard work. We are here to support you, celebrate with you, and encourage you to make the things you love. We believe in the power of community. We believe in giving a damn. We believe in face-to-face connections, in learning from others, in hugs and high-fives. We bring together people who are driven by passion and purpose, confident that they will inspire one another, and inspire change in neighborhoods and cities around the world.
Everyone is Creative, Everyone is Welcome
Thomas Fox, Host & Organizer
Nadia Bennett
Shane Hinde
Shawnda Moye
Kate Eidam
Courtenay Kneram
Joon-li Kim
Jay Hovanec
Jessica Will
Katie Dike
Kauser Razvi
Chantel Pettegrew
Amanda McCoy
Aaron Erb
Martha Loughridge
Jessica Fox
Farin Blackburn
Alexis Rosen
Dan Corby
Helena Bondar
Amaka Uwagaba