Description
[Loopkin's Workshop for Potential Kids Event Specialist Exclusively for G.O.A.'L members]
What you will learn:
+What are Design Thinking(DT) and Loopkin's kid's activity specialist.
+How Design Thinking(DT) can be applied to kid's activity.
+Tips on how to play with kids and encourage their creative thoughts.
+Creative Design Thinking workshop for those who are interested in becoming an entrepreneur kids activity specialist.
This workshop is for:
+ A freelancer who are interested in becoming a Kids Events Specialist.
+ English teachers who would like to earn extra money during their off time.
+ Parents who would like to know on tips to play with kids.
+ Business owners of Kids Play/Education service who would need more effective marketing support/tool.
+ People who would like to make money on weekends.
+ People who would like to know about Design Thinking which sparks creative ideas stemming from Stanford D.School.
* Date: 2017 April 29th (Sat) 1:00pm-2:30pm

* Venue: Posco SS&CC Tower B1
479, Gangnam-daero, Seocho-gu, Seoul, Korea. (Right off by Sinnonhyeon station exit#2)

>>DIRECTIONS
Click here to get 'Google' direction.
Click here for 'Naver' Direction.

* Registration: Please register no later than 27th of April.
---
[Good Karma]
Enjoy with more!
This workshop is to help people who like kids and have skill sets that can be utilized for kids during their extra free time! So, please help our community grow with diverse people!
--> You can check out up to 2 tickets for your friends or family.
* If you have a community or group more than 12 people, please contact us at help@iloopkin.com to organize for your group.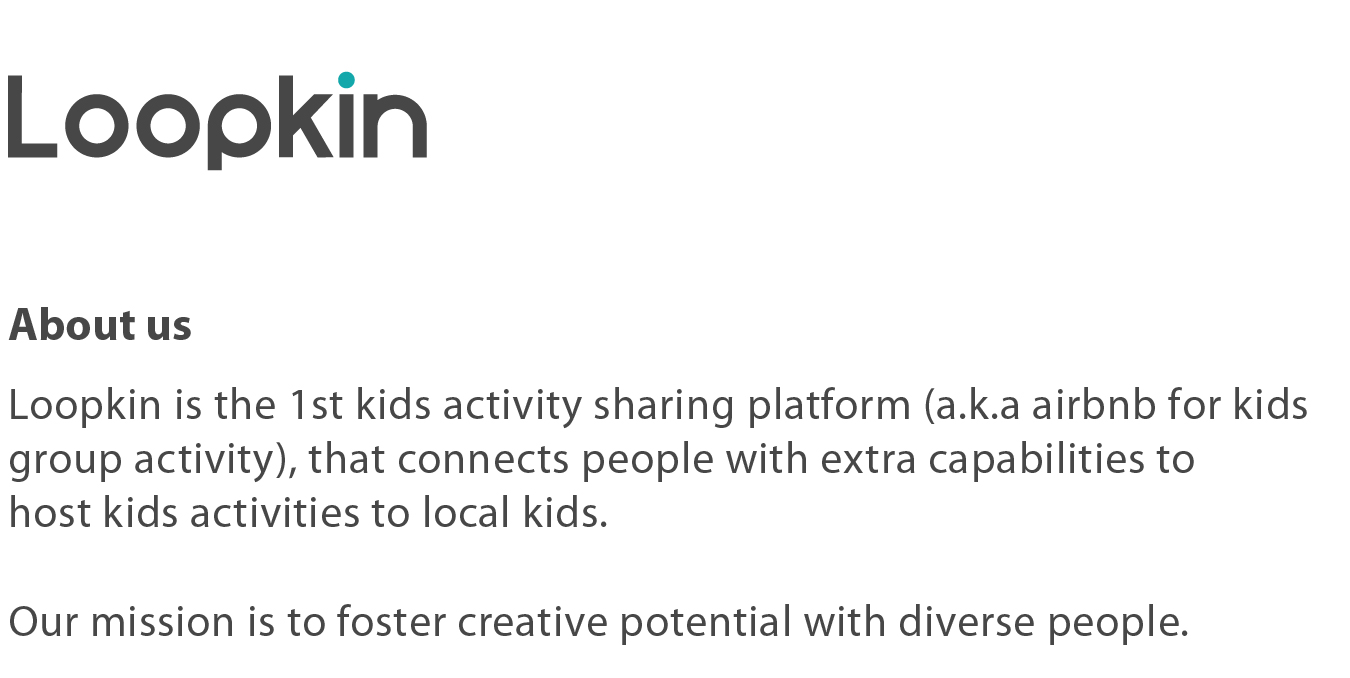 >> Find out how Loopkin works! (Short Video)

** Get to know more about Loopkin?
See the Loopkin's Business Slide!
--> To see the video of this workshop
Check out what Loopkin's Workshop program is about!
-->Want to know more about becoming a Loopkin's Specialist(Kin Pro)?
www.iloopkin.com
help@iloopkin.com
Facebook: www.facebook.com/loopkinamerica
Instagram: @loopkinamerica