Description
Creative Waters: Paper Marbling with Kelly Laughlin of Odette Press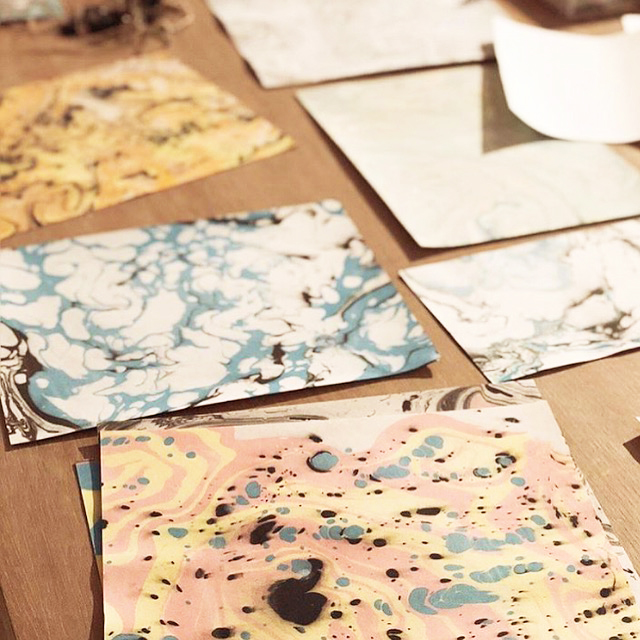 Join us for class
Thursday 6/6 from 6-PM
Saturday 6/8 from 12-2PM
Sunday 6/9 from 1PM-3PM
About the class:
Creativity and inspiration are all around us; each person is capable of incredible, creative things. In this class, you'll connect to your innate creativity as you explore the centuries-old, meditative process of suminagashi-style paper marbling.
Translated loosely as "floating ink" or "spilled ink", suminagashi is characterized by delicate tendrils of colorful inks that swirl and float on the water's surface. Float ink on the water's surface, finding a sense of play and wonder as you create your own collection of marbled paper designs.
Class begins with a grounding discussion and introduction to the process, its history, and how paper marbling can help connect us to both our breath and the world around us. You'll be lead through a demonstration of the paper marbling process, and have ample time to create your own collection of marbled papers.
As papers dry, we'll reflect on your time and what insights may have been revealed, building connection to your creative self through conversation. You'll receive a hand marbled, hand bound pocket journal to help you capture and reflect on your experience.
For anyone who is a person in the world exploring a more creatively infused life, this class is perfect for you, whether you are a beginner or more advanced. Through ink, breath, and movement, we'll make beautiful paper, engage in meaningful dialogue, and reflect on the courage of the creative process.
What you'll receive:
Instruction and materials for creating one of a kind, nature-inspired marbled papers
A hand marbled, hand bound notebook for taking notes and collecting insights
Information on how to assemble your marbling set up at home
About the space:
Clove + Whole is a light-filled studio located in Oakland, California founded and facilitated by Naomi Phan-Quang. Clove + Whole is a space for thoughtful, creative, and restorative collaborations. Follow Clove + Whole on Instagram and reach out if you have questions about the space.