Creative Trends for 2018 + Shooting a Short Schedule Indie Feature @ LAPPG's Feb. 15th Meeting

Thursday, February 15, 2018 from 7:00 PM to 10:00 PM (PST)
Event Details
Please note that we are meeting on a THURSDAY this month!
Join us for our February LAPPG Meeting featuring two exciting presentations:

Creative Trends Dominating Visual Production in 2018
Fantasy, new minimalism and space are trends that should be top of mind for all producers, filmmakers
and advertisers as they strategize creative planning for the year ahead. Billions of data points based on search and download choices, combined with insights from visual experts, helps determine the forecasted trends that influence creative direction and design aesthetics around the world. New demands created by cultural phenomenons such as 'Stranger Things' and 'Blade Runner' include soundtracks and clips that replicate these retro sci-fi scores and aesthetics, creating unique genres like Sci-Fi Synth and Nordic Noir. In this talk, Jon-Paul Harrison, Business Development Manager, Entertainment at Shutterstock, will discuss the rising global trends and predictions for 2018 based on behavioral search and download data from Shutterstock's music and video libraries.
Jon-Paul Harrison is the Senior Sales Manager of Entertainment at Shutterstock where he unites rich, global content with the leading studios, production houses and entertainment outlets across the west coast. An established licensing executive with over a decade of experience, Jon-Paul is proactively involved in the Los Angeles photography and filmmaking community, guest lecturing at the University of Southern California and Santa Monica College. He has also served as a two-time judge for the industry respected Photo District News (PDN) Great Outdoors Contest and sat on the board of directors for the Telluride Photo Festival, emceeing the festival in its final year.
Strategic Insights for Shooting a Short Schedule Indie Feature
In demand Director of Photography Dan Kneece, will be stepping out from behind the camera to share insights on how to successfully approach a short schedule indie feature. Based on his experience from this past year with completely different genres and budgets in close succession, Dan is excited to share some common threads and
valuable lessons based on his work on the soon to be released period piece about Mary Pickford, the modern day story Bad Stepmother for Lifetime and the forth coming horror film, Gothic Harvest.
Dan Kneece started filming motion pictures at age 13 when his Mother bought a Super 8 camera. He began his professional camera operating career shooting news for WIS-TV, and was taught Steadicam by inventor Garrett Brown which lead to a 28 year career as a Steadicam Operator and anongoing professional relationship with Director David Lynch on films such as Blue Velvet, Wild at Heart, Lost Highway and Mulholland Drive. Dan also operated two films for Quentin Tarantino, Death Proof and Jackie Brown on which he was also "A" camera operator. On the music video side Dan operated Steadicam on Crazy N Love for Beyonce and many, many others. Dan now uses his knowledge and extensive filmmaking experience to excel in his work as Director of Photography.
***As always there will be plenty of time to network, enjoy some coffee and participate in our great giveaway which includes thousands of dollars of amazing prizes from our generous partners!

$5.00 cash kindly requested at the door will include 1 giveaway ticket.
Location:

 Roth Hall

1714 21st Street

Santa Monica, CA 90404
Click for a map here.
***Street parking is available as well as a Crossroads parking lot on 22nd Street. Cick here for a parking map.

---
THANK YOU TO OUR SILVER PARTNER IZOTOPE

We are thrilled that our friends at iZotope have continued their support of LAPPG for 2018! Not only do we love their products, but we use them every single day! We offer them a big congratulations and send them lots of good luck on their CAS award nomination for Outstanding Product - Post Production for RX 6 Advanced from the Cinema Audio Society.

RX 6 Advanced is the flagship of the RX family of products, the industry standard audio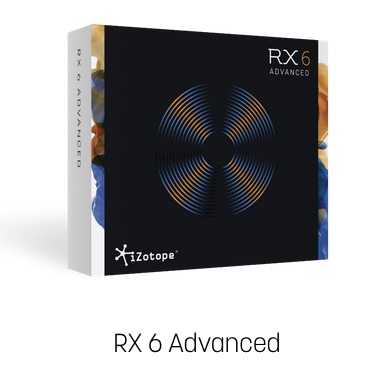 repair tool that's been used on countless albums, movies, and TV shows to restore damaged, noisy audio to pristine condition. From noise reduction to removing clicks to fixing distortion, RX is a complete toolkit for cleanup and audio restoration needs. Visually identify and repair problems with the standalone RX Audio Editor application, or use the plug-ins in real time in your favorite DAW or NLE.

For more information visit: https://www.izotope.com/en/products/repair-and-edit/rx/rx-advanced.html
---
SUBSCRIBE TO LAPPG'S YOUTUBE CHANNEL TO CATCH UP ON MISSED MEETINGS

Missed a meeting with something you really wanted to learn about? Every week we're posting key highlights from our monthly meetings - recent ones and older ones! 
Curious about AI taking your job? Norman Hollyn, USC Professor of Cinematic Arts discusses various ways that artificial intelligence is assisting in the editing process. Watch highlights from last month's presentation here.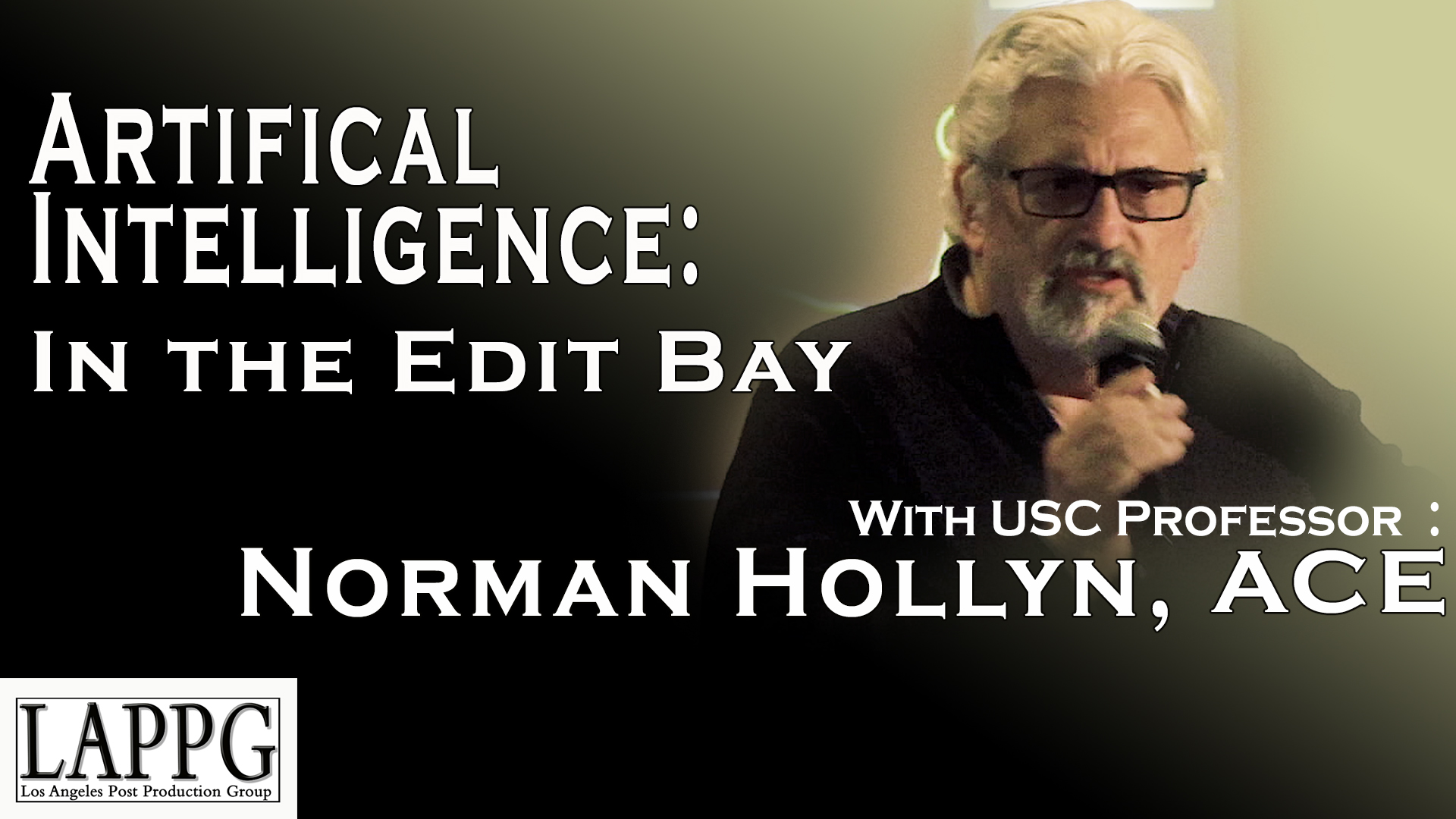 ---
SAVE THE DATES FOR THESE UPCOMING MEETINGS AND EVENTS

LAPPG February Meeting – Thursday, February 15th, 2018 – Roth Hall
LAPPG March Meeting – Wednesday, March 14th, 2018 – Roth Hall
LAPPG April Meeting – Wednesday, April 18th, 2018 – Roth Hall
LAPPG May Meeting – Thursday, May 10th, 2018 – Roth Hall
Cine Gear Expo – May 31-June 4, 2018 (Exhibits June 1-3, 2018) – The Studios at Paramount, Hollywood
2018 Creative Storage Conference – June 7, 2018 – DoubleTree Hotel, Culver City
LAPPG 10th Anniversary Celebration at NewFilmmakersLA – Saturday, June 23th, 2018 – South Center Park, DTLA
---
DIGITAL CINEMA SOCIETY'SLIGHTING EXPO - FEBRUARY 24, 2018

All are welcome to join the Digital Cinema Society for their annual exploration of Motion Picture Lighting and Grip Technology. The event will return to the IATSE Local 80 stage in Burbank on Saturday, February 24th.
 
In addition to their traditional vendor presentations and practical demonstrations by renowned Lighting experts, they will also discuss the challenges faced by Lighting professionals such as Flicker, Color Rendition/Spectrum issues and On-Set Safety.  The DCS Service Award, presented last year to George Spiro Dibie, ASC will honor another Industry icon, and invitations to special guest Cinematographers are pending.  (Our 2017 guest was Academy Award winning Cinematographer, Russell Carpenter, ASC.)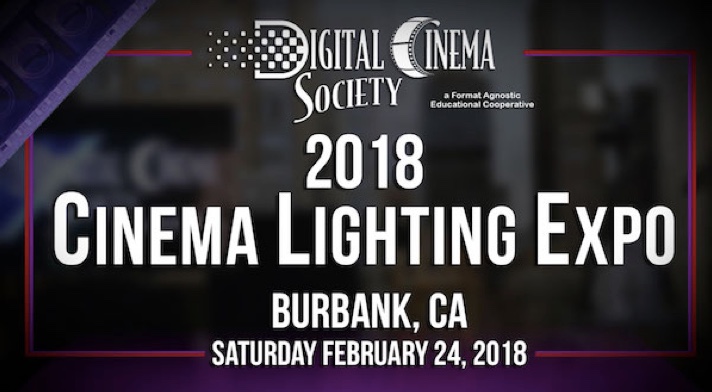 Participating Manufacturers and Vendors tentatively include, (in alphabetical order):


 ARRI  •  BB&S Lighting  •  Cineo Lighting  •  DADCO/FilmGear  
Dedolight  •  De Sisti  •  DMG Lumiére  •  DoPchoice  •  Fluotec
Kino Flo  •  K 5600  •  Light & Motion  •  Litepanels  •  Luminys   
MACCAM  •  Mole Richardson  •  Nila  •  Panasonic  •  Practilite
Rosco Labs  •  Terra LED  •  The Rag Place  •  Zylight


Time: Saturday, February 24th, Starting at 9AM and ending at 5PM

To attend, please list "Lighting Expo" in the subject line, and don't forget to give your contact details when sending your RSVP e-mail to: RSVPtoDCS@digitalcinemasociety.org


---
PARTICIPATE IN THE INDUSTRY'S STORAGE SURVEY + $150 OFF CREATVE STORAGE CONFERENCE

Coughlin Associate, Inc., the organization behind the the Twelfth Annual Creative Storage Conference (CS 2018), is conducting a survey of digital storage requirements and practices for media and entertainment professionals with results presented at the 2018 Creative Storage Conference.  M&E professionals can participate in the survey through this link:  https://www.surveymonkey.com/r/NXRN5SL. This is a great chance to get your your voice by the movers and shakers in the storage industry so you can get more of what you want and need to make your job more efficient.



The Twelfth Annual Creative Storage Conference (CS 2018) will be held Thursday June 7, 2018 at the DoubleTree Hotel West Los Angeles in Culver City, CA (www.creativestorage.org).   To receive a $150 discount use the following link: https://cs2018.eventbrite.com?discount=onefiftyoff379259524

Speakers and panelists are being solicited for the conference until April 20, 2018.  You can submit speakers/panelists for this premier event at http://creativestorage.org/2018SpeakersCall.htm.  The preliminary agenda for the Creative Storage Conference is at: http://creativestorage.org.2018agenda.htm.  
---
CONNECT WITH US!              

---
We thank the following partners for their generosity and support of our monthly meetings. Please visit them:
Adobe, Advantage Video Systems, Blackmagic Design, BorisFX, Creative Handbook, Digital Rebellion, Glyph Production Technologies, Imagineer Systems, Indie Shooter, Intelligent Assistance, iZotope, LaCie, Mercury Production Report, Other World Computing, Pro Sound Effects, Pro Video Coalition, ProductionHUB, Shutterstock, Sound & Picture, Vimeo, Zeiss.

We look forward to seeing you on Thursday, February 15th!
Sincerely,

Los Angeles Post Production Group
Please visit www.lappg.com for discount offers, job listings, industry news and more.
When & Where

Crossroads School - Roth Hall
1714 21st Street
Santa Monica, CA 90404


Thursday, February 15, 2018 from 7:00 PM to 10:00 PM (PST)
Add to my calendar
Organizer
The Los Angeles Post Production Group is a professional organization for people with a passion for film, video and the digital media finishing process.

The LAPPG discusses all aspects of post production, from picture and sound editing to color correction, visual effects, codecs, storage and post workflows.

Expert presenters and leading companies come to our monthly meetings and share new technologies, techniques, tools, products and best practices to aid us in telling great stories.
We also provide our members with great offers and discounts as well as opportunities to network and make industry connections.
Membership is free and you need not live in Los Angeles to take advantage of this great resource.
To become a member please email your name and information about yourself to membership@lappg.com.