Creative Third Thursdays is a creative networking event series brought to you by the Chilliwack Creative Commission and Cowork Chilliwack.
About this Event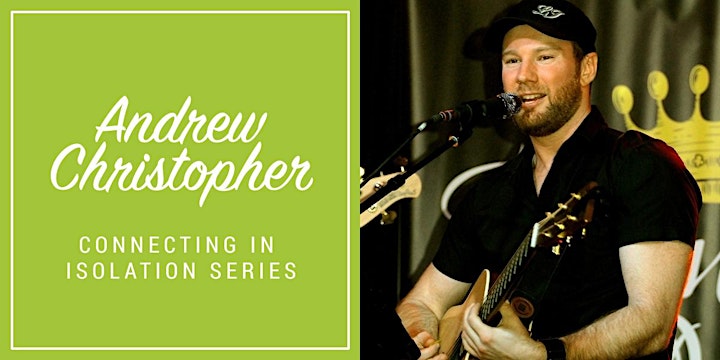 December's Virtual Creative Third Thursday
We are continuing our "Connecting in Isolation Series" with a conversation with musician Andrew Christopher. Chilliwack Creative Commission committee member Tim McAlpine will chat with Andrew about his creative journey, his life as a full-time independent musician and how he's had to adapt his creative business to the current conditions. There will also be plenty of time for questions from our Zoom participants. Please join us for the last Creative Third Thursday of 2020.
About Andrew Christopher
Andrew Christopher is a Canadian singer-songwriter born and raised in small town Agassiz, BC. He is currently living in the Lower Mainland with his young family, fulfilling his dreams of creating music. His original songs written about love, loss and life become instant favourites for his listeners. His music is acoustically based with a blend of Alt/Rock, Country and Pop.
Music has always been a huge part of Andrew's life, b­ut it wasn't until a trip to Australia in 2008 where he spent the year busking his way around the country that he realized his true passion for music. He quickly became accustomed to the 'big stage' as he returned home to join Pardon My Striptease and having their first gig at Carnegi Hall, New York, NY. Since then, he has been invited to share the stage and sing hit songs with the likes of Mike Reno (of Lover Boy) and State of Shock.
In December 2011, Pardon My Striptease released Andrew's song "Pray (for LJ)". It soon became the #1 most downloaded song in Canada, also making it to the top 20 on Canada's Billboard Charts and raising $110,000 for BC Children's Hospital. "Pray (for LJ)" and further fundraising efforts are important to Andrew as his first daughter, Lilee, spent endless hours battling cancer at BC Children's Hospital, and eventually succumbed to the awful disease.
Andrew's debut solo album "Gone" (released December 2012) is filled with heart-felt original tunes which has sold over 1500 copies off-stage.
After a 6 month hiatus in 2013, Andrew enjoyed 2016 as his third year as a full-time musician playing over 250 shows and doesn't plan to slow down for 2017. In 2015 Andrew took a new path with after exploring many different avenues. After finding success with his rock band, Pardon My Striptease, he is now finding his groove as a folk/country artist. In addition to his solo work, Andrew maintains a strong and diverse involvement in the music scene, you can find him providing lead vocals and acoustic guitar for premiere 90's cover band Big Shiny.
Most recently he was nominated for 2016's Country Club Act of the Year, and Male Vocalist of the year for the BC Country Music Association.
Andrew's repertoire has been described as a "truly eclectic mix of contemporary songs" ranging from Tim McGraw to Eminem. His original songs have heavy emphasis on lyrics and the guitar accompaniment is perfectly married with the tranquillity of his voice. His energetic and often humorous live shows, along with a Rock 'n' Roll attitude, intrigues fans to stick around after just one listen. Andrew's charm and sincerity as a person has kept them coming back for more.
Who's this for?
Would you describe yourself as a creative entrepreneur, freelancer, filmmaker, media specialist, software engineer, marketer, animator, technologist, commercial photographer, videographer, designer, writer, maker, web developer or inventor? Or maybe you just like hanging out with other creative types? Then, this is for you!
Creative Third Thursdays is a creative networking event series brought to you by the Chilliwack Creative Commission and Cowork Chilliwack. Each monthly get together features a unique speaker followed by informal networking. Come meet (virtually for now) and mingle with likeminded creative types on the third Thursday of every month!

Brought to you by
The Chilliwack Creative Commission is a committee of CEPCO and its mandate is to attract and facilitate economic growth in the emerging creative sector, including film, interactive and digital media. The Chilliwack Creative Commission can connect and facilitate the necessary resources for your creative business needs.
Cowork Chilliwack is a collaborative workspace on the north side of the freeway. Cowork Chilliwack has established a community of like-minded businesspeople including solo entrepreneurs, freelancers and small teams that call Chilliwack home.