Creative Studios of Atlanta Screenwriting Intensive in Cortona, Italy

Wednesday, June 19, 2019 at 8:00 AM

-

Sunday, June 23, 2019 at 6:00 PM (EDT)
Event Details
Come experience the quaint mountainside village of Cortona and treat yourself to a 4-day Screenwriting Intensive "Under the Tuscan Sun".
Join CSA, Ken Feinberg and Giacomo Arrigoni for a one-of-a-kind Screenwriting Intensive in the scenic beauty of Tuscany.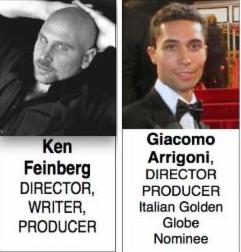 Venture to beautiful Cortona, in the heart of Tuscany where we will produce original short films starring the actors on the program, using original scripts selected from the CSA Writers Retreat.  We will prep, rehearse, shoot, edit and screen all original short films while in Cortona.

Your onsite production team includes: acclaimed acting mentor, Ken Feinberg who won the Outstanding Achievement Award for Contribution to the Film Industry in Georgia, Golden Globe nominated and award-winning Italian director Giacomo Arrigoni.

All writers are guaranteed to write a minimum of one film under the artistic vision of  Giacomo Arrigoni and receive one or more IMDB credits for their work in the films.  Craig Tollis will put the finishing touches on in time for a screening at the historic Teatro Signorelli, in Cortona. 

*All participants younger than 18 must be accompanied by an adult legal guardian/companion.  
*This program is limited in participants.
Make a movie & a lifetime of memories in a unique Work-Study-Vacation adventure in beautiful Tuscany! 

Hear what our past students have to say about their experience: 
"The mountains, and the lake and the scenery, I think, is inspirational to writing. Anyone who's into arts or acting or writing should have these kinds of experiences."
-Chasity Frye (Writer & Actor)
"I had the opportunity to attend Ken Feinberg's most recent screenwriting workshop. Rather than focus solely on screenwriting formats and Hollywood rules, Ken focused on getting our stories out first and foremost. During the course, he helped us take our fragmented ideas and sculpt them into working screenplays. His class was an invigorating experience and it just goes to show you that almost anyone can create a project if you apply the right amount of discipline and allow yourself to think freely. This class has kick started my screenwriting development and I can't wait t put all my ideas down on paper! I look forward to eventually attending the Directors Boot Camp."
-Kevin Harry (Writer)
**Early Bird Registration**
Save when you register for Italy early! 
Registration prior to January 1, 2019 - $799
Registration prior to March 1, 2019 - $899
Registration after March 1, 2019 (if spacing available) - $999
Watch the video below to see what we did in Cortona Summer 2016 and see how Italy can shape your creative career. Learn from award-winning teachers, work alongside talented peers, and gain inspiration from the magic of Italy. Be a part of film magic in Summer 2019. 
FAQs
Q. Why Cortona, Italy?
 A. Ken studied in Cortona while at UGA, and really connected with the town.  The warmth of the people and the vibrant tranquility of the village has always stayed with him, and has called him back for a few visits over the years.  He has maintained friendships with locals and those friendships can now benefit you as some of Ken's friends will help host us and make our stay in Tuscany more enjoyable.fit you as some of Ken's friends will help host us and make our stay in Tuscany more enjoyable.
Q.  Do I need to speak Italian to go on this trip?

A.  No. All classes/workshops will be conducted in English, and we will have english speaking guides on all excursions who can also act as interpreters as needed.
Q.  Is there a payment plan for this program, or do I need to pay everything when I register?
A.  If needed, you can make payments in 4 installments.  If you pay when you register, you can elect to pay with a credit card via PayPal, with cash, with a check, or with a cashiers check.  If you elect to make payments, you need to submit post-dated checks with your "Writer Enrollement & Travel Agreement" as outlined in the agreement. All payments must be received no later than April 1, 2019.
Q.  I can't find the "Writer Enrollment & Travel Agreement" that I need to fill out & send in to complete my registration.  How can I get one?
A.  Easy.  Either search your email for the confirmation email you received after registration & follow the link OR, if that doesnt work, email accounting@csatl.com and a PDF will be emailed to you.  After that, print it, fill it out, and mail to Creative Studios of Atlanta; 274 North Main Street, Studio A; Alpharetta, GA 30009
Q.  Can I bring a companion on the retreat who does not want to take the  workshops?
A.  You may bring a participating companion because while you will have time on your own away from the group, we suggest you use that time for personal reflection, artistic exploration, and independent writing blocks.  If you have a companion who wants to join you, we suggest that they choose to become full participants of the program even if they do not intend to become a professional writer. Since we will be employing techniques that both beginning & seasoned writers can use, anyone and everyone can benefit from this experience.
Q.  What writing tools should I bring with me?
A.  A journal, a sketch pad, and a laptop or tablet.
Q.  Can I come earlier, or stay longer if I want to travel in Italy or Europe before or after the retreat?  
A.  Yes.  Since the flight is not included, you can do whatever you want.   The program in Cortona begins with our "Welcome Wine Reception" on Thursday, June 13, 2019.  You may arrive and/or leave via train, car or bus. Florence has the closest airport to Cortona. It is beautiful, rich in art/history, and is well worth exploring.  A common comment made by participants who did not spend time in Florence is that they wish they had arrived a bit early and spent time there.
Q.  Do I have to fly into the airport in Florence, or can I meet you in Cortona?  
A.  You do not need to meet us at the airport, nor do you need to return to the Florence airport from Cortona. Travel is not part of the cost of the program and is participants responsibility.  FYI, in 2016 a bus from the heart of Florence to the airport was 6E, and a taxi was 20E.

Q.  Where do you suggest we stay in Cortona?
A.  We recommend staying at the Hotel San Luca (http://www.sanlucacortona.com), located in the Cortona historic center, it offers air-conditioned and classic style rooms with scenic views of Tuscany and Lake Trasimeno. The last time we were there, the room included a buffet breakfast.  There are other hotels, bed and breakfasts. If you like bed and breakfast, we recommend http://www.casachilenne.com/index_eng.php. There are other hotels, B&Bs and villas in and around Cortona.
Save This Event
When & Where

Cortona

Cortona
Italy


Wednesday, June 19, 2019 at 8:00 AM

-

Sunday, June 23, 2019 at 6:00 PM (EDT)
Add to my calendar
Organizer
CSA (Creative Studios of Atlanta) provides actors and voice over artists with professional level training that allows students to advance from all levels – beginner to professional.