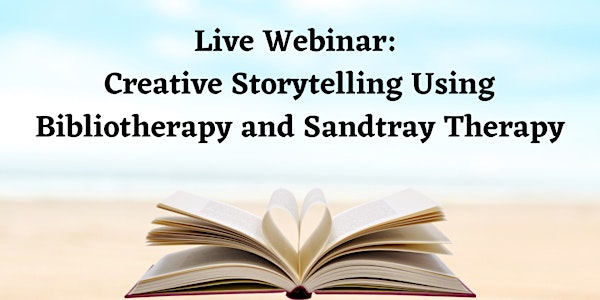 Creative Storytelling Through Bibliotherapy and Sandtray Play Therapy
Often the hands will solve a mystery that the intellect has struggled with in vain. -Carl Jung
By Sabra Starnes, LICSW,LCSW-C, RPT-S, M.Ed
Date and time
Thursday, April 27 · 6:30 - 9:30pm EDT
Location
1300 Mercantile Ln suite 100 E 1300 Mercantile Lane Suite E Largo, MD 20774
About this event
This is a hybrid training that you can attend in person (Largo, MD) or virtually.
This is a great training to further learn the foundational skills to explore the theory and practice of sand tray and play therapy in more depth. The workshop will focus on the use of symbols, stories, and themes in the sand tray process using bibliotherapy. 
During the training , we will discuss how to create both directive and non-directive trays to deepen your attunement skills as witnesses. And learn the sand tray process in the context of their play therapy practice.             
During the training, we will explore several different Bibliotherapy books and how to incorporate those into Sandtray therapy sessions.
I will be sharing client trays without any identifying information. With prior client permission.
This webinar carries 3 Play Therapy Contact hours provided by Next Place Therapy Services  LLC (APT Approved Provider #17-526).
Next Place Therapy Services LLC is approved to offer continuing education clock hours specific to play therapy, NBCC AECP #7270.
Next Place Therapy Services LLC maintains responsibility for the program.
You will receive: 
e an evaluation towards getting  3 contact play therapy hours
You will receive handouts on the webinar emailed to you after the webinar.
The APT Instruction: Special Interest
Attendees: Social Workers, Professional Counselors, Play Therapists and other Mental Health Providers. 
       Learning Objectives:  
Workshop participants will
1. Analyze the power and meaning of symbols and their use in sand tray play using bibliotherapy sandtray play therapy
2. Discuss the clinical implications of using Sandtray with clients in play therapy sessions.
3. Discuss the importance of  facilitating and witnessing sand trays clients using storytelling in play therapy sessions
4. Identify several ways to create Sandtray scenes using a bibliotherapy directive and non-directive approach in play therapy sessions.
Presenter: Sabra completed Dee Preston-Dillons Advanced Clinical Sand Therapy Certificate in her Sand Therapy Program in 2017. Sabra has been using sandtray work for 11 years. And is a continuous student of the art of Sandtray work. She is a Clinical Worker and Registered Play Therapist Supervisor, licensed in DC and MD.  She has been practicing social work for 23 years in the DMV area.
You must have your video on. There will be no recording and there are no refunds.
The time zone is EST, please check your time zone.
Any questions or concerns, please email us at info@nextplacetherapyservices.com.
Thank you
Sabra Starnes
About the organizer
Next Place Therapy Services is an Approved Provider of Play Therapy #17-526
Sabra Starnes is a Clinical Social Worker who has been practicing for 23 years in the DMV area. She worked for 13 years in the District of Columbia Public School System as a School Social Worker.
She is the founder of Next Place Therapy Services a private practice that has offices in Largo, Maryland, and Washington, DC.
She became a Registered Play Therapist in 2003. And a Registered Play Therapist Supervisor in 2015. She presents both in-person and online play therapy training towards becoming a Registered Play Therapist.
Sabra's training are engaging, humorous, and fun. She has a strong passion for educating and supporting clinicians to become effective and highly skilled play therapists.
Sabra believes in the power of play and that play can heal children, families, and adults who are dealing with life challenges.
She looks forward to having you attend training! Any questions please ask.
The world needs Play Therapists!
Next Place Therapy Services is an Approved Provider of Play Therapy #17-526
 GRIEVANCE POLICY: Next Place Therapy Services is fully committed to complying with all legal and ethical responsibilities to be non-discriminatory in promotional activities, program content, and in the treatment of attendees.
While we go to great lengths to assure fair treatment for all and attempt to anticipate problems, we recognize that complaints will arise. When problems do present themselves, we will attempt to alleviate complaints as quickly as possible.
Complaints relative to a speaker, contents of instructional materials being presented, an individual educational style being utilized, or facilities where training is held should be addressed with Sabra Starnes who will attempt to resolve the matter as expeditiously as possible.
Play Well!
Sabra  Starnes