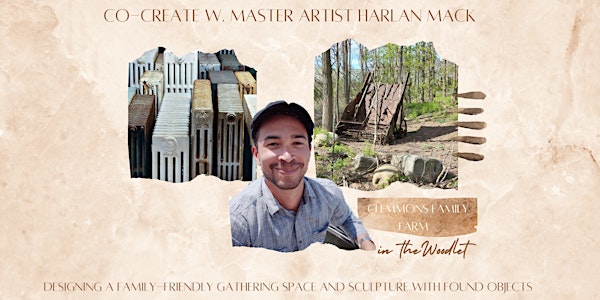 Creative Placemaking at the Clemmons Farm with Visual Artist Harlan Mack
Creative placemaking with Master Artist Harlan Mack: A Free Community Co-Creation Workshop Series at the Clemmons Farm
When and where
Location
Barn House Woodlet at the Clemmons Farm 2122 Greenbush Road Charlotte, VT 05445
About this event
Creative Placemaking
Join Master Sculpture/Painter/Blacksmith Harlan Mack for a special outdoor creative placemaking workshop series in the very sweet woodlet- a wee forest adjacent to the historic Barn House on the Clemmons farm.
Creative Placemaking Workshop: On Saturday July 30, from 2:00-3:30 p.m., roll up your sleeves and help Harlan clean antique radiators that will be refurbished and beautifully decorated to create outdoor benches. Participants will also join Harlan and Clemmons Family Farm's Creative Placemaking Manager Roy Walker in light landscaping to help prep the grounds for placing the artistic benches in the woodlet.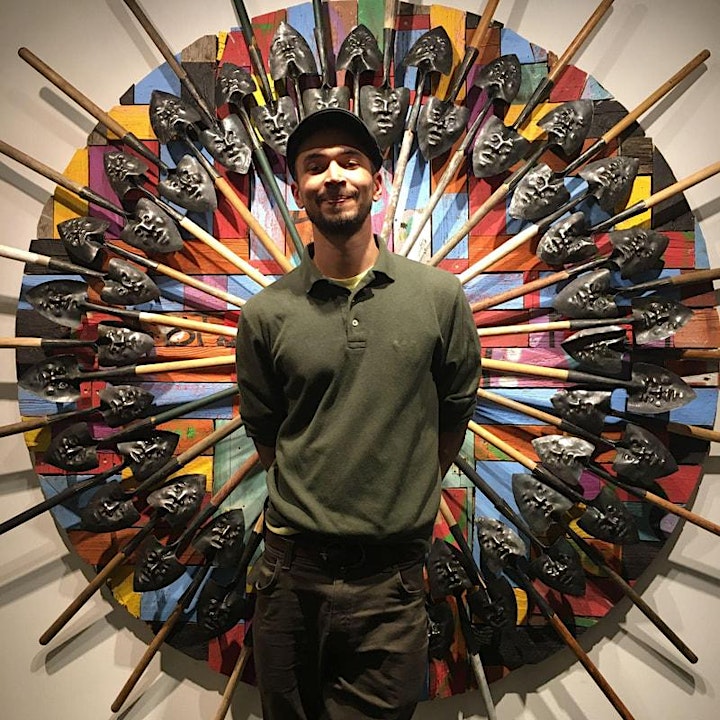 About the Artist
Harlan Mack is a multidisciplinary artist based at the Vermont Studio Center in Johnson, Vermont. Harlan's work employs steel sculpture, painting, and oral narrative to create a fictive future world that addresses identity, labor, perception, storytelling, contemplation, and habitat.
View Harlan Mack's phenomenal artistry here: https://www.harlanmack.com
THE WORKSHOPS ARE FREE BUT ADVANCE REGISTRATION IS REQUIRED.
YOUR NAME MUST BE ON THE REGISTRATION LIST FOR ADMISSION.
A MAXIMUM OF 10 PARTICIPANTS PER WORKSHOP.
BRING YOUR OWN HAT, BUG SPRAY, BEVERAGES, AND SNACKS!
****************************************************
FAQs
Why Are We Doing This?
An important part of Clemmons Family Farm's mission is to build community across differences of race and culture, and to create a shared love and sense of place for the historic Clemmons farm-- one of the 0.4% of farms in the nation that remain African-American owned.
We also strive to help more Vermonters learn about African-American history, art, and culture, and to experience the joy of connecting and co-creating with Vermont's artists of African descent. This creative placemaking series is one of the many ways we can achieve these goals.
COVID-19 precautions:
1. This is an outdoor activity. You must be fully vaccinated against COVID-19. Masks are encouraged but optional.
2. If you are ill, not feeling well, have a fever or a cough, please stay home and take care of yourself!
3. Outdoor portalets will be available for registered participants.
4. Maximum participants each day: 10
Will children enjoy this?
Yes they will! Children 12 years old and older should have fun working alongside Harlan Mack.
What Should I Bring?
1. Sunglasses, hats, sunscreen, hand sanitizer.
2. Insect repellant (for ticks, mosquitos, or other insects you might encounter).
3. Comfortable clothes and some good walking shoes.
4. Drinking water or another cold beverage.
5. A relaxed attitude- this program is very low-key.
6. PLEASE take away what you bring (do not leave trash on the farm!).
Outdoors means insects!
This is an outdoor program on a working farm. Be aware that there may be ticks, mosquitos, ants, bees, and other insects. Please bring some insect spray with you!
Where do I park?
Parking is located on the lawns right at the entrance of 2213 Greenbush Road- you will see "Event Parking" signs indicating the areas where you can park. You will then walk north on Greenbush Road over to 2122 Greenbush where the Barn House and its adjacent woodlet are located (Adirondack Mountain side).
Accessibility. Please let us know if you have difficulty walking- we are reserving parking for you right in front of the Barn House at 2122 Greenbush Road. Email clemmonsfamilyfarm@gmail.com or call (765) 560-5445 and leave a message.
Is it ok to bring children?
Parents and older children (12 years and older) should really enjoy this program.
Where can I make a donation?
Please check our webpage here for information on how to donate to the 501c3 nonprofit organization Clemmons Family Farm, Inc. that stewards the historic Clemmons farm. Visit: https://www.clemmonsfamilyfarm.org/please-donate.html
Admission policy
Advance registration is required and your name must be on the registration list in order to be admitted. Only 10 attendees per workshop will be admitted to enable us to offer quality interactions and a safe, low-key, and family-friendly environment. Clemmons Family Farm reserves the right to refuse admission or eject, at our sole discretion, any person behaving dangerously or inappropriately, or for safety and health reasons.
By attending this Event, You agree that visual/audio recordings of the Event, including your voice and likeness, may be used for any purpose on a worldwide basis, in perpetuity, without any compensation to You.
Clemmons Family Farm shall not be responsible or liable for any loss, damage, cost, or injury that arises from, or in connection with, Your attendance at this Event.
Smoking
The Clemmons farm is a smoke-free environment- both indoors and outdoors.
Weapons
The safety and well-being of our visitors, artists, and staff are of the utmost importance. To ensure a safe venue for all, the possession of firearms, fireworks, explosives, incendiary devices, knives, or weapons of any kind is prohibited on the Clemmons farm property and in the farm's facilities, except those carried by law enforcement officers who are on duty. All visitors to the farm, and their belongings, such as bags or purses, are subject to search and enforcement, and anyone found in violation will be asked to secure the weapon inside their vehicle or at home or leave the property immediately. No ticket returns, refunds, or exchanges will be made for people found in violation of the Clemmons Family Farm's weapons ban.
How can I contact the organizer with any questions?
Please contact us if you have any questions about the event. Email clemmonsfamilyfarm@gmail.com or call (765) 560-5445 and leave a message.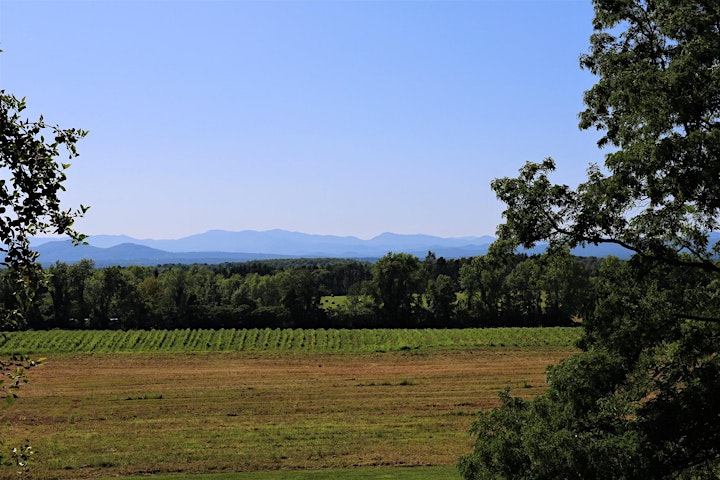 *****************************************************
About the Clemmons Family Farm: Preserve, Empower, Build
Did you know that over the past century, African-Americans have lost 93% of their land assets: from a combined total of 44 million acres in the 1920's to just 3.5 million acres today?
According to the 2012 United States agriculture census, of the more than 7000 farms in Vermont, only about 17 are African-American-owned or operated.
The Clemmons farm is among the just 0.4% of all farms in the United States that remain African American owned.
Located in Charlotte near beautiful Lake Champlain, the historic Clemmons farm is ​one of the largest African-American-owned historic farms in Vermont today. The farm includes 6 historic buildings (circa late 1700s-1800s), a spacious 1990's residence, and 148 acres of prime farmland and forests, ponds and streams abundant with wildlife.
99-year-old Jackson and Lydia Clemmons purchased their beloved historic farm in 1962 for $35,000- an astronomical amount of money for a young African-American couple just starting their careers- under a 30-year mortgage. They have never sold a single acre due to their firm belief in land as an important asset for African-Americans to build equity and legacy.
In 2019, a group of Clemmons family members, friends and advisers co-founded the 501c3 nonprofit organization- Clemmons Family Farm, Inc.- to preserve and steward the farm under a 20-year lease and to continue the community-building work, farming, and celebration of African-American history, art and culture, that Jack and Lydia led on their farm for nearly 60 years.
Our Creative Placemaking Workshop series is closely tied to our organizational mission to:
PRESERVE the 148-acre Clemmons farm as a Black-owned land and cultural heritage asset and a historic site of national importance.
EMPOWER a growing network of Vermont's Black artists and culture bearers with opportunities for professional development, advocacy, visibility, networking, paid engagements, collective healing, and a safe haven for creativity that helps them to thrive.
BUILD a loving multicultural community around African-American/African diaspora history, arts and culture.