Description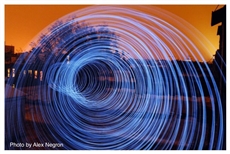 It's time to break the "rules" of photography. Experiment and expand your creativity to develop your own style. This course will explore advanced lighting, color filters, pattern, texture, image design, history of photography and more. This course begins the creative journey within photography. Students will learn techniques towards creating compelling imagery and developing a personal style. Students will train in color theory and design, creative landscape lighting, original artificial lighting, basic image manipulation in Photoshop, as well as the history of photography and a thorough analysis of past artistic movements. Additionally, this course will have weekly photo critiques of the students' work, as well as of the work of various photographers. ** There is a 40%-50% discount for students who completed Photography II prior to June 2012. (?)
Available versions:
9-Sessions, 2 hour class: Highly recommended. Students will work on a series of Photographs to be exhibited at PhotoManhattan.
5-Sessions, 3 hour class: Recommended for those of you with limited time.
Requirements: Digital Photography 2 or equivalent experience: Students must know how to operate camera in full Manual Mode (Aperture, shutter-speed, ISO, and meter). Digital SLR or Point & shoot with Manual option (Aperture and Shutter speed). The fundamentals of Photography such as using the camera in Manual mode, depth of field, basics of composition, motion blur will not be covered other than by way of a quick review.
Course Suggestion: To benefit the most from your learning experience, we recommend taking this course prior to any specialized courses such as Studio Lighting or Food photography, to merge the creative aspects of Photography learned in this course towards any future classes.
This course may qualify for Free Studio Meetups!
Note: Should the assigned instructor become suddenly unavailable, we'll allocate a substitute instructor.
Find more dates at our Photo courses page.
PhotoManhattan
51 West 14TH ST #3R
New York, NY 10011
Tel, 212 929-3302
Product Code: 110917-1214-18.CO-DP35CNR415