Creative NJ's 2017 Annual Statewide Convening: Create, Contribute & Collabo...
Description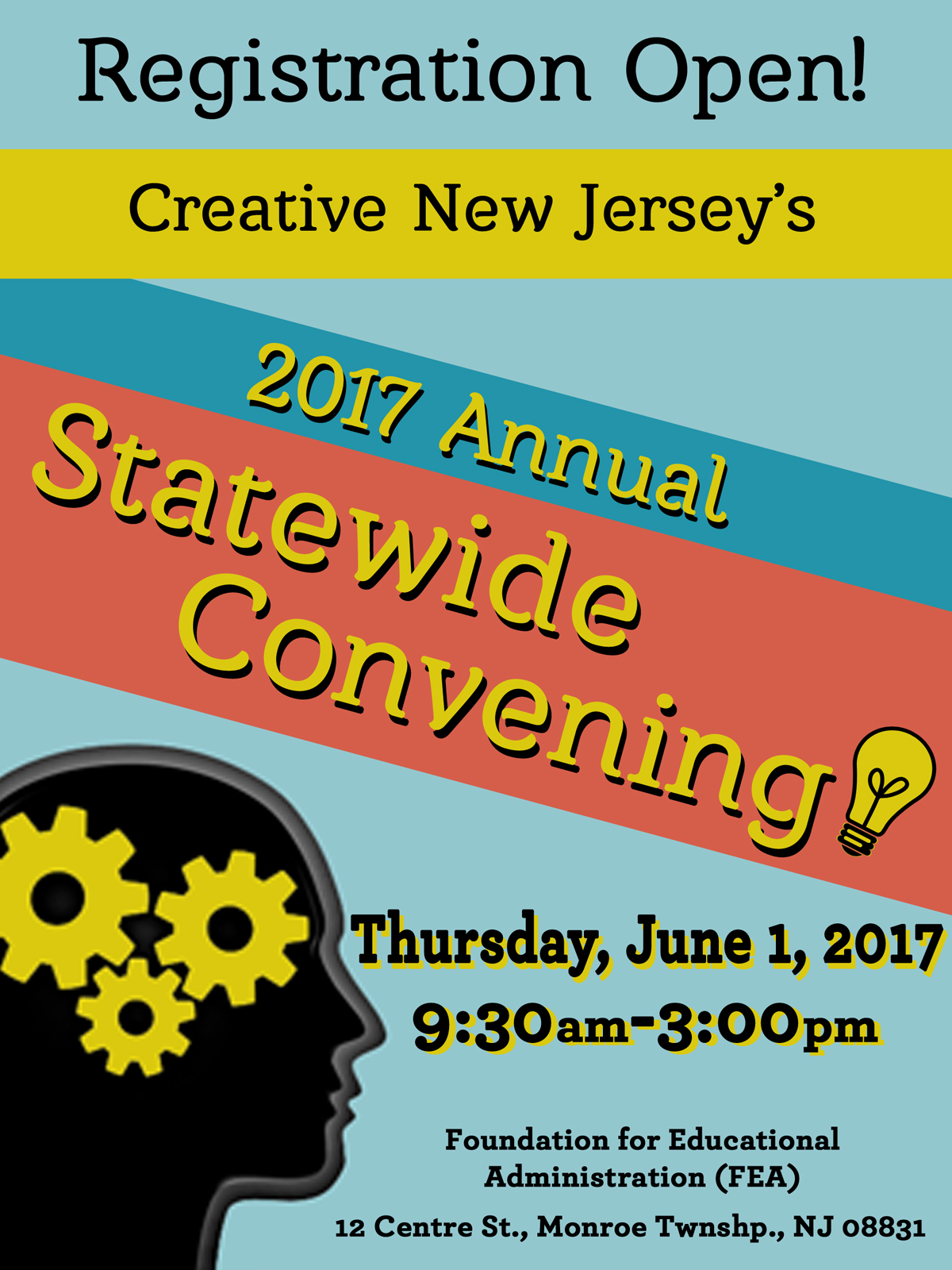 Registration for Creative NJ's 2017 Statewide Convening: Create, Contribute & Collaborate is open!
Bring your passion and creativity...and be ready to be surprised!
Date: Thursday, June 1, 2017, 9:30am -- 3:00pm.
Location: Foundation for Educational Administration (12 Centre Dr., Monroe Township, NJ 08831).

The day will include a chance to learn about creative and innovative ideas taking hold throughout New Jersey during the popular "Speed Dating with your favorite Creative Communities" session.
Presentation topics will include:
• A collaborative wellness initiative between the Asbury Park Mayor's office and community organizations that include events like a "walk to school" day, among others;
• An entrepreneur's goal of urban farming and addressing food insecurity comes to life in a surprising partnership with a community center serving over 47,000 meals a year to Camden's young people.
• Bridging cultural differences with a holiday gathering – the Posada – bringing together hundreds in the town of Hammonton to foster curiosity, understanding and unity;
• An award-winning trauma-informed care educational program created and delivered by teens for teens in Camden;
• Collaborative projects and programs at the intersection of arts, culture, community development and transportation in Orange;
• Innovative financial and technical assistance for homes, educational facilities and employment opportunities in multiple NJ communities;
• A statewide collaboration tackling NJ's water infrastructure problems; and
• Two media and community partnerships that spotlight local stories, foster citizen & journalist collaborations, and build a shared vision for the public airwaves of NJ

Space is limited, so please register early.
Please note: multiple attendees from the same organization will need to register individually.