Description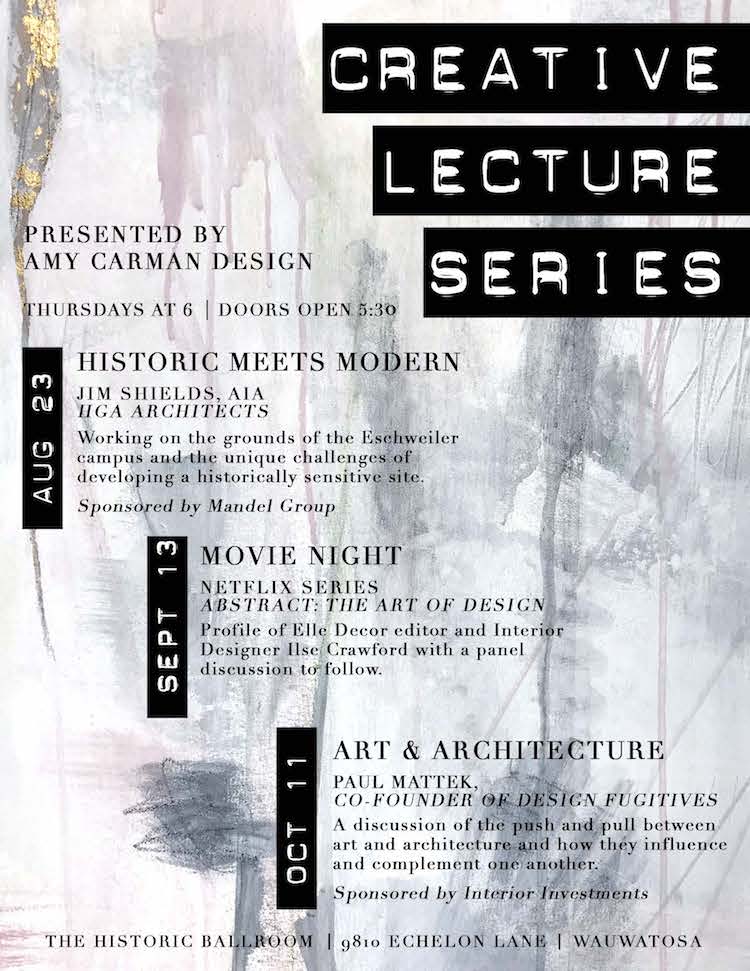 Join Amy Carman Design for a three part creative lecture series starting in August! The series will feature notable speakers from Milwaukee's design community. Lectures are open to the public and begin at 6:00pm with doors opening at 5:30
The lecture series will be held in the Ballroom of the Historic Eschweiler Administration building located at 9810 Echelon Lane in Wauwatosa, WI
August 23rd: HISTORIC MEETS MODERN - Working on the Grounds of the Historic Eschweiler Campus
Join us in the historic ballroom of the Eschweiler Administration Building in Wauwatosa. Keynote speaker Jim Shields, AIA; of HGA Architects, led the design of the Echelon Luxury Apartment Community and the restoration of the original Eschweiler Administration building on the former Milwaukee County Grounds in Wauwatosa. He will be joined by Wauwatosa alderman Michael Walsh and lead developers from Mandel Group as they discuss the unique challenges they faced in designing a new development on a historically sensitive site, with the active participation of the local community. He will also be joined by Carolyn Dresser, an expert in the history of the Eschweiler Campus, as she discusses the historical importance of these beloved buidlings. Food, wine and refreshments by Le Reve. Sponsored by Mandel Group
September 13th: MOVIE NIGHT - Documentary Featuring Elle

Décor

Editor Ilse Crawford
Women in Design, a local group of architecture and design professionals, is partnering with Amy Carman Design to co-host a movie night on September 13th! The event features a short documentary on Elle Décor editor and Interior Designer Ilse Crawford. Crawford is internationally known for her noted aesthetic and her mission of promoting human well-being by creating comfortable and welcoming spaces. The screening will be followed by a panel discussion featuring local interior design professionals who will share their own perspective on the design process and the planning, effort and art that goes into creating compelling interiors. Popcorn, wine and refreshments will be served.

October 11th: THE INTERSECTION OF ART & ARCHITECTURE
The final lecture in our series features keynote speaker Paul Mattek, co-founder and partner of Design Fugitives. Design Fugitives is an award-winning firm known for creating meaningful architectural-scale art that leaves a legacy. The group has installed head-turning atrium sculptures, 3D wall coverings, ecclesiastic art and LED fixtures throughout Milwaukee and the country. Mattek will be joined by architect John Vetter, founding partner of Vetter-Denk Architecture, as they discuss the symbiotic relationship of art and architecture. Food, wine and refreshments by Le Reve. Sponsored by Interior Investments.