Multiple Dates
Creative Journaling- with Drawing, Ink & Watercolour (3-week workshop)
Description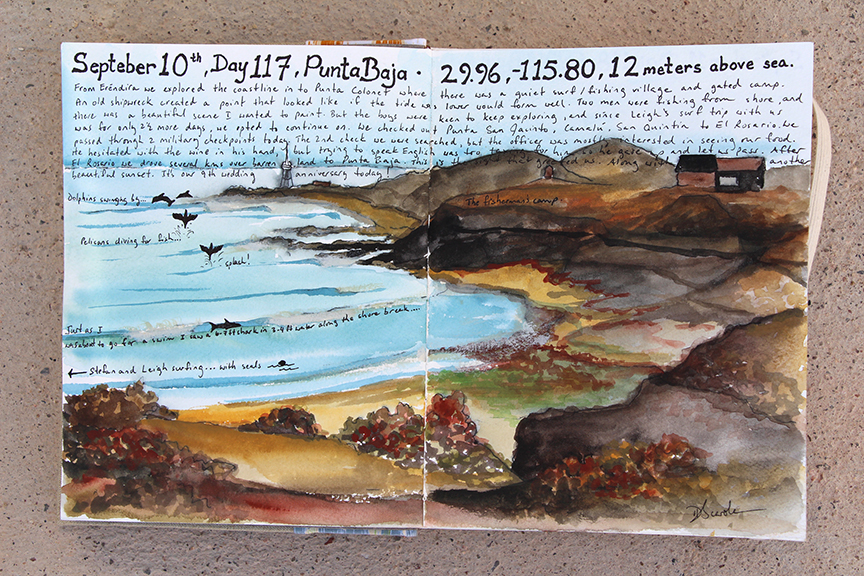 *Tuesdays, beginning September 10th from 10-1pm*

Have fun discovering your creative "voice"! Learn how to document your life, natural surroundings, home or garden, travels and adventures while capturing the moment with all your senses in this 3-week Creative Journaling workshop taught by professional artist Daina Deblette. Using simple techniques and materials, this workshop will inspire you to capture the simple beauty surrounding you in every day life.
No prior creative experience is necessary. Students who have already taken this workshop are welcome to further their skills and explore their visual voice. Come be part of this safe, joyful sense of community that builds week after week!

Set in the former radio station, you'll feel instantly relaxed in this brightly transformed, well-ventilated, open "beach house" space, where we will explore a full spectrum of materials and techniques including basic observational drawing, pen, and ink washes and watercolours. Learn how to create value, contrast and texture using pen and paint, how to draw from life or a photo, and the option to design your own lettering for use in your journal. On the last day of class, weather permitting, we will do a field trip in to nature where we will document our own individual experiences and perspectives.

It's a good idea to bring photos of places that hold special memories or objects that you cherish to reference while we explore how to document these visually together.

We will discuss interesting subjects and how to approach them from a creative standpoint, as well as gain inspiration from other creative journaling artists.
We'll be starting with the basics and going more in-depth with demos, how to compose and edit a scene, drawing, playing with different styles, and painting materials and effects, including different watercolours, inks, soluble pencils, and lettering.
Everyone who attends these classes are also invited to join me when I go out on site to paint. These times are free, usually last minute and don't include instruction.

Never again feel embarrassed at the thought of someone reading your journal. You might even find yourself sharing it with friends and family, inspiring them to begin their own!

Ocean Art Studio is located a minute past Moby's Pub towards the north end of Ganges.
"Merchants' Mews, Artists Galleries & Studios" 19A-315 Upper Ganges Road, Salt Spring Island, British Columbia V8K 1R7
When: Tuesdays, September 10/17/24 from 10am-1pm

Tuition:
$240 per person, includes all high quality materials

** Register here through Eventbrite, OR by bank e-transfer to daina@oceanartstudio.ca to avoid fees **
If paying by e-transfer please Contact Daina first to ensure availability as workshops fill up quickly.
If you have a small 3.5x5.5"watercolour journal, such as Moleskine or Pentalic brand or a different one that you're drawn to, please bring it. Otherwise, we will use sheets of watercolour paper. If you'd like to invest ahead of time in a small portable kit, I suggest the Koi 24 by Sakura, which comes with a water brush. Other materials I use in my kit are a Staedtler Lumocolor black marker in fine or superfine, a white gel pen, a small tube of white guache, a mechanical pencil and eraser, and a llarge pencil case to carry it all in.

Maximum 7 people per workshop.

See you in class!