Creative Journaling for Travelers (with Ink & Watercolour)
Description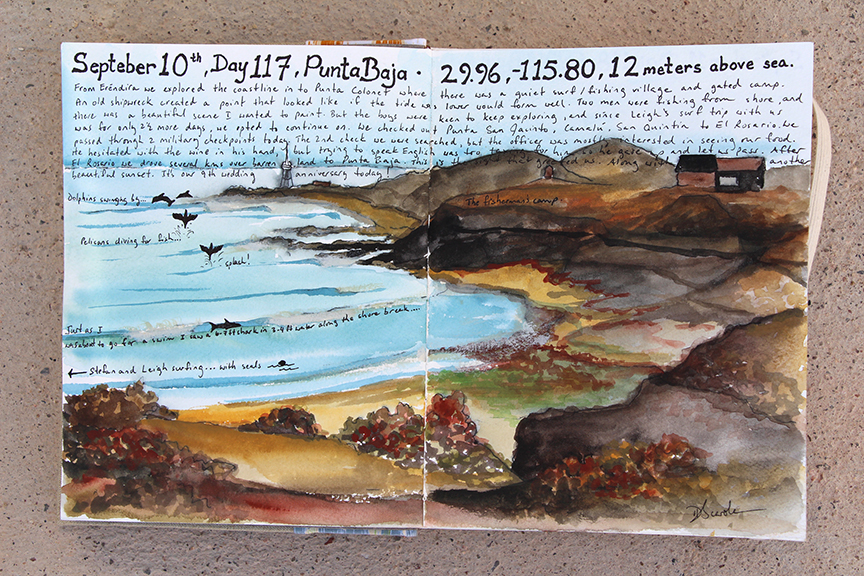 Learn how to document your travels and adventures while capturing the moment with all your senses in this Creative Journaling workshop taught by professional artist Daina Deblette. No former experience is necessary.

Set in the former radio station, you'll feel instantly relaxed in this brightly transformed, well-ventilated, open "beach house" space, where we will explore a full spectrum of materials and techniques from pen and ink to watercolour. Learn how to create value, contrast, and texture, how to draw from life or a photo, and design your own lettering for use in your journal.
It's a good idea to bring photos (of places you've traveled to or places you cherish) or objects that you cherish to reference while we learn to draw.

Together we will discuss interesting subjects and how to approach them from a creative standpoint, as well as gain inspiration from other creative journaling artists.

Never again feel embarrassed at the thought of someone reading your journal. You might even find yourself sharing it with friends and family, inspiring them to begin their own!

Where?
Ocean Art Studio is located a minute past Moby's Pub towards the north end of Ganges.
"Merchants' Mews, Artists Galleries & Studios" 19A-315 Upper Ganges Road, Salt Spring Island, British Columbia V8K 1R7
When:
August 28th, from 10am-4pm

Tuition:
$125 per person
Includes 5 hours of instruction plus 1 hour delicious lunch and refreshments.
Note: I'm thinking of bagles with cream cheese, wild smoked sockeye salmon, capers, red onions, and a side salad. I will have tea available and cappuchinos or coffee. Let me know if this sounds good or if you don't each gluten, dairy, or fish: daina@oceanartstudio.ca

All materials and supplies are provided. If you have a small watercolour journal, such as Moleskine brand, please bring it. I will bring all the supplies available for purchase as well.

Maximum 8 people per workshop (minimum 6).

A handout with tips and techniques covered and materials list will be supplied at the end of the workshop.