Description
Description
Netinfluence is very pleased and excited to announce its very first Creative Jam!*

What is it?
Creative Jam is an intensive 8 hour creative session teaming up people from various backgrounds as design, architecture, marketing, development, business, ... to colaborate, imagine and tackle the actual design questions together. Creative Jam believes that research, debate and sharing the knowledge opens the infinite possibilities to create innovative solutions.

Here are 5 reasons why you are going to love to attend this session:

We will put you out of your confort zone.
We will push you to think out of the box.
We will ask you to experiment and prototype.
We will let you fail to find the right answers.
You will finally get to play with all those post-its.

-------

CREATIVE JAM SCHEDULE
Friday, September 21, 2012
18:00 - 18:30 > Arrival of attendees
18:30 - 19:00 > Announcment of the subjects and construction of the teams
19:00 - 21:00 > Apero, discussions
Saturday, September 22, 2012
08:30 - 11:00 > Breakfast, Low-tech oldschool brainstorming, concept building, prototyping with post-its & pencils
11:00 - 12:00 > Presentation of concepts, review/feedback
12:00 - 13:00 > Lunch break
13:00 - 17:30 > High-tech building, preparing the final pitch
17:30 - 19:00 > Presentation of the projects, review/feedback/conclusion
19:00 - 21:00 > Apero, discussions, networking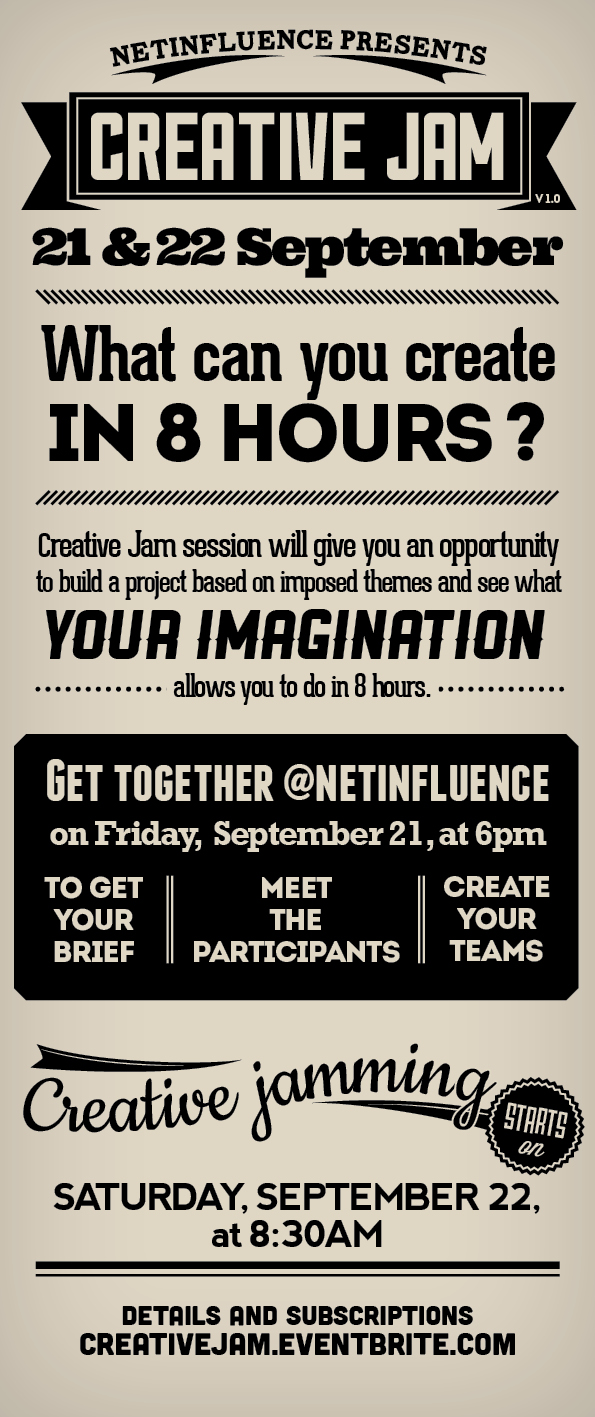 *Creative Jam was inspired by Design Jam initially organzed by "La Cantine". So full credit for the idea shall be given to them!
**The fee we are asking will cover the apero as well as the breakfast, lunch and drinks on saturday and a participation for the necessary material.