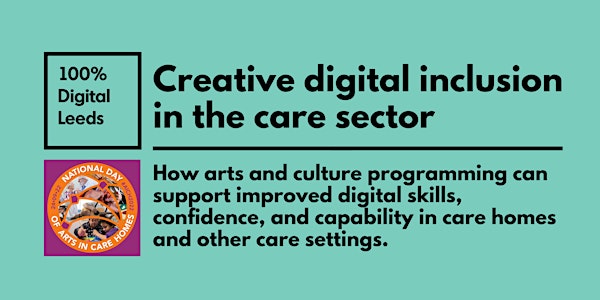 Creative digital inclusion in the care sector
How arts and culture programming can support improved digital skills, confidence, and capability in care homes and other care settings.
About this event
Sharing best practice for creative digital inclusion in the care sector
The last week of September 2022 will see care providers across Leeds partnering with the city's arts and culture organisations and supporting care residents to access creative activity whilst developing their digital skills and confidence.
This webinar, part of Leeds Digital Festival, will be a first look at the impact of the programme and its success in supporting the arts participation and digital confidence of residents and staff at living and working in care settings. It will also be an opportunity to share best practice and look at what's next.
We will hear from 100% Digital Leeds and other members of the Arts in Care Homes Day Leeds steering group including arts and culture organisations who have delivered activities, and care providers who have supported residents to take part in activities as part of the programme.
The Arts in Care Homes Day programme
The programme of activity includes a range of free interactive workshops in art forms such as dance, making music, and embroidery, and takes place between Arts in Care Homes Day and International Day of Older People. The workshops are a mix of face-to-face and virtual (via Zoom or other platforms), but all include an element of digital. The programme will be published in late August and will include activity from organisations such as Opera North, Hyde Park Picture House, and Leeds Libraries.
The project supports care providers to bring more arts and culture activity into their settings - something the pandemic has made difficult - whilst supporting both staff and residents to develop their digital skills and confidence. It allows arts and culture organisations to reach new audiences in care settings, expand their care setting offers, and form lasting partnerships with care providers.
This project has been developed by a cross-sector steering group made up of people working across the public, cultural, wellbeing, and care sectors. The project is a result of the existing partnership between the Arts and Culture Digital Inclusion Network, the Digital Inclusion for Older People Network, Leeds Arts Health and Wellbeing Network and their Creative Aging Forum, and Leeds Care Delivery Services.