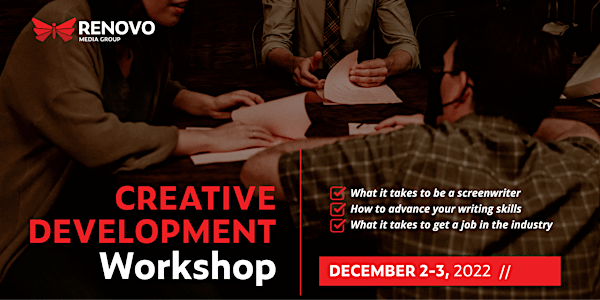 Creative Development Workshop
Learn what it takes to be a screenwriter and how to advance your writing skills in the film and tv industry.
When and where
Location
Renovo Media Group 1401 6th Avenue South Clear Lake, IA 50428
Refund Policy
Contact the organizer to request a refund.
Eventbrite's fee is nonrefundable.
About this event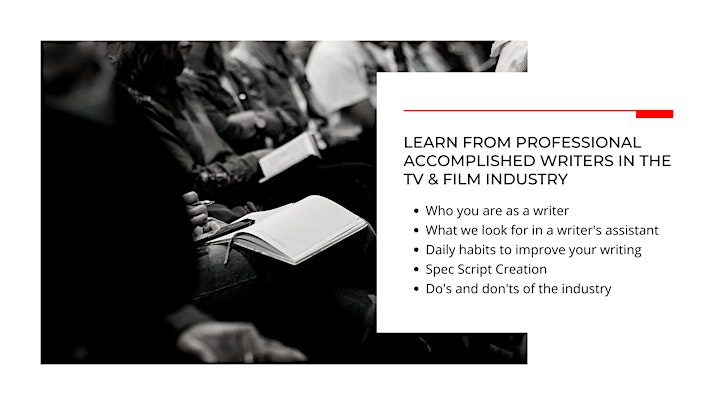 The Creative Development Workshop is presented by professional accomplished writers in the television and film industry.
The workshop will provide insight into who you are as a writer and what Renovo Media Group looks for in writer's assistants. You'll learn what it takes to be a screenwriter, how to advance your writing skills and what it takes to get a job in the industry. Participants will learn skills for immediate implication like story analysis, daily routines, spec script creation, do's and don'ts of the industry and much much more.
Schedule: (TBD)
Friday, December 2nd
6:00 pm Doors Open / Check-in
6:30 pm Dinner and Speaker
9:00 pm Wrap
Saturday, December 3rd
8:00 am Breakfast
9:00 am - 4:00 pm Sessions and Workshops
4:00 pm Wrap
Registration includes dinner, breakfast and lunch.
Registration closes November 28, 2022 / Limited to 40 writers
Must be 18 years or older
You are responsible for lodging and transportation. Ask about our discounted rate at local hotels.
Speakers include:
Amanda Pomeroy, Joe Raffa, Caleb Brown, Anthony Hyatt and Tim Hornor.

BIOS
Timothy Hornor
Timothy Hornor is an actor, writer, and improviser living in Los Angeles, CA. He has an MFA in Acting from the University of Nebraska and has trained and performed at the famed "The Groundlings" Theatre in LA. He has appeared in dozens of commercials including spots for Progressive Insurance, Toyota, and Twix, and many television shows including, Modern Family, Parks and Rec, Single Parents, FutureMan, and NCIS. The rest of his time is spent being a husband to his wife Alexandra, a dad to his sons Oliver and Gus, and best friend to his dog Gary.
Caleb Brown
Caleb started as a development intern at Lin Pictures (Warner Bros.) and participated in story meetings on "The Lego Movie" and "The Gangster Squad". While there, he started teaching a class called "How to Watch a Movie," where he reverse-engineered successful movies over pizza and beer. Brown moved to Berkeley and studied the cognitive and cultural foundations of a meaningful story. A startup in San Francisco hired Brown to analyze screenplays and test a data-driven story development process. Now Brown does this work at The Story Locker, and has helped a number of producers lock their scripts with confidence
Joe Raffa
For over a decade, Joe Raffa has been cutting his teeth as a writer/director in the entertainment industry. At twenty years old, Raffa wrote and directed his first feature film (You'll Know My Name) and has failed upwards ever since. After winning several awards on the film festival circuit, his latest feature film (Downeast) was distributed by Gravitas Ventures and aired on Showtime. Known for his focus on character-driven storytelling and infectious energy, Raffa has remained in demand, working alongside producers and production companies of all varieties. He currently has several projects in various stages of development.
Raffa is based in Los Angeles and represented by Zero Gravity Management.
Anthony Hyatt
In 2012, Anthony studied screenwriting under writer Eric Shaw (SpongeBob SquarePants, WordGirl, Muppet Babies) at Colorado College. He has spent his extra early mornings and late nights over the past 10 years writing screenplays, while his cat (not-so-passive) aggressively suggests changes through haphazard, tiny steps across his keyboard.
His co-written pilot Back of House was greenlit by Sony earlier this summer (and is now on hold). Other projects of his are currently in the hands of Karen Gillan (Avengers, Guardians of the Galaxy) and Charlie Hunnam (Sons of Anarchy, Pacific Rim).
Anthony is passionate about optimistic characters full of uncertainty, and stories where what's right isn't always clear – and just depends on which side of the table you sit on. In the words of the immortal Tina Fey, "You can't sit with us!" ...He's been trying to unpack that line in every script he's written.
Amanda Pomeroy
Amanda has been a freelance writer in Los Angeles for over twenty years. She began her career writing scenes and monologues for actors in 2001, which led to a self published "Best Of" book a few years later.
She was commissioned to write the audition material for actors considered for lead roles in "Terminator 3: Rise of the Machines" and "Star Wars 2: Attack of the Clones".
Amanda's varied background includes ghostwriting in the YA space, course development for personal development coaches and a turn in programming as a producer/writer for the Style Network's home makeover show, "Clean House Comes Clean" and National Geographic's "Do or Die." She was also staffed on the CW's "Significant Mother."
Amanda has developed feature projects with Eli Holzman (producer of CBS's "Undercover Boss") and sold her first original TV show to 20th Century Fox under Rob McElhenney (creator of "It's Always Sunny in Philadelphia").
She is currently in development on a new project and part of RMG's creative team.