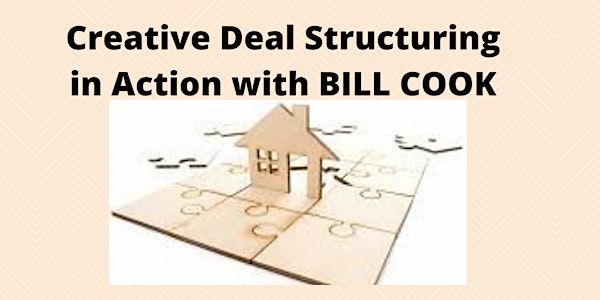 Creative Deal Structuring in Action with BILL COOK
Many believe creative deal structuring is about complicated, impossible-to-understand contracts. This couldn't be more wrong.
Refund Policy
Contact the organizer to request a refund.
Eventbrite's fee is nonrefundable.
About this event
THIS WILL BE A SPECIAL BAWB VIRTUAL ONLINE ZOOM WEBINAR
Log On a little Early if you can
7:00 Pm PST the Webinar starts and ends by 8:30 Pm PST
Tuesday August 24th , 2021
Creative Deal Structuring in Action with BILL COOK
Real Estate Prices have gotten "Frothy" again...Market Demand, Rents & Sales Prices seem to be in a never ending upward swing...
In almost All parts of the Country we are seeing FRENZIED Real Estate markets where there is a LOT of Money to be made AND also LOST. As our EUPHORIC Real Estate Markets continue to chug along, more and more Buyers and Investors continue to pay seemingly never ending HIGHER and HIGHER prices, often paying ALL CASH. While that can be one acquisition strategy, it also is one of the RISKIEST ways to acquire property.
Many believe creative deal structuring is about complicated, impossible-to-understand contracts.
This couldn't be more wrong.
Dealmaking is about caring, asking questions, listening, being curious, asking more questions, T-barring, letting your imagination run free, asking more questions, and finally, reaching an accord that works for all parties involved.
During this CONTENT DRIVEN Webinar and Bill Cook's discussion, you'll learn why advanced creative deal structuring is simple, but not easy.
Here are some of the question's Bill will answer:
*What is creative deal structuring?
*Is creative financing part of creative deal structuring?
* What are examples of creative deal structures in action?
* How do you get a seller to agree to a creatively
constructed deal?
*Can multiple deal structuring tools be used to
make a single deal work?
*What is the best way to learn how to structure deals
my competition doesn't know how to structure?
Do Not Miss this VERY Valuable Discussion and Join us Tuesday Evening 8-24-2021 @ 7 PM PST (10 Pm EST)
About Bill & Kim Cook
Bill and Kim are a husband and wife real estate investing team. Bill creatively constructed his first deal in 1990 in Shreveport, Louisiana. He and Kim have been teaching other investors do the same since 1997. They became full-time real estate investors in 1998.
Their investment portfolio consists of single-family rental homes, mobile homes, a small mobile home park, plus notes, options, and stocks.
They built their business square on the back of knocking on homeowners' doors. Why? Because it's the fastest, cheapest and most effective way to get face-to-face with homeowners and make written offers.
When door knocking, Bill makes between 10 and 15 written offers a day, 8 out of 10 sellers invite him in, and he finds 1 to 3 shadow sellers per day. Question: Does your marketing technique get you to the seller's kitchen table 80% of the time?
Their core belief is that real estate investing is not about buying, selling or renting houses. It's about helping people solve their real estate problems.
Around 1997, Bill discovered three great real estate investing teachers: Jack Miller, Pete Fortunato and Dyches Boddiford. From that day to this, he and Kim regularly attend Pete's and Dyches' classes. (NOTE: Jack passed away in 2009 after a legendary career.)
On January 1, 2001, Bill and Kim founded North Georgia REIA in Cartersville, Georgia. Over the next 14 years, their group grew to 2,400 members. It was one of the largest, most successful REIAs in the country.
On January 1, 2002, Bill and Kim began writing a syndicated real estate investing newspaper column that was published weekly. Their column ran for 13 years.
In 2002, Bill and Kim began publishing The Equity. It was a monthly real estate investing newsletter that grew into a 28-page monthly newspaper.
On August 30, 2018, they sold their 34-acre horse ranch in Adairsville, Georgia and moved into their motorhome. They now are full-time RVers. They travel the country seeking adventure and the enjoyment of life. As they travel, Bill teaches creative deal structuring techniques at REIAs (Real Estate Investor Associations).
THIS WILL BE A VIRTUAL ZOOM WEBINAR MEETING!
ANYONE CAN ATTEND
Tuesday 8-24-2021 at 7 Pm PST Promptly
IMPORTANT: We have VERY Limited Space in the Online ZOOM Meeting Room and this event will SELL OUT so to assure yourself access PRE-Register ASAP.
Anyone and Everyone Can Attend this Zoom Meeting
This is FREE to BAWB MEMBERS in GOOD STANDING BUT you MUST PRE-Register before the Deadline.
Save $5.00 by PRE-REGISTERING which ENDS Saturday 8-21-2021 @ 11:59 Pm PST
$20 for All Others if PRE-Registered by 11:59 Pm on Saturday 8- 21-2021
Thereafter $25.00 for anyone to Register.
IMPORTANT TWO STEPS- FOLLOW THESE STEPS
STEP # 1 -REGISTER HERE THRU EVENT BRITE & PURCHASE A TICKET RIGHT HERE ON THIS SITE
STEP # 2 -You will then receive in the CONFIRMATION Email Event Brite will SEND TO YOU with a special ZOOM meeting URL link to use so you will be able to attend the Zoom Webinar.
VERY IMPORTANT - PLEASE READ THIS - Now SAVE that Zoom Meeting URL LINK and Mark it down in your Calendar! as you will NEED IT TO Access the Webinar
NOTE: There will be no refunds if you are unable to attend the Live Webinar but a Limited time Replay will be made available after the event as long as no technical glitches occur
Buyer AND Seller engagement and interaction CREATE opportunities