Creative Coping is back this Summer, and we're exploring new art forms to encourage mental wellness! Join us for our FREE, online workshops.
About this event
ALL are welcome to join us on the interactive journey of self-discovery that is Creative Coping.
The ways in which we maintain our mental health and wellbeing can look different for everybody, so let's explore some creative outlets that may be right for you!
On June 4, returning host, Destiny Sharion will introduce poetry as a tool for reflection and expression.
On July 2, Nidhi Chabora, a psychiatric nurse practicioner, and Nancy Jo Moses, a retired art educator, creators of the "Self Discovery Through Art"program, will guide us through drawing exercises. Their focus is using "the arts as medicine". Be sure to have paper and colored pencils!
On August 6, 'Ihilani Lasconia will lead us in ode-writing with an emphasis on processing emotions.
Our attendees always have the option to share their work during the live sessions if they feel comfortable; and this time we are introducing a new way to share: a booklet! Upon the series' conclusion, we will compile the art we've created and share it with our fellow attendees. Please note that this is completely optional!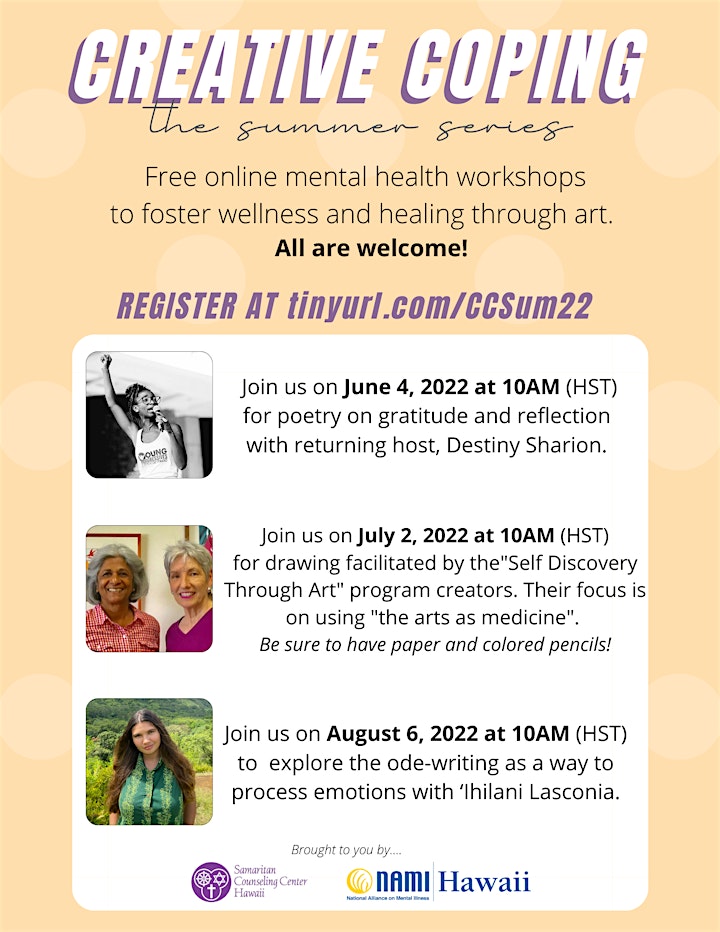 During our series, you'll find that being present, exploring and acknowledging your feelings, as well as expressing gratitude are recurring themes.