Sales Have Ended
Registrations are closed
Orders are closed. Please try the Waitlist.
Sales Have Ended
Registrations are closed
Orders are closed. Please try the Waitlist.
Description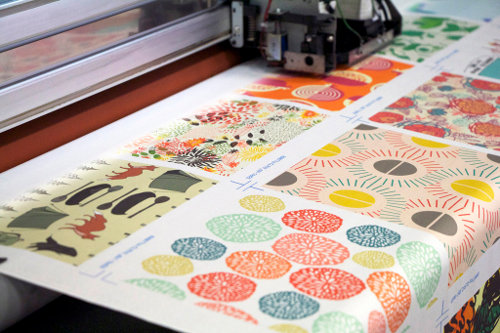 Allie Tate from Spoonflower will be joining us from Durham to share the story behind the fabric and textile design firm, examples of creative work by Spoonflower "makers," and what's next from the creative company.
Spoonflower products will be on display in the Designbox gallery throughout May, and their custom-printed fabric is used in Designbox's own LYF Shoes.
From the Spoonflower website:
At Spoonflower we make it possible for individuals to design, print and sell their own fabric, wallpaper and gift wrap. It was founded in May 2008 by two Internet geeks who had crafty wives but who knew nothing about textiles. The company came about because Stephen's wife, Kim, persuaded him that being able to print her own fabric for curtains was a really cool idea. She wasn't alone. The Spoonflower community now numbers over a million individuals who use their own fabric to make curtains, quilts, clothes, bags, furniture, dolls, pillows, framed artwork, costumes, banners and much, much more. The Spoonflower marketplace offers the largest collection of independent fabric designers in the world.
Bring your questions and join Creative Collisions on Wednesday, May 13th, at 12:00 noon.
This event is FREE and OPEN TO THE PUBLIC. RSVP (above) today!
What
We're inviting interesting Triangle people to share their stories about what they do and what they're working on—people in business, government, the arts, design, and more.
No boring PowerPoint presentations—just sharing, socializing, and an interactive discussion.
Why
It's so easy to get caught up in our day-to-day work that it's hard to make time to step back and do intentionally non-billable work. That's where this monthly lunch series comes in.
We want to build community, inform, inspire, and create opportunities for creative collision. The lunches are less "convention center keynote" and more "chatting at your kitchen table with fascinating people."
You'll go back to work with new ideas, strengthened connections, and a full stomach.
Cost
The event is free and open to the public, in addition to Designbox members.
You're welcome to bring your lunch. If you'd like us to order pizza for you, choose the "PIZZA" ticket above and bring $5 cash to the event to chip in for the pizza.
Where
We'll meet in the front room at Designbox (307 W. Martin Street, Raleigh, NC 27601) from 12-1pm.
If you don't have a regular parking spot nearby, grab a 1-hour metered spot on W. Martin or 2-hour metered spot on S. Dawson.
Lost on the way? Call or text Designbox speaker series organizer Karl Sakas at 919-410-6224.
Food
You have three options for food:
Bring your own lunch and drink (FREE).
Order delivery to arrive at 12:00 noon, at your expense (our address is 307 W. Martin Street).
Chip in for pizza by choosing the "PIZZA" ticket above and bringing $5 cash (we'll have both veggie and meat options). We'll have filtered water, or bring your own drink.
If you're ordering for delivery, here are some options. Remember, the food's going to Designbox at 307 W. Martin Street, between Commerce and S. Dawson, and you need to be here to sign/pay for it:
When
Lunches are the 2nd Wednesday of every month from 12-1pm at Designbox:
May 13, 2015 (today!)

June 10, 2015

July 8, 2015

August 12, 2015

September 9, 2015

October 14, 2015

November 11, 2015

December 9, 2015
Image credits: Spoonflower
Organizer of Creative Collisions at Designbox: Spoonflower
Designbox is a global product and branding firm, creating impact through Design Innovation and Inventive Culture. We are based in Raleigh NC and have design and production relationships around the world.
Our free, public monthly speaker series brings together Raleigh's creative community to hear inspiring, informative stories from people doing interesting things.