Sales Have Ended
Registrations are closed
Online RSVPs are over, but we'll probably have space. Just show up in person at Designbox!
Sales Have Ended
Registrations are closed
Online RSVPs are over, but we'll probably have space. Just show up in person at Designbox!
Description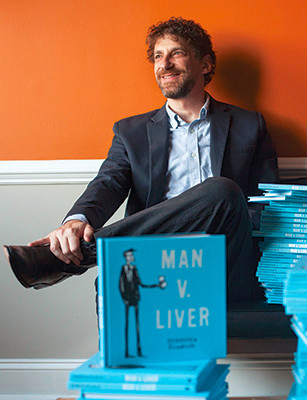 Our November Creative Collisions speaker is Designbox's own Paul Friedrich! Paul is creator of Onion Head Monster, co-creator of Man v. Liver, and co-creator of SparkCON.
Check out the the IndyWeek feature on Man v. Liver, and read more in his Carolina Hurricanes bio:
Known for his humorous paintings with characteristic bold colors and lines based on his Eisner Award-nominated graphic novel "Onion Head Monster," Paul Friedrich is considered one of the artists and writers in the forefront of the LowDefPop art movement.
Paul is the co-founder of the SparkCON conference, the South's pre-eminent conference on creativity, member of the award winning DesignBox, created the graffiti mural at Marbles Kids Museum and has been selected each year for the CAT Bus Art-on-the-Move project, editor of HellCar Magazine, two-time champion of the Xtreme Suburban Endurance Event, as well as author/illustrator of several books, including "Lions!," "Don't Trust Evil Knievel," and "The Wolf Who Cried Boy." In 2009 Paul became the National Hockey Leagues first ever pop-cartoonist with the launch of Stormy the Pig's CUP OF AWESOME comic strip.
Bring your questions and join the discussion on Wednesday, November 12th, at 12:00 noon.
This event is FREE and OPEN TO THE PUBLIC. RSVP (above) today!
What
We're inviting interesting Triangle people to share their stories about what they do and what they're working on -- people in business, government, the arts, design, and more.
No boring PowerPoint presentations -- just sharing, socializing, and an interactive discussion.
Why
It's so easy to get caught up in our day-to-day work that it's hard to make time to step back and do intentionally non-billable work. That's where this monthly lunch series comes in.
We want to build community, inform, inspire, and create opportunities for creative collision. The lunches are less "convention center keynote" and more "chatting at your kitchen table with fascinating people."
You'll go back to work with new ideas, strengthened connections, and a full stomach.
Cost
The event is free and open to the public, in addition to Designbox members.
You're welcome to bring your lunch. If you'd like us to order pizza for you, choose the "PIZZA" ticket above and bring $5 cash to the event to chip in for the pizza.
Where
We'll meet in the front room at Designbox (307 W. Martin Street, Raleigh, NC 27601) from 12-1pm.
If you don't have a regular parking spot nearby, grab a 1-hour metered spot on W. Martin or 2-hour metered spot on S. Dawson.
Lost on the way? Call or text Designbox speaker series organizer Karl Sakas at 919-410-6224.
Food
You have two options for food:
Bring your own lunch and drink (FREE).
Chip in for pizza by choosing the "PIZZA" ticket above and bringing $5 cash (we'll have both veggie and meat options). We'll have tap water, or bring your own drink.
When
Lunches are the 2nd Wednesday of every month from 12-1pm at Designbox:
November 12, 2014 (today!)

December 10, 2014

January 14, 2015

February 11, 2015

March 11, 2015

April 8, 2015

May 13, 2015

June 10, 2015
Image credit: Photo by Justin Cook via IndyWeek
Organizer of Creative Collisions at Designbox: Cartoonist, writer, and painter Paul Friedrich
Designbox is a global product and branding firm, creating impact through Design Innovation and Inventive Culture. We are based in Raleigh NC and have design and production relationships around the world.
Our free, public monthly speaker series brings together Raleigh's creative community to hear inspiring, informative stories from people doing interesting things.