Creative Catalyst Symposium

Sunday, November 8, 2015 from 9:30 AM to 4:30 PM (EST)
Event Details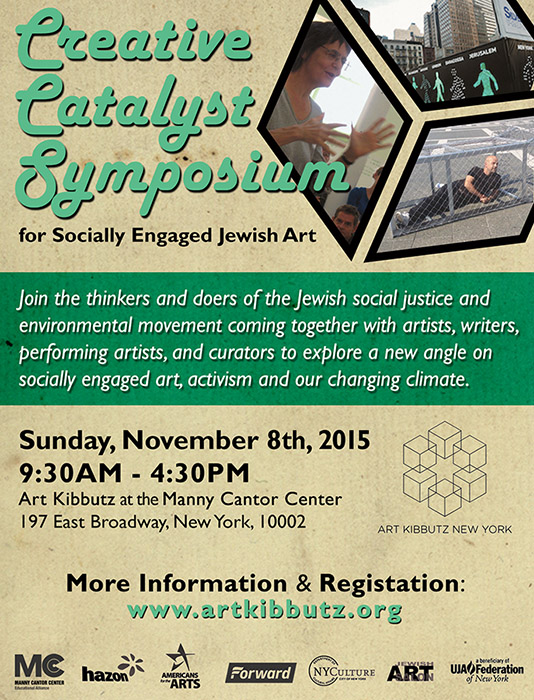 Participate in Heshvan, the Jewish Social Action Month & the National Arts and Humanities Month of the Americans for the Arts through Art Kibbutz's Conference! Get inspired with new friends: artists, performers, writers, actors, curators, community leaders, activists, scholars, students, rabbis, visionaries.
 
Our event connects passionate people who share similar values in their work on advancing social justice issues and making 'tzedek' a core expression of Jewish life through their art or community work.
 
Artists and creatives are at the forefront of communicating change, using artistic reflection, dialogue and idea generation. Learn from the experts, gather insights from Jewish texts, and delve into real-world scenarios that will elicit new ideas and instigate collaborations… and we'll have a great time!

The symposium will kick off its 2016 international, inter-disciplinary arts residency on Governor's Island focusing on socially engaged art May through September. The event is dedicated to the memory of Art Kibbutz resident, Jackie Brookner.
PROGRAM:           
9:00 – 9:30             Registration
9:30-12:30             Workshops, Discussions & Presentations
12:30 – 1:30            Lunch
1:30 – 2:00            ROOTED: The Ecological Duality of Nature and Jewish Identity Exhibition Tour

2:00 – 4:00             Structured Activities – Interactive, Hands-on Workshops
4:00 – 4:30            Closing Session
Held in conjunction with Art Kibbutz's exhibition, Rooted: The Ecological Duality of Nature and Jewish Identity also at the Manny Cantor Center on view from October 13th to December 1st.
Registration fee: $35 – including kosher dairy lunch / $25 without lunch for artists and community organizers who are new to the Art Kibbutz community. Old timers: FREE ($10 lunch optional)

Organizer

Art Kibbutz is an artist-driven residency program and a community with a 501c3 status that offers artists of all mediums, ages, backgrounds, nationalities, and affiliations opportunities to explore universal issues through a Jewish artistic lens.