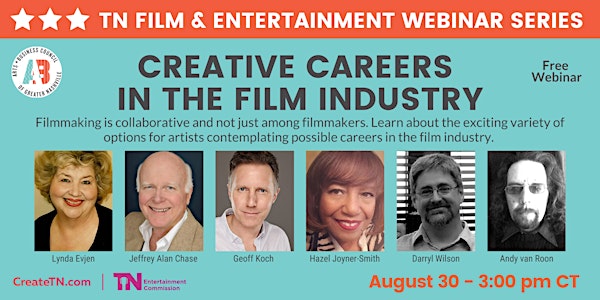 Creative Careers in the Film Industry
Discover your creative career in the film industry!
Refund Policy
Contact the organizer to request a refund.
Eventbrite's fee is nonrefundable.
About this event
Filmmaking is collaborative, and not just among filmmakers. It takes a diverse crew of incredibly talented, creative individuals to bring any film project to life. In the next installment of the Tennessee Film & Entertainment Webinar Series, you'll learn about the exciting variety of options for artists contemplating possible careers in the film industry.
Bring your questions! This webinar features a panel discussion with industry experts that will conclude with an open Q&A.
The Arts & Business Council's Tennessee Film & Entertainment Webinar Series is made possible by support from the Tennessee Entertainment Commission. CreateTN.com


Lynda Evjen
President, Women in Film & Television Nashville; Journalist & Business Owner
Lynda Evjen is the current President of Nashville Women in Film and Television. As an Actress, Lynda Evjen began her career over 60 years ago. With credits that include, SNAPPED, Code 207, What's the Matter with Gerald? And classics like Two Mules For Sister Sara and Rio Lobo. Her work also includes live theatre and tours with the Dallas Repertory Theatre, San Jose Repertory Theater, and the USO. Lynda spearheaded the Southern Women in Film and Television Summit as a means to bring together all of the Southern chapters of Women in Film. Lynda also is a founder of Actor-Com, an organization that provides seminars and one-on-ones mentoring with Casting Directors from around the country. She lives in Sumner County where she serves as an Ambassador for the Hendersonville Chamber and is a founder of HolidayFest of Sumner County, which hosts local events and fundraisers for local nonprofits.
Jeffrey Alan Chase
President, Tennessee Screenwriting Association
Jeff Chase moved to Nashville from Mesa, Ariz., to hone his talents as a songwriter and screenwriter after several careers, including advertising executive and commercial Real Estate broker. As a songwriter, he's amassed a catalog of over 600 songs, many of which have been cut by country and pop artists and include songs licensed in movies and TV.
As a screenwriter, Jeff has multiple full-length feature screenplays and numerous short scripts under his belt. Two scripts were quarter-finalists in the prestigious Nicholl competition. His romantic comedy Grinder's Switch took second place in the Tennessee Screenplay Contest. Country Songwriters won the LA Screenwriting Competition for Comedy Short.
Jeff is a SAG actor who has appeared in numerous commercials, videos and industrial films. He has appeared in numerous films including, Ernest Goes to Jail and When the Eagle Cries and co-starred with Robert Carradine and Chris Mitchum in the thriller Lycanthrope. He worked alongside Kathy Bates and Alfree Woodard in Tyler Perry's hit movie, The Family that Preys.
He has been a board member and past president of Film Nashville, board member, past president and vice president of the Tennessee Screenwriting Association, board member and past vice president of Nashville Publishers Network. He is president of Chase Internet an IT consulting and web design company and president of Blue Drops Publishing Co. (ASCAP).
His interests include hiking, sailing, golf and rebuilding 1960s English sports cars. He's a licensed pro and amateur boxing referee. He lives on a farm outside of Dickson, Tennessee with his wife and their dogs, cats and assorted chickens.
Geoff Koch
President, Nashville Composers Association; Composer/Producer
Veteran film, TV, planetarium and media composer/producer with hundreds of credits over 25 years including national theatrical releases (Beautifully Broken (2018), The Abandon (2022)), Hollywood Music in Media Awards nominee in 2017 & 2019, Belmont University's "Curtain Call Award" recipient in 2015, numerous broadcast awards (NAF ADDY 2000).
Has also served as keyboardist for Little Anthony & The Imperials, Lorrie Morgan, Restless Heart and The Glenn Miller Orchestra. He is the current president of the Nashville Composers Association and a Film-Com board member. His studio Koch Music Productions has lived on Music Row for over 20 years.
Hazel Joyner-Smith
Founder/CEO, International Black Film Festival; Entrepreneur & Educator
Hazel Joyner -Smith, entrepreneur, educator, cultural activist, and a pioneering change agent lives quietly in Nashville, Tennessee.
She served as the program director of the Race Relations Institute at Fisk University, the director of the first HIV and AIDS Organization in NC, a Radio Personality, a Talent Coach, Civil Rights Worker, a Consultant and Trainer in cultural diversity, or national and international Negotiator for human rights issues, she always campaigned for equity of access. In 1999, she began her work as a key organizer of the Film Festival hosted at Fisk University. Subsequently in 2006, Hazel entered into one of the most challenging phases of his career as an entrepreneur and the Founder/CEO of the International Black Film Festival of Nashville, located in Nashville, TN. The festival has emerged on the scene as the first and only ongoing International Black Film Festival in the state of Tennessee. Under her leadership, the festival has gained momentum and is quickly being recognized in the national and international festival arenas.
Darryl Wilson
President, I.A.T.S.E. Local 492
Native Nashvillian Darryl Wilson is President of I.A.T.S.E. Local 492 -- I.A.T.S.E. / International Alliance of Theatrical Stage Employees represents technicians, artists and the full spectrum of crafts in every phase of the entertainment industry, including motion picture and television production, product demonstration and industrial shows, conventions, facility maintenance, casinos, audio visual, and computer graphics.
Darryl is a veteran of the film and television industry, working as a key grip and multiple grip variations for over 30 years, on projects including Young Rock, Women of the Movement, Messiah, Bluff City Law, Wedding at Graceland, Christmas at Graceland, Nashville, Boulevard, The Vampire Diaries, 42, Country Strong, Percy Jackson & the Olympians: The Lightning Thief, Scrubs, Hannah Montana: The Movie, He's Just Not That Into You, Billy: The Early Years, Southern Comfort, Black Snake Moan, Walk the Line, Crash, Jay and Silent Bob Strike Back, The Sullivan Sisters, On Music Row, The Green Mile, Blue Valley Songbird, October Sky, The Rainmaker, The Tuskegee Airmen, Following Her Heart, The Client, XXX's & OOO's,The Firm, and many other works.
Andy van Roon (Panel Moderator)
Producer, Chairman FILM-COM
Andy van Roon is founder & producer of Film-Com, a business development conference for feature films, television and documentaries, now in its 13th year. So far it has brought 300 industry executives to establish relationships with creators of over 700 projects.
He was president of the Nashville Film & Video Association, founder of FilmNashville, FilmNashville Foundation, and the Tennessee Entertainment Alliance, a statewide advocacy entity set up to support the Tennessee Entertainment Commission and its legislative initiatives, and has been actively involved in efforts for Tennessee film incentives since 2006 for the launch of the Visual Content Act. He produced the Watkins Independent Filmmakers Symposium and Nashville Filmmakers Conference at the Belcourt Theatre, produced the Nashville 48 Hour Film Project, and hosted the Film Television Transmedia Hour on Acme Radio. He is a writer & executive producer with three feature film screenplays, a sitcom, and a period piece series currently with WME, projects he intends to produce in Nashville. He's produced over 200 seminars, workshops and webinars on the film & television business, and has taught or guest-lectured at Lipscomb, Watkins, Vanderbilt, TSU, MTSU, Nashville Film Institute, and the Art Institute of TN. He has an MFA from University of Southern California.