Where Worlds Come Together.
About this Event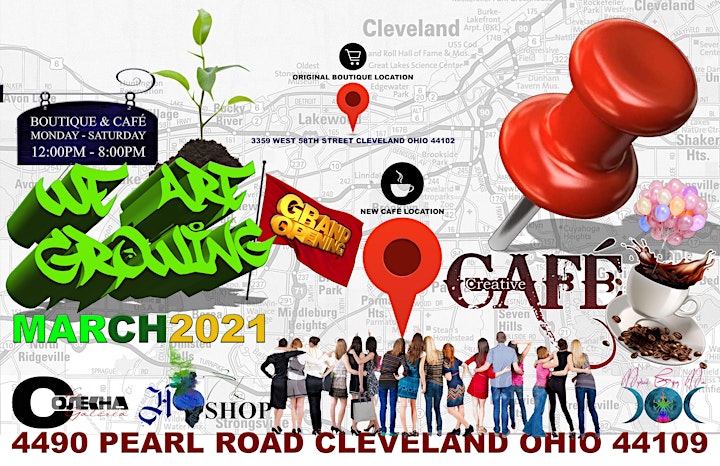 La Cosecha Galeria and The Headshop are not simply retail outlets, but our creative mirrors. After months of planning, do-it-yourself labor in our off time to bring together a business model that would meld our travel experiences and artistic passion. We opened our doors on February 1, 2020 for the original boutique at 3359 West 58th Street, Cleveland, Ohio 44102. Focused on highlighting the counterculture aspect in retail and supporting the arts via the gallery programming. Thanks to our clientele, and supporters, we have survived 2020 with continued strategies to expand as a business and an arts & culture venue during still a very tumultuous time for all. As we survey the landscape for the future in the creative industry, transforming, we plan to reach another level of celebration of local artisans and entrepreneurs in 2021.
So, it is today with great excitement we announce the GRAND OPENING of our second location this coming MARCH 2021, located at 4490 Pearl Road, Cleveland, Ohio 44109!! Where we will continue to provide health & wellness supplements, art, jewelry, apparel, decor, paraphernalia, supplies and accessories in both locations, with an added worldly café environment.
The Creative Café scheduled Grand Opening is March 1st and will be located at 4490 Pearl Road, Cleveland, Ohio 44109. For more information contact Will Sanchez at (216) 385-9545 or via email at lacosechagaleria@aol.com.
Please be patient as we adapt to the current guidelines:
• We Sanitized Daily (We also burn Sage Daily).
• Staff wearing masks and gloves.
• By accommodating the social distancing recommendation.
• And the under 10 patrons permitted at a time rule.
La Cosecha Galeria • The Headshop
In two convenient locations: www.lacosechagaleria.com • www.headshop216.com
Original Boutique Address: 3359 West 58th Street, Cleveland, Ohio 44102
&
New Café Address: 4490 Pearl Road, Cleveland, Ohio 44109