Description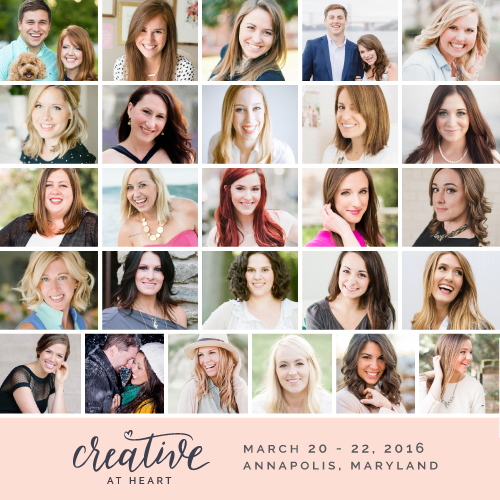 Creative at Heart provides practical content on a variety of small business topics; our hope is to inspire our attendees to dream bigger and provide tangible resources to help them reach their business goals! Our goal is to make this very practical; we want you to go home feeling like you have the tools you need to make your dreams happen! We also want you to feel like you've gained encouragement through an amazing community of women! Every attendee will be able to hear every speaker; you will not need to sign up for a specific session. And we are offering more intimate Q+A Breakout Panels specific to your business & big dreams!
This SPECIAL 3 day C@H Conference includes 15 AMAZING speakers (3 more than ever before), 12 incredible panelists and 2 HANDS-ON classes!!! Every attendee has the opportunity to hear from every speaker (and take part in the hands-on classes!)! We offer a very unique approach in that our speakers, panelistes & attendees are given lots of time to connect with one another!! We want you to leave feeling empowering, uplifted and cared for.
Your ticket includes breakfast all three mornings, stylish lunches on Sunday & Monday, a late night treat Sunday night, fabulous SWAG and so much more!! (The conference will conclude before lunch on Tuesday, March 22).

Accommodations are not included in registration; The Chesapeake Bay Beach Club is offering a special rate for all conference attendees of $189/night. In order to take advantage of our special rate, be sure to make your reservations by February 1, 2016. Once you find a few roomies, that cost will be even lower. Once you arrive for the conference, you can walk to quite a few shops, coffee shops, bakeries, and restaurants. We encourage you to make plans for dinner with other attendees, room together to enjoy late-night PJ parties and enjoy the rest & beauty this beautiful city has to offer!
Once you register, you will be invited to join our private Creative at Heart Facebook group! You can connect with one another to carpool, room together and have a familiar face before arriving in March!
Tickets are nonrefundable & nonexchangable. No transfers are permitted.