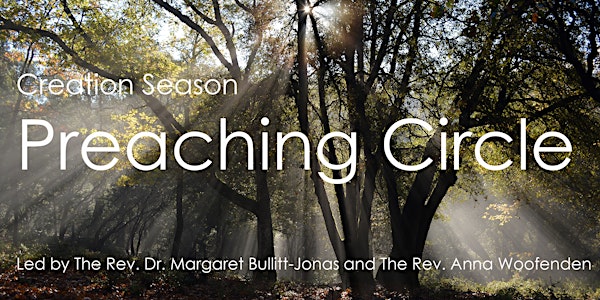 Creation Season Preaching Circle
Preaching Circle for lay and ordained preachers who want to give voice to the climate crisis, and preach hope as we engage the work ahead.
About this event
Join with colleagues and special guests as we preach our way through Creation Season (Sept. 1-Oct. 4)!
The Creation Season Preaching Circle will meet four times, starting on Tuesday, September 1. In each one-hour session we will discuss the lectionary texts for the coming Sunday. During the first fifteen minutes, we will learn from a guest speaker, including biblical scholars, experienced preachers, and others, who will reflect on how they would approach preaching on one or more of the texts. We will then open up the Zoom call to the gathered circle to share responses and to discuss what we hear in the day's readings in relation to climate justice and Creation care. Our gatherings will end with prayer.
Preaching Circle will meet :
Tuesday, September 1st at 4:00 p.m. with Rev. Dr. Leah D. Schade
Monday, September 14th at 11:00 a.m. with Pastor Darriel Harris
Monday, September 21st at 11:00 a.m. with Rev. José Reyes
Monday, September 28th at 11:00 a.m. with Dr. Wilson Dickinson

Conveners
Margaret Bullitt-Jonas (she/her/hers) is an Episcopal priest, writer, retreat leader and climate activist who serves as Missioner for Creation Care in the Episcopal Diocese of Western Massachusetts and Southern New England Conference, United Church of Christ. Her latest book is Rooted and Rising: Voices of Courage in a Time of Climate Crisis (2019), co-edited with Leah Schade. She maintains a Website: RevivingCreation.org. PHOTO: Tipper Gore, 2014
Anna Woofenden (she/her/hers) is the founding pastor of The Garden Church in San Pedro, CA, and is the founder of Feed and Be Fed Farm. Woofenden now lives in Massachusetts, where she is the Protestant Chaplain at Amherst College and the Transition Pastor at Zion Lutheran Church of Pittsfield, and hosts the Food and Faith Podcast (foodandfaithpodcast.org). She is the author of This is God's Table: Finding Church Beyond the Walls from Herald Press. She is passionate about spirituality, justice, food, the earth, and community, and is driven by a calling to reimagine church. AnnaWoofenden.com

Ecumenical Guests
T. Wilson Dickinson is a writer, teacher, and minister who lives in his hometown in Central Kentucky. He is director of the Green Good News, an organization that is rooted in a number of food justice ministries and which educates, cultivates, and organizes Christian communities to follow the ways of justice, joy, and simplicity. He also teaches theology and is the Director of the Doctor of Ministry and Continuing Education Programs at Lexington Theological Seminary. He is author of Exercises in New Creation from Paul to Kierkegaard, and The Green Good News: Christ's Path to Sustainable and Joyful Life. He holds a PhD from Syracuse University, an MDiv from Vanderbilt Divinity School, and is an ordained minister in the Christian Church (Disciples of Christ).
Darriel Harris is the pastor of Newborn Community of Faith Church, a church dedicated to improving the lives of the historic residents of Sandtown, Upton and surrounding neighborhoods of Baltimore, MD. Newborn Community of Faith created a 1.5-acre urban farm, which Harris once directed, to help employ residents returning from incarceration and to help improve the neighborhood's food environment. Ordained in the American Baptist Church, Harris is a PhD candidate at Johns Hopkins School of Public Health, where his research interests include health behavior change communication, food policy, and neighborhood effects on the health and well-being of residents. His work has been featured by The Atlantic magazine, Duke University's World Food Policy Center, Huffington Post, and several others.
José Reyes serves as Missioner for Latino/Hispanic Ministries in Episcopal Diocese of Western Massachusetts. He grew up in Springfield, MA, and received a BA from Williams College with a major in Psychology and a concentration in Latina/o Studies. He has worked as an Elder Protective Services Case Manager and as a Case Manager for the Mental Health Association. After earning the M. Div. degree from Virginia Theological Seminary in 2015, he served as Head Pastor of San Marcos Episcopal Church in Alexandria, VA, and Associate Rector of All Saints Episcopal Church in Worcester, MA. José loves the outdoors, is an avid runner and enjoys playing the guitar, piano and drums.
Leah D. Schade is Assistant Professor of Preaching and Worship at Lexington Theological Seminary in Kentucky. An ordained minister in the Evangelical Lutheran Church in America, Leah has served congregations in rural, urban, and suburban settings. Her publications include: Creation-Crisis Preaching: Ecology, Theology, and the Pulpit (2015); Preaching in the Purple Zone: Ministry in the Red-Blue Divide (2019); Rooted and Rising: Voices of Courage in a Time of Climate Crisis, co-edited with Margaret Bullitt-Jonas with essays from a cross-section of faith leaders and activists offering their spiritual wisdom and energy for facing the difficult days ahead (2019); and a Creation-centered Lenten devotional, For the Beauty of the Earth (2019). Leah has been a featured speaker for the Festival of Homiletics, leads workshops and retreats, and keynotes events throughout the country. She has served as an anti-fracking and climate activist, community organizer, and advocate for environmental justice issues. She is the "EcoPreacher" blogger for Patheos.com: http://www.patheos.com/blogs/ecopreacher/.