Creation, Care & Feeding of Usable Content: What Every UX Wiz Needs to Know

Saturday, June 28, 2014 from 8:30 AM to 5:00 PM (PDT)
Event Details
*** PREVIEW EVENT EXCLUSIVE TO UXPALA! ***
UXPALA International London 2014 Seminar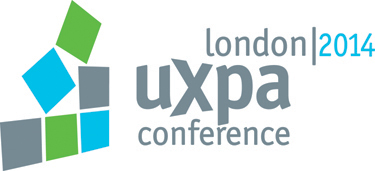 Creation, Care & Feeding of Usable Content:
What Every UX Wiz Needs to Know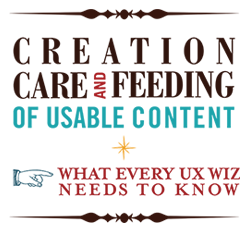 -- ABOUT THIS WORKSHOP --
Are you as lost as a 404 page when it comes to the planning and delivery of usable content? Content is in the limelight as a top player on the UX stage at last, but shouting from the rooftops "Content is King!" will only get you so far. 
In this full-day workshop, Jill Vacarra and Wendy Ficklin from Los Angeles-based agency Primitive Spark guide you through the nuts and bolts of content creation with process info, case studies and hands-on activities. 
By day's end, you'll go forth with the tools and know-how to conjure the kind of content that makes for wildly successful UX.
-- THIS WORKSHOP IS FOR --
Anyone responsible for managing their organization's online content

IA's and Designers who struggle with content in the UX process 

UX professionals who collaborate with content strategists and writers

Interactive marketers, UI's and those who want to create content that's user-centric and business-friendly  
For a more in-depth summary, click here.
-- AGENDA --
8:30-9:00 am — Check-in and Coffee
9:00-9:30 am — Introduction to the Day 
9:30-10:15 am — Content & the UX Process
10:15-10:45 am — Activity + Discussion
10:45-11:00 am — Break
11:00-11:45 am — Content Tailoring and Creation
11:45-12:15 pm — Activity + Discussion
12:15-1:00 pm — Lunch - Provided
1:00-1:45 pm — Content Formats: Text and Beyond
1:45-2:15 pm — Activity + Discussion
2:15-3:00 pm — Keeping Content Fresh
3:00-3:15 pm — Break
3:15-4:00 pm — Activity + Discussion
4:00-5:00 pm — Q & A Content Challenges & Coaching 
-- Speakers --
A founding partner and Director of User Experience at Los Angeles-based interactive agency Primitive Spark, Jill draws on more than a dozen years of senior UX design work as a content strategist and information architect. Jill's integrated approach to UX blends the content strategy mindset and content creation process with the practicalities of developing solid information architecture. 
At Primitive Spark, Jill has led IA and content strategy engagements for dozens of clients including City National Bank, People Media and Dr. Susan Love Research Foundation. 
Prior to Primitive Spark, Jill worked as an IA at Razorfish and as an independent contractor on projects for Sony, McKinsey and Company, Uncle Ben's, and UCLA Anderson School of Management. Jill co-authored Information Design Workbook. 
She brings to the table more than 20 years of combined experience as a writer, editor and information designer and likes to write, paint, design jewelry and make wordy conceptual art. Her first professional writing credit was Barbie Mad Libs. Really!
Wendy began her career in Argentina with traditional graphic design and advertising, including cell animation and video production for TV commercials. After her move to the U.S., Wendy became Art Director for New Media at LATimes.com, where she was instrumental in launching the newspaper's first ground-breaking site.
Wendy approaches every design project with the idea that by understanding how real people think, feel and interact, design can present content and functionality in a way that is highly usable and truly delightful. With over 20 years of interactive experience, usability expertise, and design leadership, Wendy continually produces award-winning visionary interactive design that is sophisticated, aesthetically compelling, practical and on brand.
Since co-founding Primitive Spark, Wendy has led creative on projects for clients such as Sony Pictures Entertainment, City National Bank and People Media. Wendy has a passion for data visualization, with a knack for making gobs of data both gorgeous and useful. She's also keenly interested in constructivist education. She enjoys the darkest dark chocolate, and reading in her native Spanish.
-- SPONSOR --
Understand people, spark ideas.
Interactive design inspired by humans.

The name "Primitive Spark" illustrates our view that the most meaningful innovations emerge from an understanding of basic human needs. We use an anthropological approach to discover what people and businesses need from each other. First, we closely study digital media consumers to pinpoint their needs, desires and behaviors. Then, we thoughtfully engage real people in real world environments. Our precise observations yield creative and technical possibilities that spark truly inspiring interactive experiences.
When & Where

Primitive Spark
209 East El Segundo Blvd.
El Segundo, CA 90245


Saturday, June 28, 2014 from 8:30 AM to 5:00 PM (PDT)
Add to my calendar
Organizer
UXPA of Los Angeles
The goal of our Los Angeles chapter of UXPA is to support user experience professionals in advancing their knowledge and use of usability best practices. To accomplish this, our chapter focus is on service and education. 
Through networking, publications, events and workshops, UXPALA strives to help you hone your skills and deepen your involvement in the UX community.
Our members are employed in a wide variety of disciplines, including product and service strategy, design, research, content and development. We are colleagues in pursuit of a common goal: better products and services, better working, and better living through usability.
Creation, Care & Feeding of Usable Content: What Every UX Wiz Needs to Know