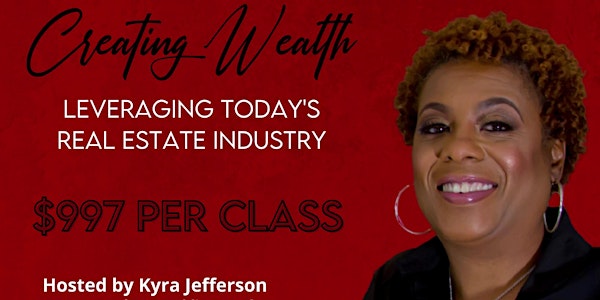 Creating Wealth Leveraging Today's Real Estate Industry
Real Estate Investor & Developer, Kyra Jefferson will teach a 4-week course on creating wealth.
About this event
Are you interested in learning the ins and outs of Real Estate? If so, this class will be life-changing! This class will help you create wealth and a legacy for you and your family. If you wanted to get into real estate now's the time. You will have many different options to get into the real estate game after taking this class. Learn how to put a winning real estate team together. Instructions on how to flip houses from start to finish, select, and manage your rental properties. Tips will also be provided on how to keep up with your ROI-Return on investment for all your projects. I will introduce you to some of my team members. You can ask those burning questions you've been wanting to ask but didn't have the proper platform to do so. Real Estate appreciates and cars depreciate. Let me help you get some assets that will elevate in value. Let's help you buy where you rent and stop making your landlord rich. I will show you how with the right network your net worth can shoot through the roof.
LIMITED SPACE
After you register for the class you will receive an invoice in your email. Once your invoice is paid in full you have secured your seat for the 1/9/2021 class.