Description
Build a foundational skillset for analyzing and presenting motion and usability concepts.
★★★★★ "Very helpful in allowing me to 'see' motion. Before this workshop I glazed over the motion or saw it more as a delight element. Now I have the language and awareness to analyze motion effectiveness and the understanding to start designing supportive motion for UX."
– Cura, UX Designer, Cisco, San Jose
This workshop will dive into and expand on ideas formulated in the popular Medium Article 'Creating Usability with Motion: The UX in Motion Manifesto,' which received 194,000 views on Medium.com
From a multitude of real-world examples, you will build linguistic tools to analyze and discuss what supports or undermines the usability in UX projects. At the end of 3 hours, you will have a practical knowledge of how motion creates meaning in user experiences.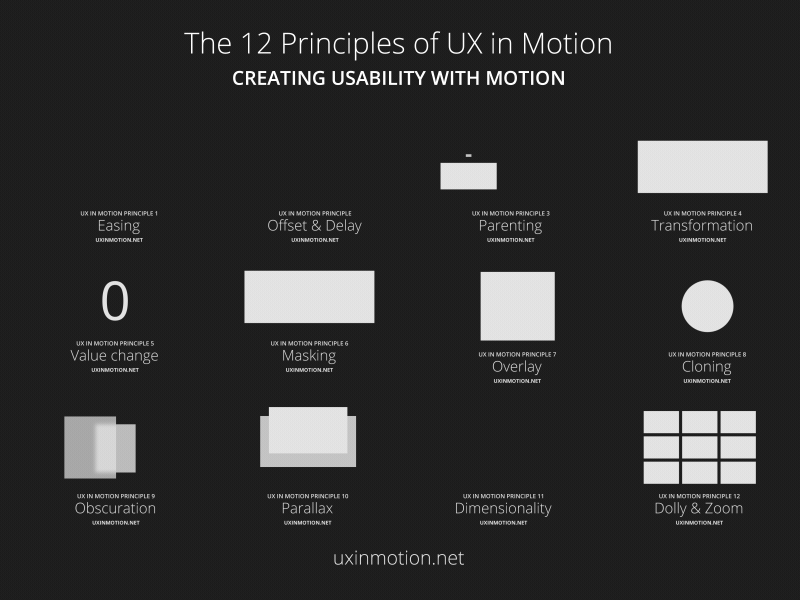 Workshop format
We will meet in the lovely Goodnight Gallery in Noe Valley, San Francisco. Please arrive at least 15 minutes early to find a place to sit, and orient yourself to the impending awesomeness.
At 7:00pm sharp, we will begin destroying commonly held beliefts about the role motion has in user experiences.
We will look at many motion examples over the course of the evening, bringing distinction to the many ways usability is supported through motion. In particular, you will be developing your eye such that when you view motion inspiration, you will immediately be able to say specifically how it supports usability in the interaction.
The workshop will agnostic of any prototyping tool. You will experience a deep dive imersion into the world of the 12 UX in Motion Principles. Some of the topics we will cover in the evening include how UI animation is actually a higher modality of interaction design, the difference between realtime and non-realtime interactions, the 4 ways motion supports usability, and the 12 UX in Motion Principles.
Previous clients include


Testimonials
★★★★★ "The class is excellent for a designer who is looking to learn motion design at a foundational level. It helps you to understand how to use motion meaningfully and what interactions there are usable. The class is packed with examples that helps you understand motion principles conceptually and clearly. Issara also encouraged us to develop a vocabulary to articulate your motion design projects"
– Shurami Jhakur, UX Designer, Green Leaf, San Mateo
★★★★★ "The class was great with lots of examples to illustrate how motion can support or undermine the UX."
– Angela, Product Designer, Scribd, San Francisco
★★★★ "Great balance of theory with practical examples. Engaging presentation – made time fly by! Loved the practical discussions at the end. Love that your passion is so palpable. Great space to ask questions too. Thank you!"
– Vivienne Kay, Product/UX Designer, Shopify, Ottawa
★★★★★ "Loved this workshop! Lots of examples, which really helps me as a visual learner. I think it was great to hear how motion is applied in the UX context. I previously utilized Disney's 12 Principles in motion/animation, but these didn't always apply to interface objects. These Principles of UX in Motion really help me visualize motion directly connected to my designs."
– Memie Huang, Product Designer, SAP, San Francisco
★★★★★ "This workshop offers you a chance to quickly learn and discuss high level usability and motion examples in an open format. Wishing I could do this workshop weekly with my entire team."
– Andre Pennycooke, Visual Designer, Bank of America, Oakland
★★★★★ "I came to this workshop with no knowledge on motion and walking away with a really good perspective on principles on motion, and analyzing motion design examples to learn from them and when/where to add delight and value to the product."
– Angad Manco, Interaction Designer, Cisco, San Jose
★★★★ "Let's ya slow down and tackle the problem, and avoid trial and error."
– Kevin Johnson, UX Designer, Cisco, Mountain View
★★★★ "Well explained about how motion design can be applied to UX design and how it enforces usability. It was hard to see how useful the 12 Principles were until Issara used examples and explained the details to us."
– Sharon Weng, UX Designer, Cisco, San Jose
★★★★★ "Good good… Quick way to get an overview of how to rethink motion and how it can enhance user experiences."
– Ricky Navarro, Product Designer, Sofi, San Francisco
★★★★ "I really didn't have an understanding of motion design and how it can be useful. At the end of the class, I have a solid understanding of the value of motion design in User Experiences.
– Nazanin, Product Designer, Grubhub, San Francisco
★★★★★ "The UX in Motion training established a solid foundation for our Designers and left us with valuable tools and tactics that will allow us to integrate motion as a prototyping tool in our practice, which will ultimately allow us to produce more tangible, evocative work for our clients."
– John Rousseau, Executive Creative Director at frog, Seattle


FAQs
Are we going to be prototyping motion?
No. We will be developing a linguistic foundational level for analyzing and discussing motion and usability concepts for your team and stakeholders.
Is the venue wheelchair accessable?
There are two steps, but contact me and we'll work something out.
Are there ID or minimum age requirements to enter the event?
You must be old enough to physically crawl in the door. If you can't manage that, you might consider doing something else that evening, like taking a nap.
What are my transportation/parking options for getting to and from the event?
Noe Valley usually has some street parking during the evening. The #48 bus comes right to the door. It's a brisk 40 walk minute from the BART stop (all uphill and great on the glutes), and of course there is Uber (not so great on the glutes). There will be a secure place in back to store your bike.
Will I need my laptop?
You will not need your laptop. The class is interactive, with the goal of having you participate conversationally to analyze motion.
How can I contact the organizer with any questions?
You can reach me at issara@uxinmotion.net
What's the refund policy?
If you leave before the first 15 minutes, you can receive a refund. If you stay through to the end of workshop, you don't get a refund. Seems fair to me. There are no same day refunds (with the exception of you showing up, seeing that you don't want to learn motion and usability concepts, and peacing out.)