Description
Overview
In this 3 hour workshop, you will learn the 12 opportunities for how motion supports usability.
This workshop will dive into and expand on ideas formulated in the popular Medium Article 'Creating Usability with Motion: The UX in Motion Manifesto,' which received 115,000 views on Medium.com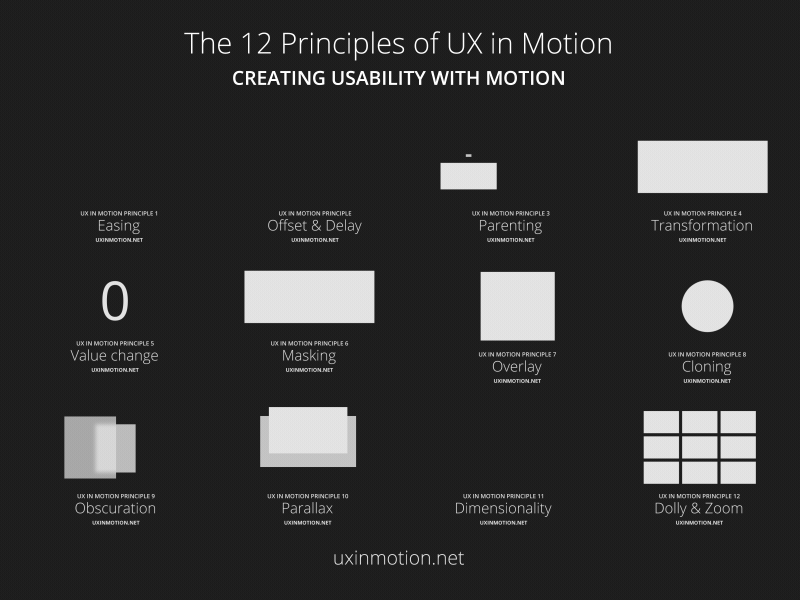 Workshop format
We will meet in the lovely Goodnight Gallery in Noe Valley, San Francisco. Please arrive at least 15 minutes early to find a place to sit, and orient yourself to the impending awesomeness.
At 7:00pm sharp, we will begin destroying commonly held beliefts about the role motion has in user experiences.
We will look at many motion examples over the course of the evening, bringing distinction to the many ways usability is supported through motion. In particular, you will be developing your eye such that when you view motion inspiration, you will immediately be able to say specifically how it supports usability in the interaction.
The workshop will agnostic of any prototyping tool. You will experience a deep dive imersion into the world of the 12 UX in Motion Principles. Some of the topics we will cover in the evening include how UI animation is actually a higher modality of interaction design, the difference between realtime and non-realtime interactions, the 4 ways motion supports usability, and the 12 UX in Motion Principles.
Previous clients include



Testimonials
"Hey Issara, your badass training is so awesome! I watch one vid every morning on my ride to work, I can literally say I learn something new everyday. I'm in the process of adding UX/UI to my current skill set, you can take credit for my upcoming prototyping success :) Keep up the good work dude."
– Mirtho Prepont, Brand Designer at UBER, San Francisco
"Just wanted to let you know that I've done the first two lessons, and I can't wait to see more! I really appreciate your personal teaching style, and how tailored it is to UX designers. This is huge!"
– Ethan Ray, Senior UX Designer at Google, Seattle
"The UX in Motion training established a solid foundation for our Designers and left us with valuable tools and tactics that will allow us to integrate motion as a prototyping tool in our practice, which will ultimately allow us to produce more tangible, evocative work for our clients."
– John Rousseau, Executive Creative Director at frog, Seattle


FAQs
Are there ID or minimum age requirements to enter the event?
You must be old enough to physically get in the door. If you can't manage that, you might consider doing something else that evening, like taking a nap.
What are my transportation/parking options for getting to and from the event?
Noe Valley usually has some street parking during the evening. The #48 bus comes right to the door. It's a brisk 40 walk minute from the BART stop (all uphill and great on the glutes), and of course there is Uber (not so great on the glutes). There will be a secure place in back to store your bike.
What can I bring into the event?
You and something for taking notes, like a pen and paper, would be ideal. Or some kind of electronic screen based device contraption that isn't too distracting to people around you.
How can I contact the organizer with any questions?
You can reach Issara at issara@uxinmotion.net
What's the refund policy?
If you leave before the first hour, you can receive a refund. If you stay through to the end of workshop, you don't get a refund. Seems fair to me.