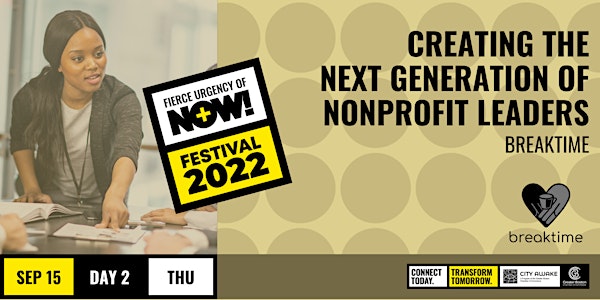 Creating the Next Generation of Nonprofit Leaders
Inspiring young people to realize their power and potential to create change on issues they care about.
Date and time
Thursday, September 15, 2022 · 2:30 - 4pm EDT
Location
Breaktime 170 Portland Street Boston, MA 02114
About this event
This event aims to inspire young people to believe they can create change, to give insight into what it was like to start a nonprofit and motivate young people to get involved with nonprofits and their communities. Connor Schoen will share his journey of creating a rapidly growing nonprofit as an undergraduate student.
This event is hosted by: Breaktime
ABOUT FIERCE URGENCY OF NOW
The Fierce Urgency of Now Festival brings together more than 1,000 diverse, young professionals of color and allies for 30+ transformative events. Organized by City Awake, the Greater Boston Chamber of Commerce's young professional platform, this is the ultimate festival to build connections, advance careers, and ignite positive change.
This festival is inspired by Dr. Martin Luther King Jr.'s. speech at the March on Washington for Jobs and Freedom where he described "the fierce urgency of now" — the pressing need for immediate action and lasting change in the face of racial injustice. Today and every day, we are answering this call to action to forge a more equitable, inclusive future for Greater Boston.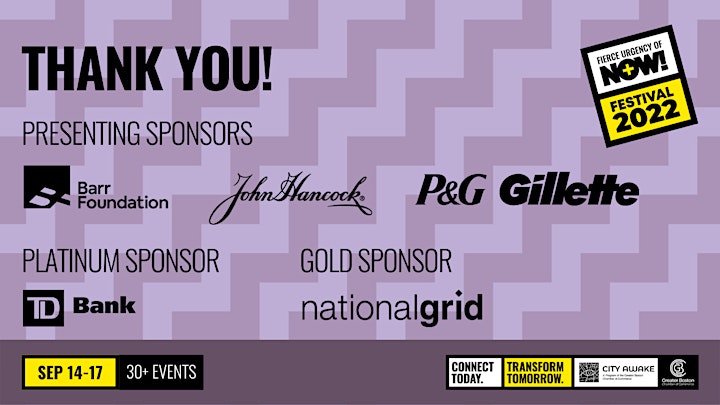 About the organizer
The Fierce Urgency of Now (F.U.N.) Festival is City Awake's signature event of the year, supporting its mission of building community and fostering dialogue around the most pressing issue's facing our region today. Dozens of events are hosted by various organizations throughout the Greater Boston area that bring together diverse young professionals with business leaders, organizations, and peers to build connections, advance careers, and ignite positive change. I thought of you and your advocacy work on mental health and said this to be a good fit.