Set your new Managers up with the tools to succeed in this 3-day virtual workshop.
About this Event
Becoming a new Manager is a challenge that requires new skills, new learning, and a new approach. Simply promoting your top-performing Technician, Installer, or Salesperson without training will not get the job done, and only sets the employee up to fail.
Creating the Next Generation of Company Managers will show new Managers how to transition from being an Employee and succeed in their new management role. Owners who are adding their first Manager should attend to find out how they can set up their new manager to win.
By attending this class, new Managers will:
Understand the difference between an Employee and Manager and how their role will change .
Find out how to manage the new expectations they will face from employees, co-workers, and owners as a Manager .
Apply new skills for time management, delegation, and prioritization that will allow them to save time and efficiently complete tasks .
Learn strategies to manage and mentor direct reports
Develop an improved understanding of the Profit & Loss statement and how to calculate breakeven and Gross Profit per Man Day
Learn the key financial metrics in Installation and Service and how to use them to measure success
Understand how their leadership role in the company changes and how to build a positive team culture
Learn how to succeed as a new manager with the ability to effectively work with superiors, coworkers, and direct reports
Who Should Attend:
Service & Install Managers
Lead Service & Install Technicians
Owners
HR Professionals
Our live virtual workshops give you access to the same training as our live event but from the comfort and convenience of your own desk. You get real-time access to our live trainer to take part in discussions and ask questions. Each day will be broken up into multiple mini sessions to help you absorb and retain the information covered.

How does BDR's live virtual training work? 
A link to the virtual classroom and access to class materials will be provided prior to the start of class.
Students will be required to attend all scheduled, live sessions via Go-To Training (internet connection required). Sessions are not recorded.
Questions can be asked, and feedback can be provided by the Trainer in real time.
Students are required to have Adobe Acrobat, free version okay.
Before the training begins, you will be contacted by our Event Team.
Please note that photographs and footage will be taken throughout this virtual event. These will be used by Business Development Resources for marketing and publicity in our publications, on our website and in social media or in any third party publication. By turning on your camera or microphone, you are giving BDR permission to use your likeness in these photos and videos.

Meet Your Class Trainer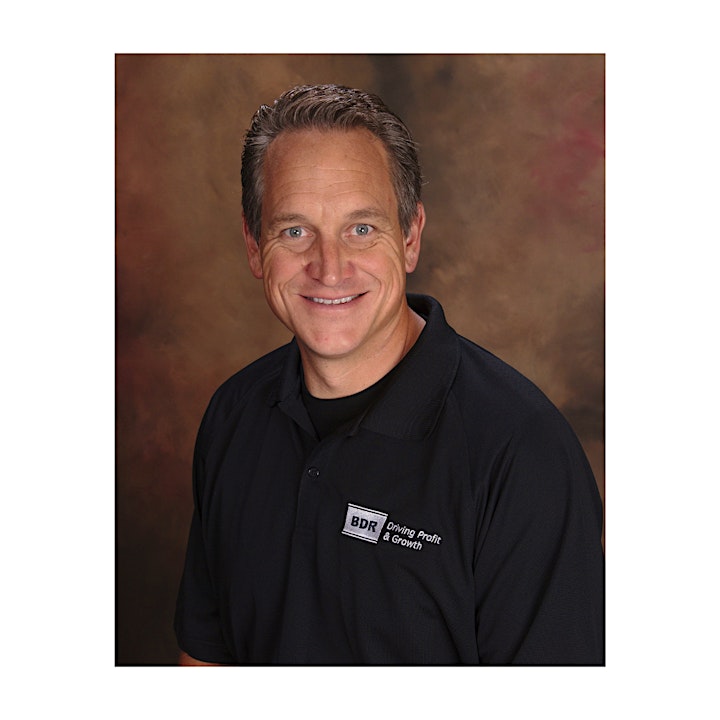 Chris Koch 
Chris brings nearly three decades of HVAC experience to BDR's coaching clientele. Chris started at the ground floor and worked his way up to VP of Service. His experience ranges from a start-up to $60 Million in Sales.
Chris has gained a rich, diverse exposure to many ways of doing business. He is a team building leader and possesses vital, hands-on experience.
Frequently Asked Questions
When will I receive my Welcome Packet?
Welcome packets will be sent out by our event team within 48 hours of completing your Eventbrite ticket purchase. If the information is not ready when you register, it will be sent 6-8 weeks prior to the event. This packet will include information to assist with GoToTraining basics, logging in and schedule.
Where can I contact the organizer with any questions?
For event questions, please notify Ryann Mosher - Event Planning Coordinator.
Phone: 206-870-1880 ext. 3017 / Email: ryannmosher@bdrco.com
Can I update / cancel my registration information?
Yes. For attendee changes or cancellation, please notify Angie Swartz - Training Advisor.
Phone: 206-870-1880 ext. 1120 / Email: angieswartz@bdrco.com
What is the refund policy?
For cancellations 30 days before the event, there is a $200 per person cancellation and/or transfer fee to move to another session. Note: New sessions may take place in a different location from session you originally registered for.
Cancellations received within 10 days of the class are non-refundable.
Date and Time
Location
Refund Policy